If you're a fan of cheese bread, then this recipe is right up your alley. These delicious cheese scones have a hint of the Indian spice blend called garam masala, for an unexpected yet delightful flavor.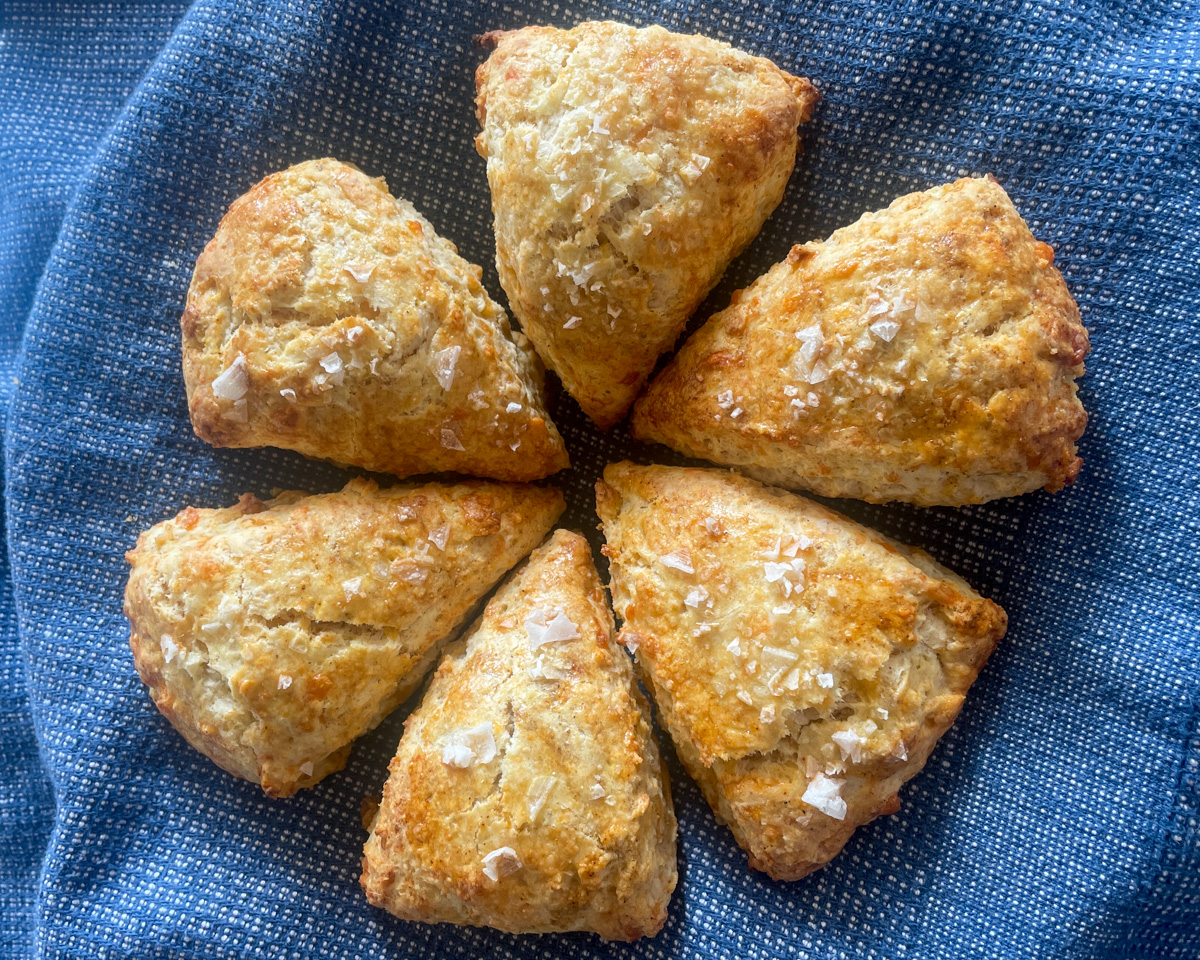 I thought to make this recipe when I was working on my garam masala gingerbread cookie recipe. The scones pair well with chicken korma (or the white chicken korma version), a type of Indian curry, or with any other Indian recipe.
In fact, they are perfect with almost any meal, or alone as a snack. They even work quite well for breakfast!
Jump to:
🥘 Ingredients
Scone recipes make use of cream and eggs to create the dough, unlike biscuits, which usually omit both and rely on buttermilk instead.
("Biscuit" here refers to bread, as we use the term in the United States, not to cookies as the British use the term.)
All purpose flour
Granulated sugar
Baking powder
Salt
Garam masala (click here for my affiliate link to purchase on Amazon)
Black pepper
Chili powder
Unsalted butter
Mild cheddar cheese
Heavy cream
Egg
Milk
Flaked sea salt (optional) to finish (Amazon link to purchase)
🔪 Instructions
Making the dough for the scones is pretty straightforward and doesn't take much time at all.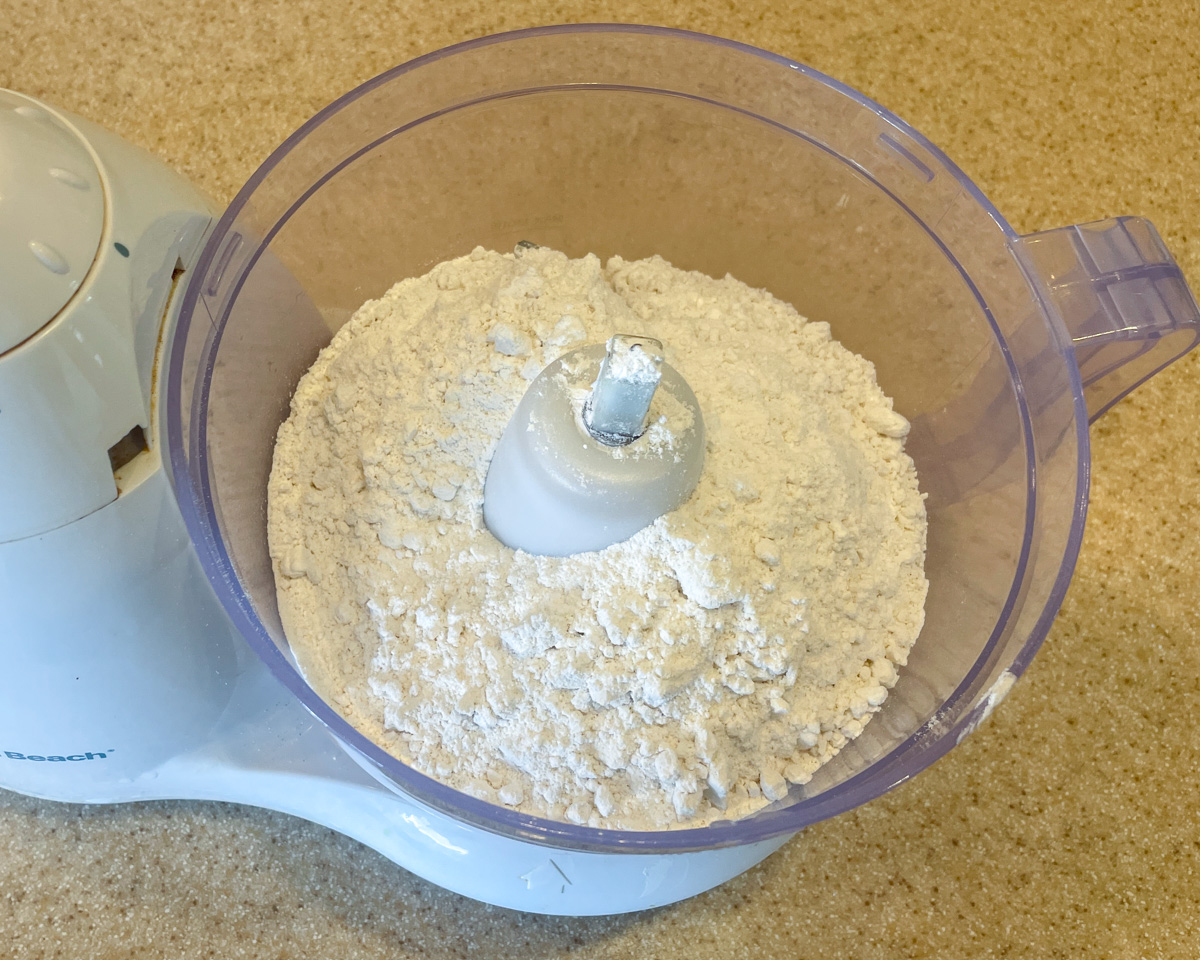 Add the dry ingredients, including spices to a food processor and pulse to mix.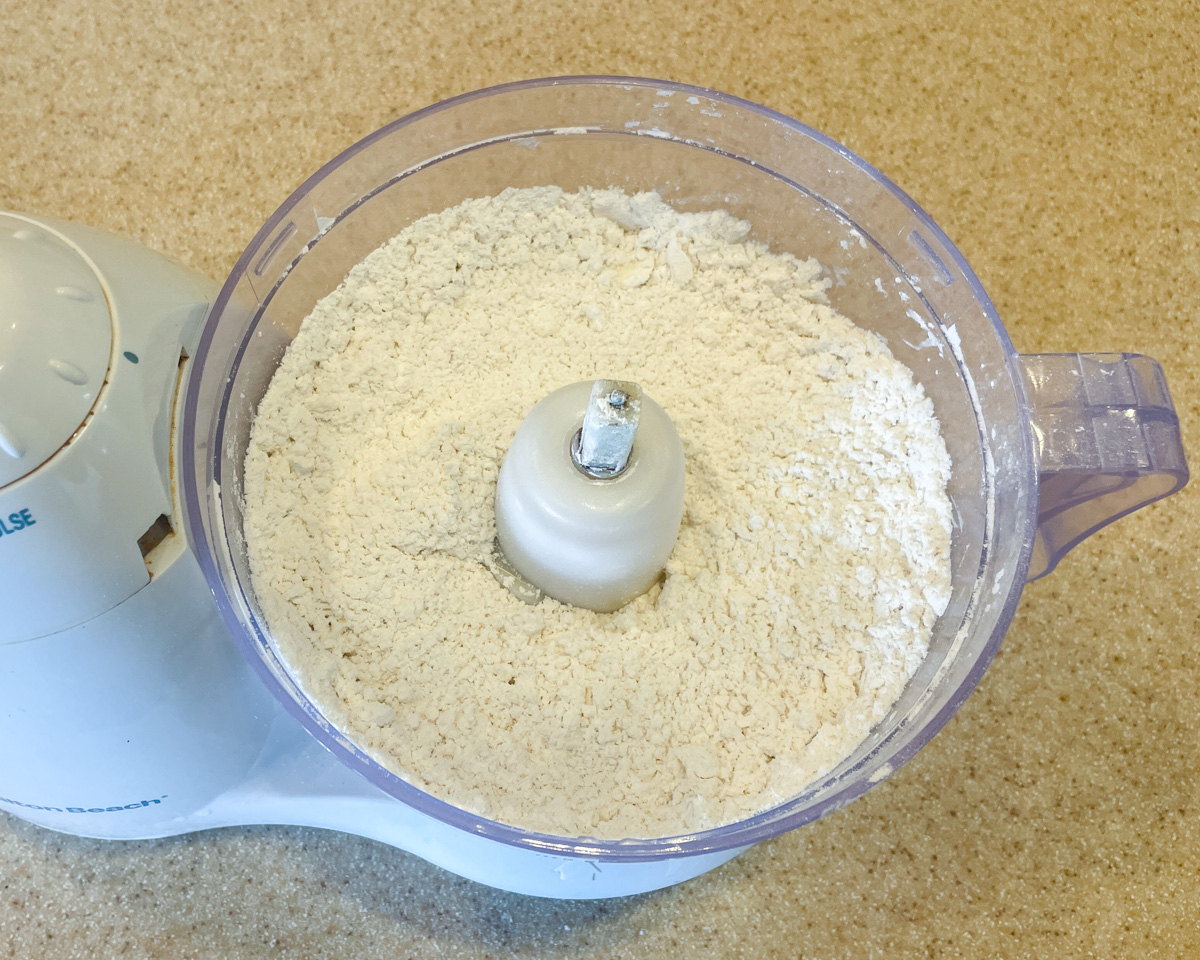 Cut the cold butter into cubes, and add it to the dry ingredients, and pulse again. The result should be crumbly.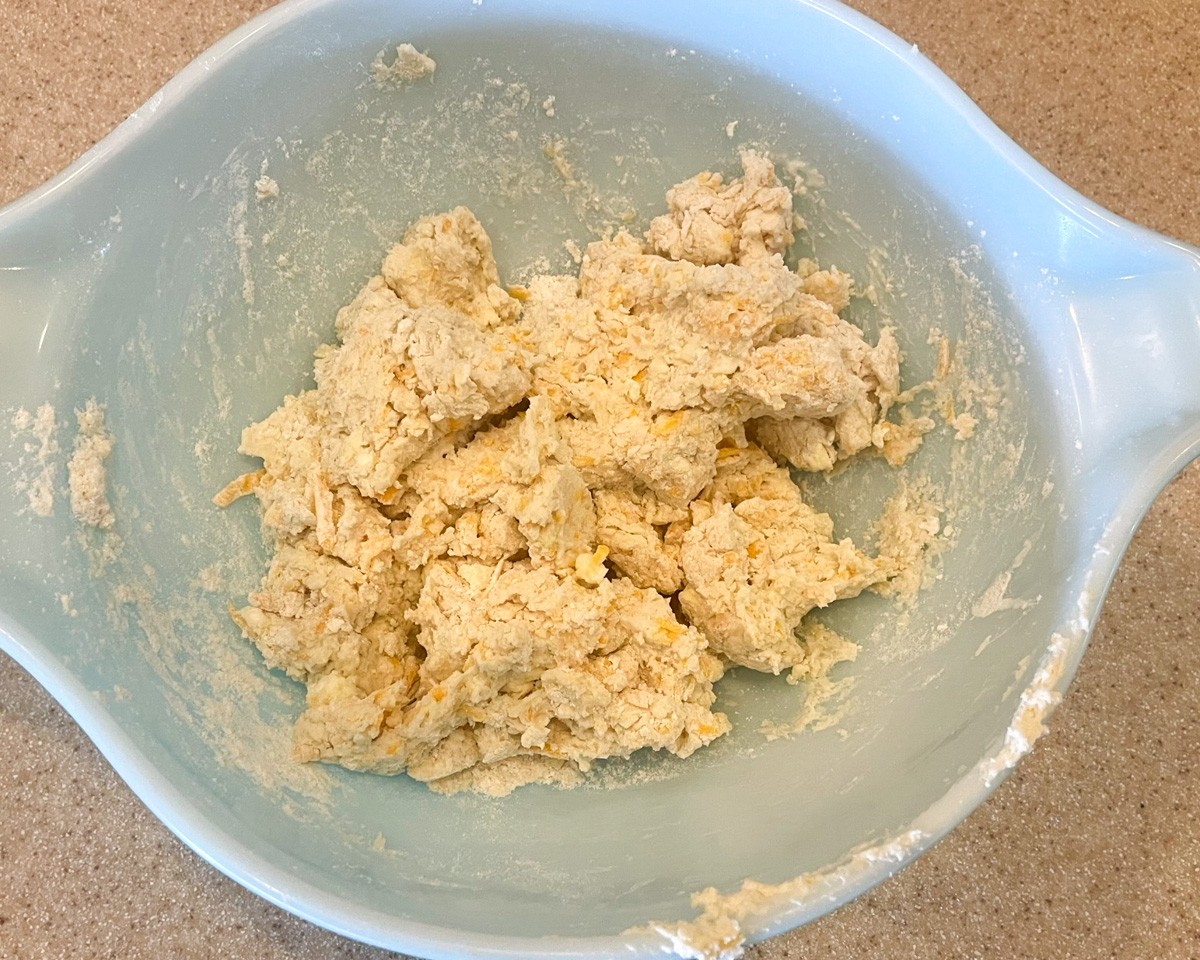 Transfer to a mixing bowl and add the cheese and cream. Stir until combined.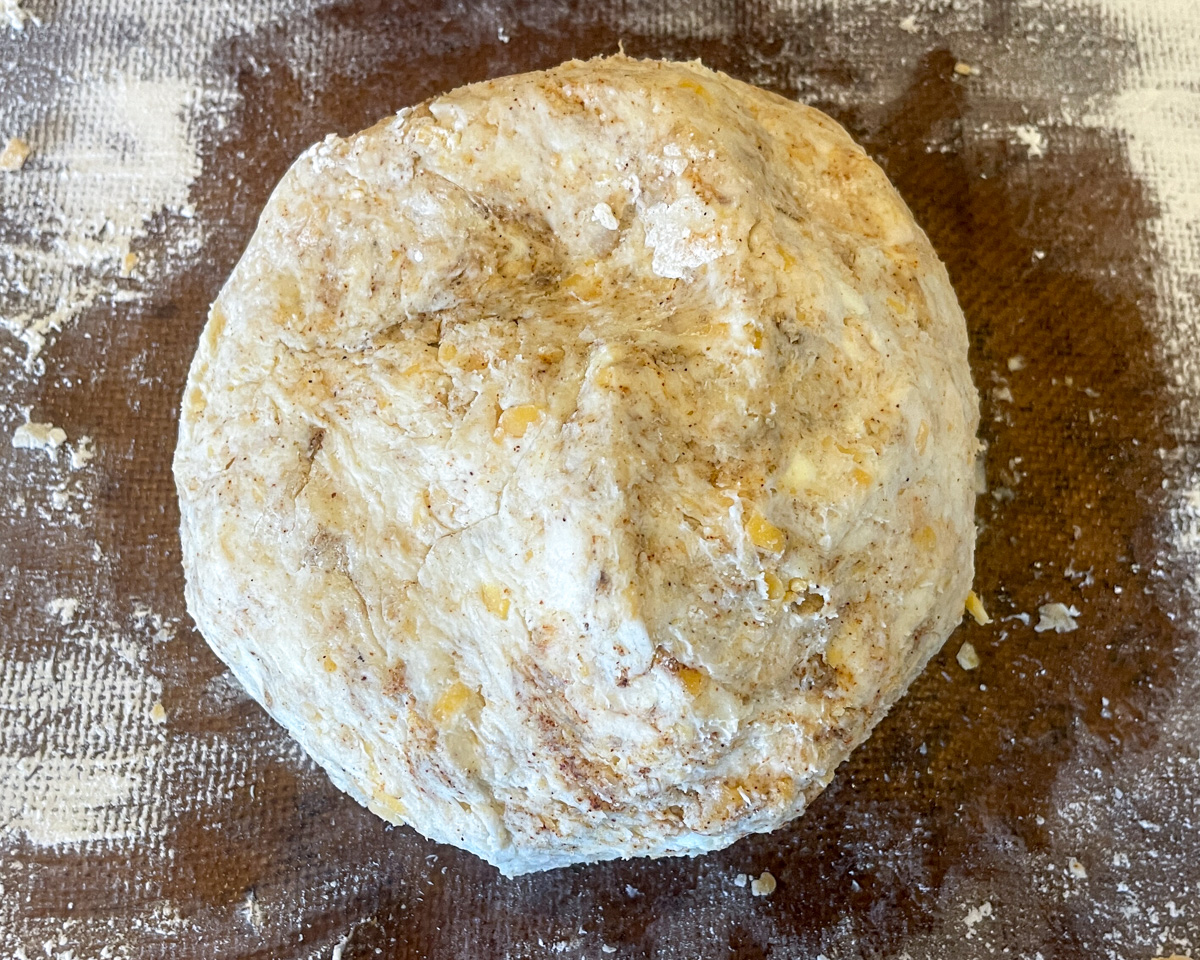 Place the dough on a floured surface and knead by hand just until dough comes together. Do not overwork it.
Use your hands to press the dough into a circle about 8 inches in diameter and 1 inch thickness. (The thickness is the more important measurement because it affects cooking time.) Cut into 8 wedges and place on baking sheet.
Whisk together the egg and milk, then brush mixture across the top of each scone and, optionally, sprinkle with flaked sea salt. Bake for 12-15 minutes.
Hint: Scone dough should never be overworked. Stop kneading as soon as it comes together, or you'll end up with tough, chewy scones. Less is more when it comes to scone dough!
📖 Variations
Feel free to experiment with different types of cheeses. I like mild cheddar cheese, but sharp would work just as well if you prefer, or you could use a combination of the two. You could also replace half a cup of the cheddar with something like gouda or parmesan, to get a delicious blend.
If you want them to be spicier, add additional chili powder or use a spicier chili powder or chili flakes.
🍽 Equipment
These scones don't take much in the way of special equipment. I use a food processor, but if you don't have one, a pastry blender will work just as well. Then all you need is a mixing bowl, a baking/cookie sheet, and some parchment paper or Silpat mats (Amazon link) to line the baking sheet.
🥡 Storage
Scones can be stored in the refrigerator for a week.
❓ FAQ
What is the secret to great scones?
Use cold ingredients - cold butter, cold cream, and a cold egg. This helps them develop a flaky texture while cooking. Also, when kneading, don't overwork the dough. Only knead it until it just comes together.
What can I add to scone mix to help it rise?
This is what baking powder is for! Baking powder is a leavening agent, which means that it helps dough rise. If you want a denser scone, you can use less baking powder.
Why do you brush scones with milk and egg?
The milk and egg wash gives the salt something to stick to while baking, and it helps produce a deep golden color to the top.
Where can I buy garam masala?
Many grocery stores carry garam masala. If you have a local Indian or British market, you are sure to find it there, too. You can also find it online at Amazon and other e-retailers.
📋 Recipe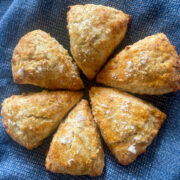 Garam Masala Cheese Scones
Cheesy, carb-y, and delicious, these cheese scones have a surprise ingredient - the Indian cuisine spice blend called garam masala. The result is a delightful, unique bread that can accompany many different meals.
Ingredients
2

cups

all purpose flour

2

tablespoons

granulated sugar

1

tablespoon

baking powder

2

teaspoons

salt

1

teaspoon

garam masala

1

teaspoon

black pepper

½

teaspoon

chili powder

6

tablespoons

unsalted butter

cold and cut into small cubes

1½

cups

mild cheddar cheese

1

cup

heavy cream

1

egg

large

1

tablespoon

milk

2

teaspoons

sea salt

optional, to finish
Instructions
Preheat oven to 425° Farenheit /220° Celsius. Place the Silpat mat on the baking sheet, or line the sheet with parchment paper.

Add dry ingredients, including spaces, to the food processor and pulse to mix.

Add cold, cube butter to the dry ingredients still in the food processor, and pulse to combine. The result should be a fine, crumbly mixture.

Transfer this to a mixing bowl. Fold in the shredded cheddar cheese.

Add the heavy cream and stir to combine.

Turn dough out onto a floured surface, and knead gently, just until the dough comes together. Do not overwork it.

Shape dough into a 1-inch thick circle, about 8 inches in diameter. Cut into 8 wedges. Place wedges on lined baking sheet.

Whisk together milk and egg. Brush each scone with the egg mixture, then sprinkle with flaked sea salt.

Bake for 12-15 minutes until tops are golden brown.
Nutrition
Calories:
400
kcal
|
Carbohydrates:
29
g
|
Protein:
10
g
|
Fat:
27
g
|
Saturated Fat:
17
g
|
Polyunsaturated Fat:
1
g
|
Monounsaturated Fat:
7
g
|
Trans Fat:
0.3
g
|
Cholesterol:
98
mg
|
Sodium:
1481
mg
|
Potassium:
97
mg
|
Fiber:
1
g
|
Sugar:
4
g
|
Vitamin A:
983
IU
|
Vitamin C:
0.2
mg
|
Calcium:
272
mg
|
Iron:
2
mg
If you like this recipe, then you must like both cheese and bread - so be sure to check out my soft pretzels and beer cheese recipes too!