Jump to Recipe
Indian chicken korma curry is a delicious Indian dish that can be prepared mild or spicy, and appeals to most people, even those who aren't always comfortable with foods from other cuisines.
My family loves Indian cuisine. My husband and I have always been fans, but it took the kids awhile to come around. This chicken korma dish was one of the first Indian meals they learned to enjoy. It's easy for kids and picky eaters because it doesn't have tons of vegetables, it isn't spicy, and the flavors are unique but not so overwhelmingly different to be scary for kids.
Jump to:
What is Korma?
Sometimes written as "qorma", korma is an Indian curry that is based on yogurt and nuts. I like cashews but some recipes use almonds. It is the Indian word for "braise" and the resulting korma sauce is a thick gravy surrounding tender pieces of meat.
What is Garam Masala?
If you've never cooked an Indian recipe before, you may have no idea what garam masala is. Garam masala is a spice blend common in Indian cooking. My local supermarket carries it, and we also have an Indian grocer a short drive away. If you can't find it locally, you can order some from Amazon. You can also make it yourself from its component spices.
Once you have it, take a good long (but gentle!) sniff of the contents of the bottle. If you like Indian food, you'll recognize the aroma in a heartbeat.
I love to cook with a variety of spices and herbs. This recipe calls for a lot of different spices, but it's worth the extra time to measure and combine them, for the rich flavor combination that results.
Adjusting the Heat
When I make it for the entire family, I only use two serrano peppers, and I remove and discard the seeds. It's just enough to add flavor without much heat. When I prepare the korma for just my husband and myself, I use 4 serrano peppers and include some of the seeds. That makes it much spicier! And once I made it for my parents, who don't like spicy food, so I just left out the peppers altogether.
I suggest starting with fewer peppers the first time you make this. It's very good even when its not spicy. If you find that you want it to be hotter, increase the number of peppers and/or include some of the seeds, when you make it the next time.
You can also try substituting other kinds of chili peppers, if you prefer (or if serrano peppers are hard to find in your area.) I've used jalapeno peppers sometimes and it tasted great. You can also substitute dried red chili pepper flakes to add heat and flavor.
How to Serve
For the most traditional way to serve korma, include a side of steamed basmati rice - or serve the korma over the rice. Basmati is the type of rice used in Indian cooking. There's nothing wrong with using jasmine or regular long-grained rice if you prefer. It's less authentic, but not less tasty!
If you want, you can include some whole green cardamom pods when cooking the rice. They will soften while cooking, and lend a unique taste to the rice, especially when you bite into one of them. Cardamom seeds are somewhat licorice-flavored. But in a good way, not a black-jellybean way!
Marinating Time
The recipe calls to marinate the uncooked chicken for between 1 and 24 hours. The longer it marinates, the better the resulting flavor will be. Feel free to use chicken breasts or chicken thighs, as either one (or a combination) works well in this dish.
But if you don't have time to wait - which has definitely happened to me - it's quite ok to go ahead and cook the korma without marinating it at all. It still tastes really good! So if 5 o'clock rolls around and you realize you forgot to prepare the dish earlier, don't worry...you can still manage dinner.
Recipe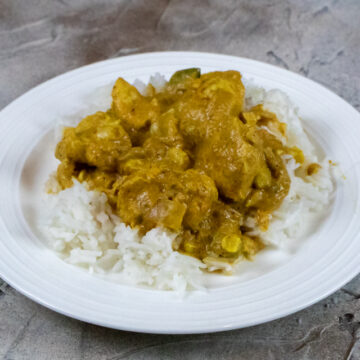 Chicken Korma
A delightful, nutty Indian meal that can be spicy or mild, depending on your preferences.
Print
Pin
Rate
Ingredients
2

pounds

uncooked boneless chicken (breast or thigh)

cut into 1-inch cubes

1/2

cup

cashews

4

cloves

garlic

diced

2-4

serrano peppers

chopped

1

medium

yellow onion

chopped

1

cup

plain yogurt

(Greek or regular)

1

tablespoon

olive oil

1/2

cup

chicken stock

1

cup

heavy cream

4

tablespoons

tomato paste

2

cups

basmati rice

for serving over
Spices
1

tablespoon

garam masala

(an Indian spice blend)

1

teaspoon

red pepper flakes

1

teaspoon

paprika

1

teaspoon

turmeric

1

teaspoon

ground cardamom

1

teaspoon

ground coriander

1/2

teaspoon

cumin

1/2

teaspoon

ground ginger

1/2

teaspoon

cinnamon
Instructions
Add cashew nuts to a food processor, and lightly pulse to chop

Add all spices, tomato paste, and garlic to the food processor, along with 3 tbsp water, and pulse to combine. It should form a paste.

Transfer paste to a medium bowl, add the Greek yogurt, and stir to combine.

Add chopped, uncooked chicken to bowl, and stir until all of the chicken has been coated in the sauce.

Refrigerate for 1 hour, or up to 24 hours. (If you are short on time, you can skip this step, and the results will still taste great!)

Once you are ready to cook, heat the oil in a skillet. Cook the peppers and onions for 5 minutes until peppers are soft and onion is translucent.

Add in the chicken and marinade, as well as the 1/2 cup chicken stock. Cook over medium heat for 15 minutes, stirring occasionally.

Add the heavy cream, reduce heat to low, and simmer for an additional 10 minutes.

Serve over cooked basmati rice.
Nutrition
Calories:
510
kcal
|
Carbohydrates:
46
g
|
Protein:
34
g
|
Fat:
21
g
|
Saturated Fat:
9
g
|
Polyunsaturated Fat:
2
g
|
Monounsaturated Fat:
7
g
|
Trans Fat:
1
g
|
Cholesterol:
115
mg
|
Sodium:
248
mg
|
Potassium:
699
mg
|
Fiber:
2
g
|
Sugar:
4
g
|
Vitamin A:
720
IU
|
Vitamin C:
6
mg
|
Calcium:
90
mg
|
Iron:
2
mg