Chicken korma is a deliciously nutty curry dish from India. White chicken korma is a brighter version of the the same dish, with slightly different flavors, that is more common in Pakistan and Bangladesh. Your family is sure to love this mild curry with its unique flavors!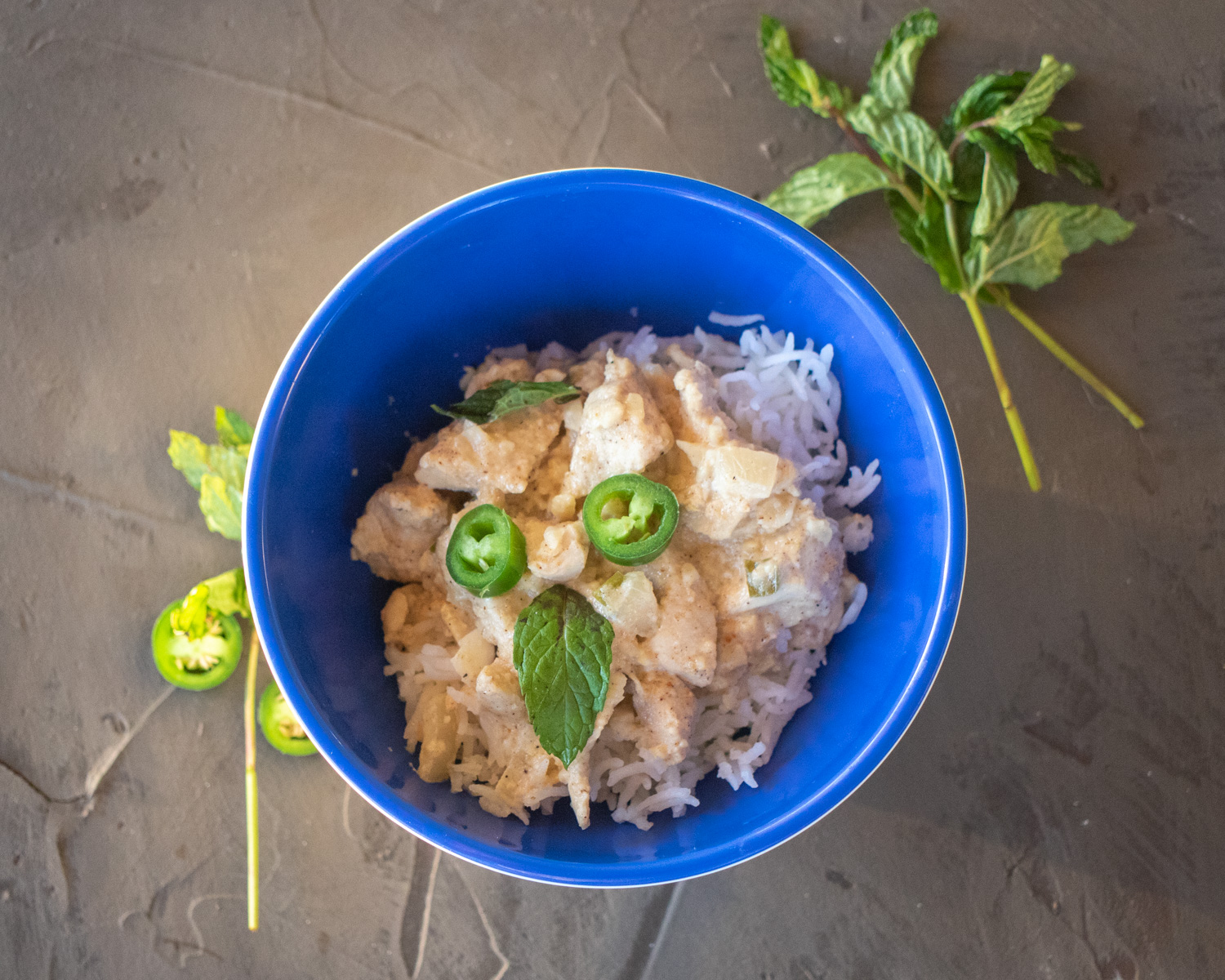 This Bangladeshi white chicken korma recipe was inspired by my regular chicken korma recipe, aka garam masala chicken curry. Korma is one of my family's favorite Indian dishes. It's easy enough for a weeknight, and also suitable for special occasions. Even my kids enjoy this one!
The difference between the two dishes is that several ingredients are omitted or replaced when making this dish, in order to keep the white gravy from turning another color. For example, regular korma uses tomato paste, red chili powder and cumin powder, but those aren't included in this recipe. Also, the creaminess in white korma comes from yogurt rather than from coconut milk. (You could also use full cream.)
Jump to:
🥘 Ingredients
plain Greek yogurt
garlic
lemon juice
white onion
serrano or jalapeño peppers
mint leaves (optional, for garnish)
raw cashews
salt
garam masala
ground cardamom
ground cinnamon
ground nutmeg
white pepper
olive oil
heavy cream
water
I generally buy spices that are already ground and in jars for the sake of convenience. However, for best flavor, you can buy whole spices and grind them yourself!
🔪 Instructions
Combine all sauce ingredients together in a blender or food processor, and pulse to blend. This will result in a fine paste that you'll use for your marinated chicken. If you need to make a thinner gravy, add some water, a little bit at a time. Place cubed chicken in a bowl or other container, cover with sauce, and stir to combine. You can optionally let this marinate in the refrigerator for 1 to 24 hours, but you can also cook it right away if you want to save time.
Heat oil over high heat in a skillet, and cook peppers and chopped onions until soft and onions are translucent. Add chicken and marinade, as well as water, and cook on medium heat for 15 minutes.
Add heavy cream and simmer an additional 10 minutes over low heat.
Serve over basmati rice, and garnish with fresh mint leaves, green cardamoms and/or additional sliced green chilies.
Hint: if you don't have white pepper powder, it's fine to use regular black pepper powder. The end result won't be completely white, but it will be close enough! You may wish to reduce the amount, since black pepper is a bit stronger in flavor.
📖 Variations
Serrano and jalapeño peppers are fairly mild, but they do impart some mild heat. If you don't want it to be spicy at all, simply leave out the peppers altogether, or perhaps try bell peppers. (I like heat, so I have not tested this with bell peppers...your mileage may vary! If you try it, please drop a comment so I know whether it worked well for you.)
If you'd like to add more heat, you can increase the number of peppers, or you can incorporate hotter peppers, such as habanero peppers. Did you know the spiciness of different types of peppers is measured using something called the Scoville Scale? You can read up on the Scoville scale here, and use it to determine other types of peppers to add to your dish.
🍽 Equipment
There's no special equipment needed for this white korma recipe beyond a way to mix up the sauce. Either a blender or a food processor will work for this. Alternatively, you could even chop everything by hand, including the cashews. I have used both my Ninja blender and my basic food processor (similar to this), and both work great. The sauce is a little thick, and I find it easier to get out of the food processor than the blender.
(You can also dilute the sauce with up to a cup of water if needed. Just make sure not to have an excess of water; it shouldn't be so runny that it won't coat the chicken)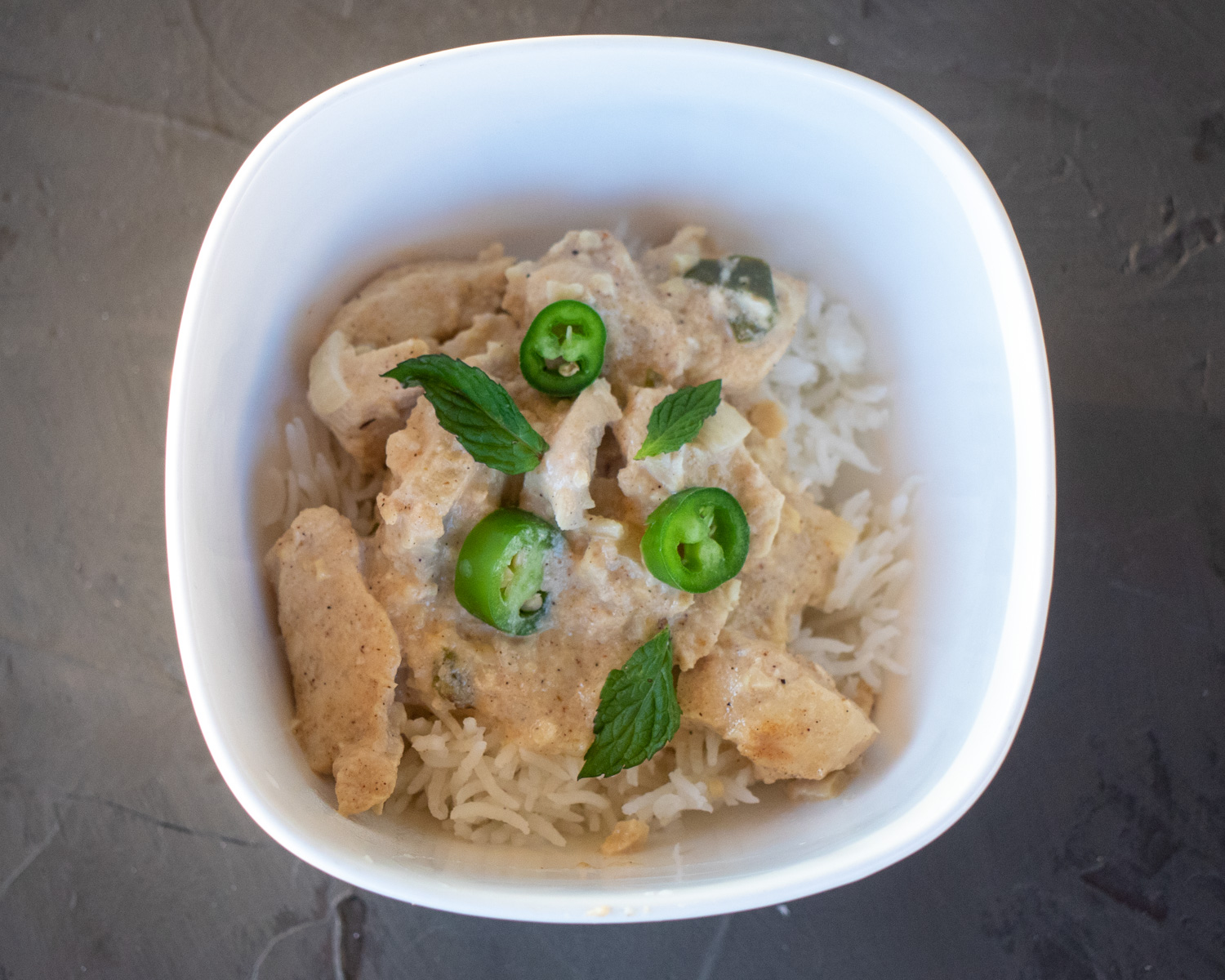 🥡 Storage
Before cooking, the chicken and marinade combination can be stored in the refrigerator for up to 24 hours. Doing so will help the flavors develop, but is not required.
After cooking, the leftovers can keep up to 3 days in the refrigerator.
❓ FAQ
Why is my korma white?
Regular chicken korma has tomato paste and turmeric, both of which add significant color. This recipe has neither, which allows the white color from the yogurt and cashews to shine through.
What is korma sauce made of?
Korma specifically consists of yogurt, cream and cashews, along with spices to add flavor. The specific spice blend will determine the final color of your gravy.
What does korma taste like?
Korma gets its predominant flavors from the nuts and cream. The combination produces a mild, nutty, and slightly sweet overall taste. The different spices can add heat and flavor. With this white korma, the cinnamon and nutmeg enhance the "sweet" flavor profile.
📋 Recipe
White Chicken Korma
This is a brighter version of the Indian curry called chicken korma, with slightly different flavors, and is more common in Pakistan and Bangladesh.
Ingredients
Sauce
1

cup

plain Greek yogurt

1

tablespoon

lemon juice

4

garlic cloves

1

teaspoon

salt

½

teaspoon

garam masala

¼

teaspoon

ground cardamom

¼

teaspoon

ground cinnamon

¼

teaspoon

white pepper

can substitute black pepper

¼

teaspoon

ground nutmeg

½

cup

cashews

raw and unsalted
Other
1

tablespoon

olive oil

½

white onion

diced

2

serrano peppers

sliced. jalapeño works well, too

2

pounds

boneless, skinless chicken breasts

cut into small cubes

¼

cup

water

½

cup

heavy cream

mint leaves

for garnish
Instructions
In a food processor, combine all ingredients listed under sauce, and pulse to blend until you have a smooth paste.

Place cut-up chicken pieces in a bowl and top with sauce.

Refrigerate for 1 hour, or up to 24 hours. (If you are short on time, you can skip this step, and the results will still taste great!)

When you are ready to cook, heat the oil in a skillet. Cook the peppers and onions for 5 minutes until peppers are soft and onion is translucent.

Add in the chicken and marinade, as well as the ¼ cup water. Cook over medium heat for 15 minutes, stirring occasionally.

Add the heavy cream, reduce heat to low, and simmer for an additional 10 minutes.

Serve over cooked basmati rice, and garnish with mint leaves and extra slices of serrano pepper, if desired.
Nutrition
Calories:
536
kcal
|
Carbohydrates:
11
g
|
Protein:
58
g
|
Fat:
28
g
|
Saturated Fat:
11
g
|
Polyunsaturated Fat:
3
g
|
Monounsaturated Fat:
11
g
|
Trans Fat:
0.03
g
|
Cholesterol:
182
mg
|
Sodium:
880
mg
|
Potassium:
1018
mg
|
Fiber:
1
g
|
Sugar:
5
g
|
Vitamin A:
567
IU
|
Vitamin C:
6
mg
|
Calcium:
115
mg
|
Iron:
2
mg
🦺 Food safety
As this is a chicken dish, be sure to clean all surfaces before and after preparation, and after cooking. Chicken can contain salmonella, so proper disinfecting is important.
Also make sure to cook chicken thoroughly. It needs to reach a minimum temperature of 165 °F (74 °C) before being consumed.
Did you try this dish and like it? Be sure to drop a comment below and rate the recipe so others know!