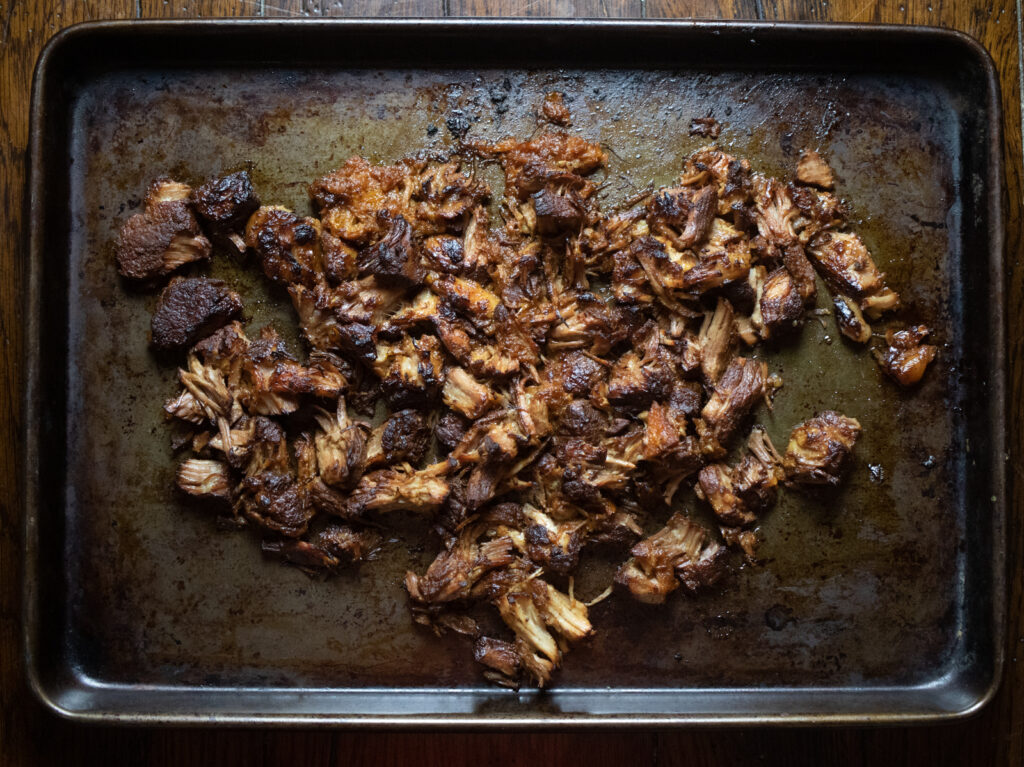 Carnitas is a word that means "little meat" and it's something we've loved to eat when visiting southern California. This recipe for Chevy's Stove Top Pork Carnitas comes from an old cookbook of Chevy's and Rio Bravo delights, and is delicious in tacos and burritos or just as a standalone dish.
My husband and I lived in Houston, TX for five years. We LOVED to eat Mexican food there. The problem was that once we moved back to Florida, our TexMex cuisine hit a wall. The salsa at most restaurants around here tastes like ketchup with a little cilantro in it. The fajitas are dry and flavorless. And the margaritas all involve Jose Cuervo mix, as far as I can tell.
But then we started attending a developer conference in San Diego every year, and...
HALLELUJAH!!!!
Mexican food at its best. It's a little different from TexMex or the traditional Mexican we used to get in Texas. Texas is obviously know for Tex-Mex cuisine, which is a combination of Texan and Mexican flavors. We did occasionally make a long drive from Houston to Navasota for traditional carne guisada, though, and it was always worth it!
But there's a place in Old Town, San Diego called the Old Town Mexican Café (original, I know) that specializes in carnitas. In my opinion, it's the Mexican equivalent of pulled pork BBQ sandwiches we had back in South Carolina. But instead of putting the pork on buns, you obviously eat them on flour tortillas. And Old Town Mexican Café has the FIRST best homemade flour tortillas anywhere.
Once a year didn't count, though, so I started looking for recipes online for some of this great Mexican food. A Google search for turned up a recipe for carnitas that is supposedly provided by Old Town Mexican Cafe, but it's not nearly as good as theirs is. So I went back to the trenches and turned up another carnitas recipe from Mean Chef that includes Pepsi as an ingredient. It turned out a little sweet but it's really good and much better than the first one.
Jump to:
Pork Shoulder or Pork Butt?
Different carnitas recipes call for pork shoulder instead of pork butt. Here is a great article from Cooks' Illustrated about the difference.
Instructions
The recipe starts with the Fuego (Spanish for "fire") spice mix. The Fuego spice mix is simply a combination of paprika, cayenne pepper, salt, white and black peppers, garlic powder, chili powder, and oregano. The recipes makes a lot more spice mix than you need for one meal, so I keep the remainder ready in my pantry inside a small Tupperware container. That way I only need to blend the spices when I run out!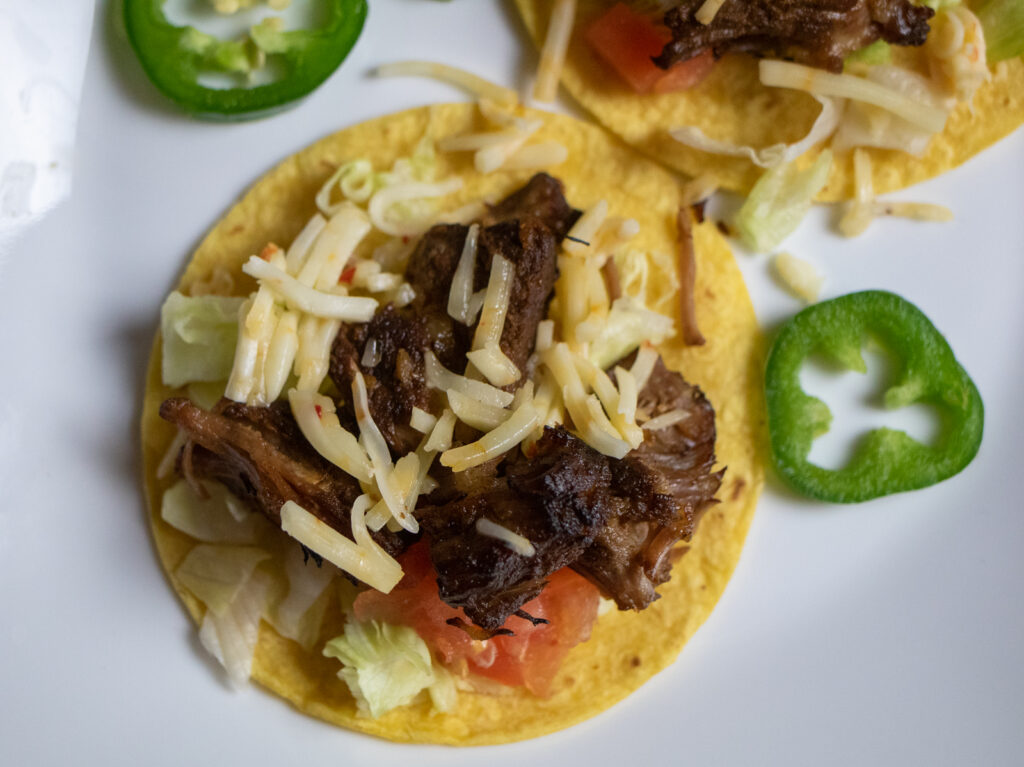 To make the carnitas, you cut the pork into bite-sized pieces and then sprinkle the fuego spice mix on top. Mix it all up and press the spice mix into the pork to help it stick. Then make the agua negra orange-juice based marinade, and add the spice-covered meat to it. Marinate overnight.
Then take the meat out and cook it in a skillet - the picture below is old, but I like my Hexclad wok for this because it holds so much. Once the pork is browned, you add the rest of the marinade and let it cook down for two hours, until the pork is tender enough to pull apart with a fork.
FYI: Some carnitas recipes call for a slow cooker, but that takes longer and a stove top recipe can therefore take less planning.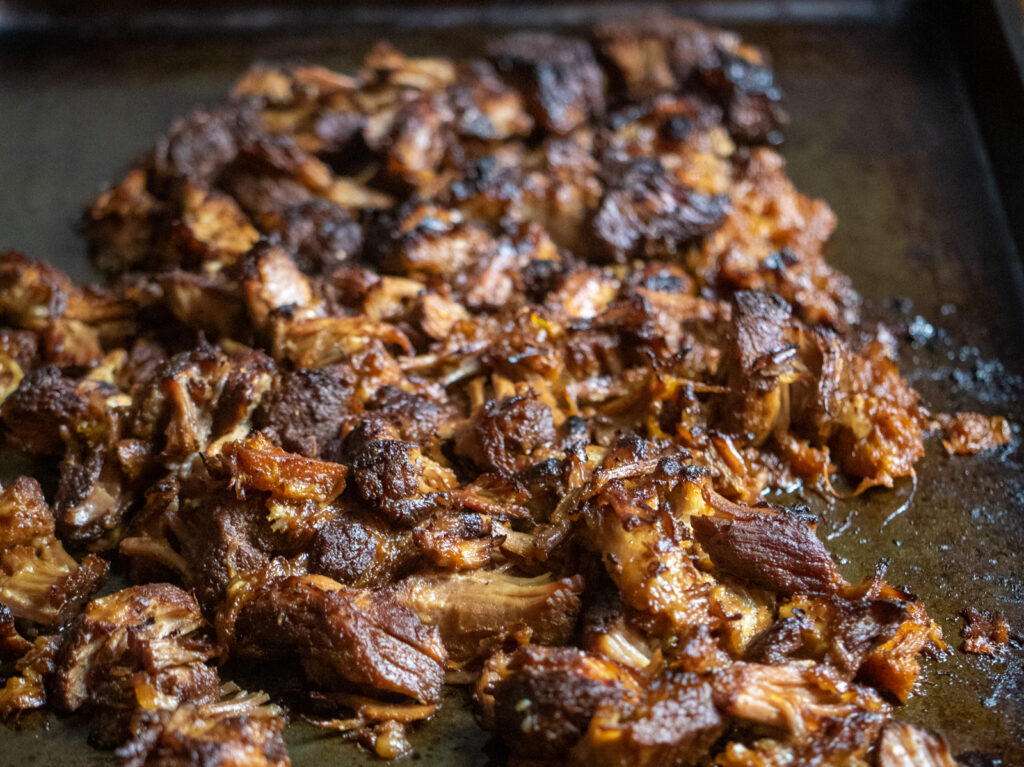 After shredding the pork, you can put it into the oven under the broiler to crisp up the edges of the meat. This produces the texture that carnitas are known for. Below is a picture one of the finished product! You can see I like mine with Queso Blanco and salsa verde and served on homemade flour tortillas.
How to Serve
Pork carnitas are most often served as tacos on flour tortillas. When served this way, you can include your favorite toppings, such as Mexican pickled onions, salsa, chopped tomatoes, peppers, cheese, sour cream, and lettuce. For a side dish, serve refried or Charro beans, or Mexican rice.
You can also serve carnitas as you would pulled pork, like a sandwich, if you put it on a bun. Feel free to dress it up with a mild mustard-based barbeque sauce, or keep it more traditional by adding salsa or maybe an avocado-ranch dressing. If you have lots of leftovers, try making some of it into a carnitas soup for a completely different treat!
For dessert? Try this CPK Butter Cake, another copycat recipe you're sure to enjoy,
Give this recipe for Chevy's Stove Top Pork Carnitas a try and let me know what you think in the comments below. I hope you enjoy it!!
📋 Recipe
Chevy's Stove Top Pork Carnitas
Carnitas - which means little meats - are a yummy filling for tacos and burritos. This recipe cooks right on the stovetop and doesn't require any special equipment.
Ingredients
Fuego Spice Mix
¼

cup

paprika

2

teaspoons 

cayenne pepper

2

tablespoons

salt

2

teaspoons

white pepper

2

tablespoons

black pepper

2

tablespoons

garlic powder

2

tablespoons

chili powder

2

tablespoons

oregano
Agua Negra Marinade
2

oranges

1

cup

soy sauce

2

cups

pineapple juice

2

tablespoons

cumin

2

teaspoons

garlic

minced

¼

cup

lime juice
Carnitas
3

pounds

pork butt

1

cup

cola

such as Coke or Pepsi

⅓

cups

oil
Instructions
Combine all spices to make the fuego spice mix. Can be stored up to 6 months in an airtight container

Squeeze the two oranges into non-reactive container. Combine with remaining ingredients for the agua negra marinade, including the orange peels. Stir with a whisk. Can be stored in the refrigerator for 2 days.

Trim away excess fat from pork and cut into 3 inch cubes.

Cover meat with 1 cup of fuego spice mix. Press into meat to help it stick.

Add seasoned meat to marinade, cover tightly, and refrigerate overnight.

When you are ready to cook, heat oil or shortening in a large heavy skillet over high heat until fat is smoking; add pork and brown completely on all sides- about 15 minutes.

Add reserved marinade plus 1 cup of Pepsi, and simmer for about 2 hours or until pork is tender and dark brown. Add additional Pepsi as needed while cooking to keep meat covered.

Remove meat and pull pork into strips. It should almost fall apart.

Optional: Place meat onto baking sheet and place in oven under broiler for 3-5 minutes to crisp up edges.

Serve with cheese, tortillas (flour or corn), lettuce, tomatoes, salsa, sour cream, and any other fixings you like.
Nutrition
Calories:
417
kcal
|
Carbohydrates:
23
g
|
Protein:
37
g
|
Fat:
20
g
|
Saturated Fat:
4
g
|
Polyunsaturated Fat:
4
g
|
Monounsaturated Fat:
10
g
|
Trans Fat:
1
g
|
Cholesterol:
102
mg
|
Sodium:
3515
mg
|
Potassium:
947
mg
|
Fiber:
4
g
|
Sugar:
13
g
|
Vitamin A:
1381
IU
|
Vitamin C:
33
mg
|
Calcium:
107
mg
|
Iron:
5
mg
View this recipe's web story.