I make a lot of Mexican food, and many times I choose corn tortillas, which taste pretty good straight off the supermarket shelves. But some dishes just scream for flour tortillas. And a lot of people prefer to make homemade flour tortillas without lard, so this tortilla recipe gives options for both.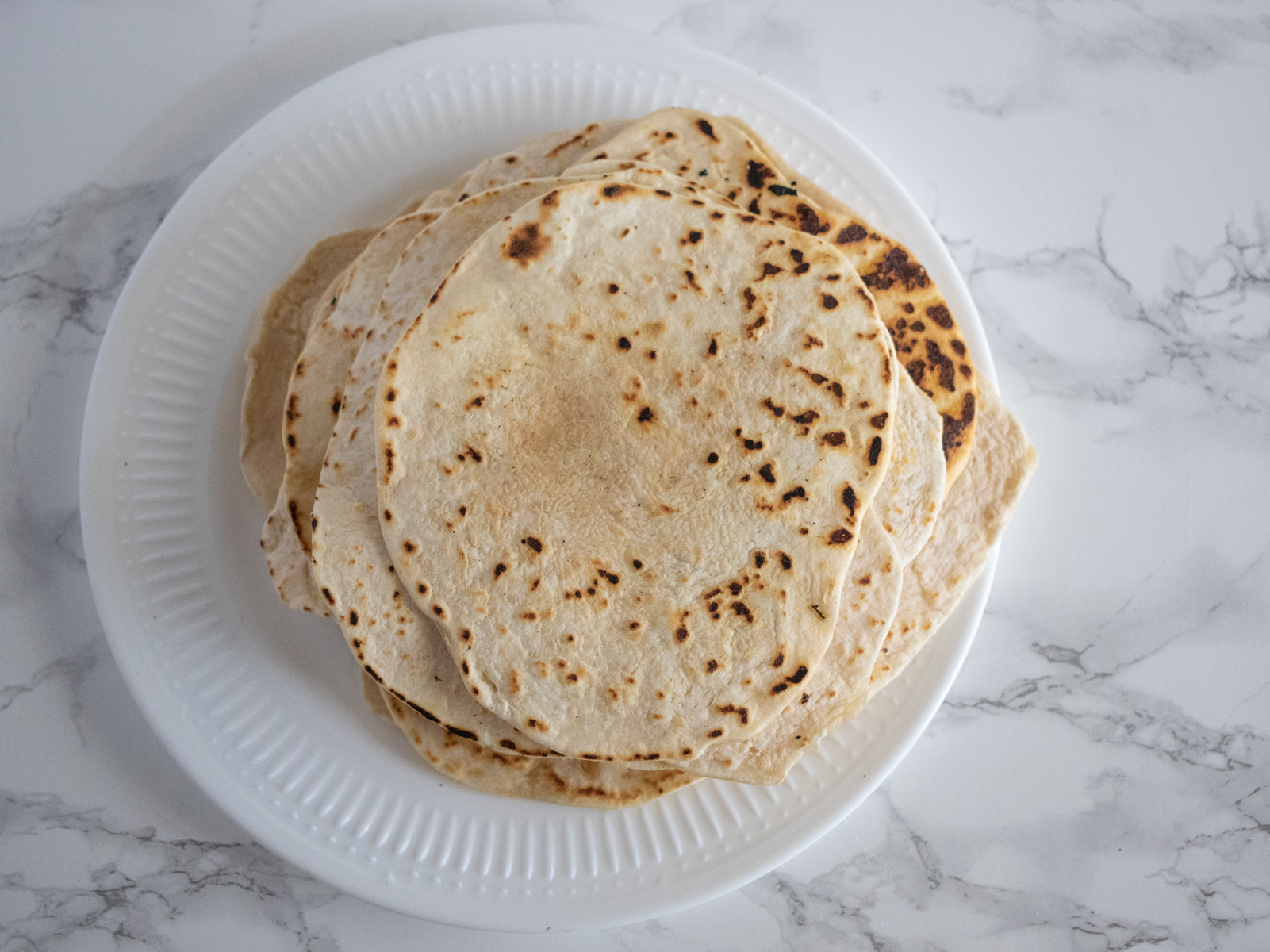 Jump to:
Do I Need to Use Lard?
Some people will tell you that lard is required for any true flour tortillas recipe. Yes, lard makes delicious tortillas and is the more traditional choice.
A lot of people prefer not to use lard, though. As an animal by-product, it's neither vegan nor vegetarian. Also, lots of people don't keep lard in their pantries, so they'd have to make a special purchase for this. And some people just don't like the taste or think it's gross.
The good news is that you have options! If you want vegan flour tortillas, then vegetable shortening is your best friend. Also known as Crisco, the most common brand name, vegetable shortening makes delicious tortillas!
Another choice is butter, which although not vegan, is more palatable and readily available for many people. Real butter also makes good tortillas.
The only thing I wouldn't recommend is margarine. It won't give you a good result because it doesn't have the right kind of fat in it.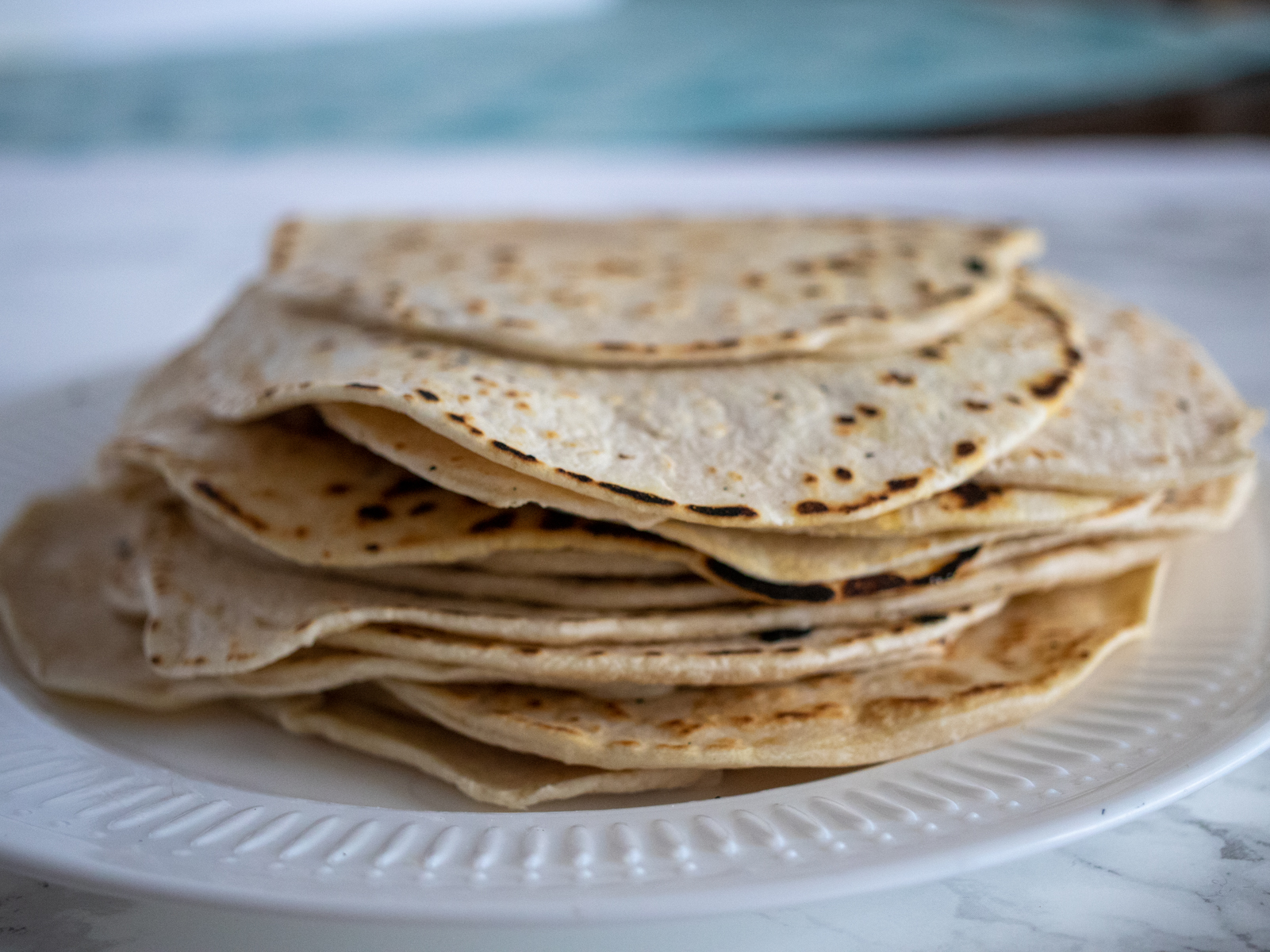 Better than Store-Bought!
If you want to eat store-bought tortillas baked into enchiladas or when making pizzadillas, they probably taste just fine. Something about heating them up cuts back on their artificial, preservative-y taste. And everything tastes better when covered in cheese! In fact, if I have to use the off-the-shelf ones in a pinch, even heating them in a cast iron skillet makes them a little better.
But if you live near a Wal-Mart, I highly suggest checking out La Abuela's uncooked tortillas. You'll find them in the refrigerated section. They have no chemical preservatives, no dough conditioners, and no enhancers. Because they are uncooked and refrigerated, they don't need them.
However, the recipe presented here doesn't take THAT long and isn't very complicated, and homemade flour tortillas are the most delicious option you can find.
Are They Authentic?
I don't care if corn is more authentic; flour tortillas just taste right sometimes! People will tell you Authentic Mexican food supposedly doesn't use flour tortillas, but Wikipedia even says flour ones probably come from more northern Mexican states where flour is easier to grow than corn. Whether you think homemade flour tortillas work for Mexican cuisine, or are strictly for the Tex-Mex variety of food, you can hardly deny how delicious they are!
And if you're looking to eat healthier, you can make these with whole wheat flour instead of bleached white flour. It affects the taste some, but they're still quite good and you'll get all of the health benefits of whole grain.
While I like corn tortillas for street tacos, you can't beat flour for burritos. I cook these whenever I make my steak fajitas or my stovetop pork carnitas.
What Kind of Pan to Use
I usually cook tortillas on a cast-iron pan. It comes closest to the Mexican "comal" that tortillas are often cooked on. But you can use Teflon-coated pans, or Hexware, or pretty much any kind of skillet. Don't feel like you have to purchase a special pan for these. If your skillet isn't non-stick, you may need to spray it with Pam cooking spray (or olive oil in a sprayer) before cooking and maybe even between each tortilla. And that's perfectly ok.
Troubleshooting
I have run into two problems when making tortillas, and both are easy to fix.
The first is that sometimes you can't make them large enough. When you try to roll them out, they shrink or even spring back to a smaller size. This happens because of the gluten in wheat - the same gluten that some people are sensitive too. Even if gluten doesn't make you ill, it can still make you really mad when you're trying to roll out the tortillas before cooking!
This happens if you don't let the dough rest long enough, or if you work it too much after resting. To fix this issue, let the dough rest awhile longer, and resist the temptation to ball the dough back up and start over just to get a perfect circle.
Which brings me to problem #2 - sometimes these won't be anywhere close to circular. Sometimes you will end up with amorphous blobs. This also has a simple solution: forget about it! Weirdly-shaped tortillas taste just a good as ones that end up in a perfect circle.
So give this Homemade Flour Tortillas Without Lard recipe a try the next time you're in the mood for a Mexican-inspired dinner. Or if you're just craving some warm carbs..my favorite comfort food!
📋 Recipe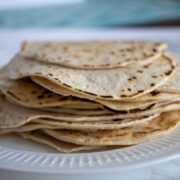 Homemade Flour Tortillas without Lard
Once you've had fresh-made tortillas, you'll never want the store-bought ones again. They take time but aren't difficult, and the results are so worth it!
Ingredients
4

cups

all-purpose flour

2

teaspoons

baking powder

1

teaspoon

salt

2

tablespoons

lard, butter, or Crisco

1½

cups

water

cooking spray

not needed with nonstick pan
Instructions
Sift together flour, baking powder, and salt.

Add in lard, butter, or Crisco vegetable shortening and "pinch" to mix with your fingers until mixture resembles cornmeal.

Add water and stir until dough comes together

Divide dough into 24 pieces and roll each into a ball

Cover dough with a towel and allow to rest for 20 minutes

Heat your skillet over medium-high heat.

With your rolling pin, roll the dough balls into flat, round tortilla shapes on a floured surface. It's ok if they're not perfectly round!

Optional: If your pan isn't non-stick or if it's cast iron that isn't well seasoned, you can spray a light coating of cooking spray, like Pam, on it.

Place the tortilla in the pan and cook for 20-30 seconds. Play with the time because the thickness and amount of heat can make it vary. You'll start to see air pockets forming, similar to when cooking pancakes.

Flip the tortilla over with a spatula and cook the other side. The second side probably won't need to cook quite as long as the first, so keep a close eye on it.

Remove from skillet and place on a plate

Repeat the rolling and cooking process with the next ball of dough. Stack each one on top of the previous one. Cover the stack of tortillas with a tea towel to keep them warm.
Nutrition
Calories:
460
kcal
|
Carbohydrates:
96
g
|
Protein:
13
g
|
Fat:
1
g
|
Saturated Fat:
1
g
|
Polyunsaturated Fat:
1
g
|
Monounsaturated Fat:
1
g
|
Sodium:
802
mg
|
Potassium:
150
mg
|
Fiber:
4
g
|
Sugar:
1
g
|
Vitamin A:
371
IU
|
Vitamin C:
3
mg
|
Calcium:
156
mg
|
Iron:
6
mg