Lupe Tortilla's Charro Beans is a delicious side dish that's perfect with any Mexican main course, or any time you want a hearty side dish of beans.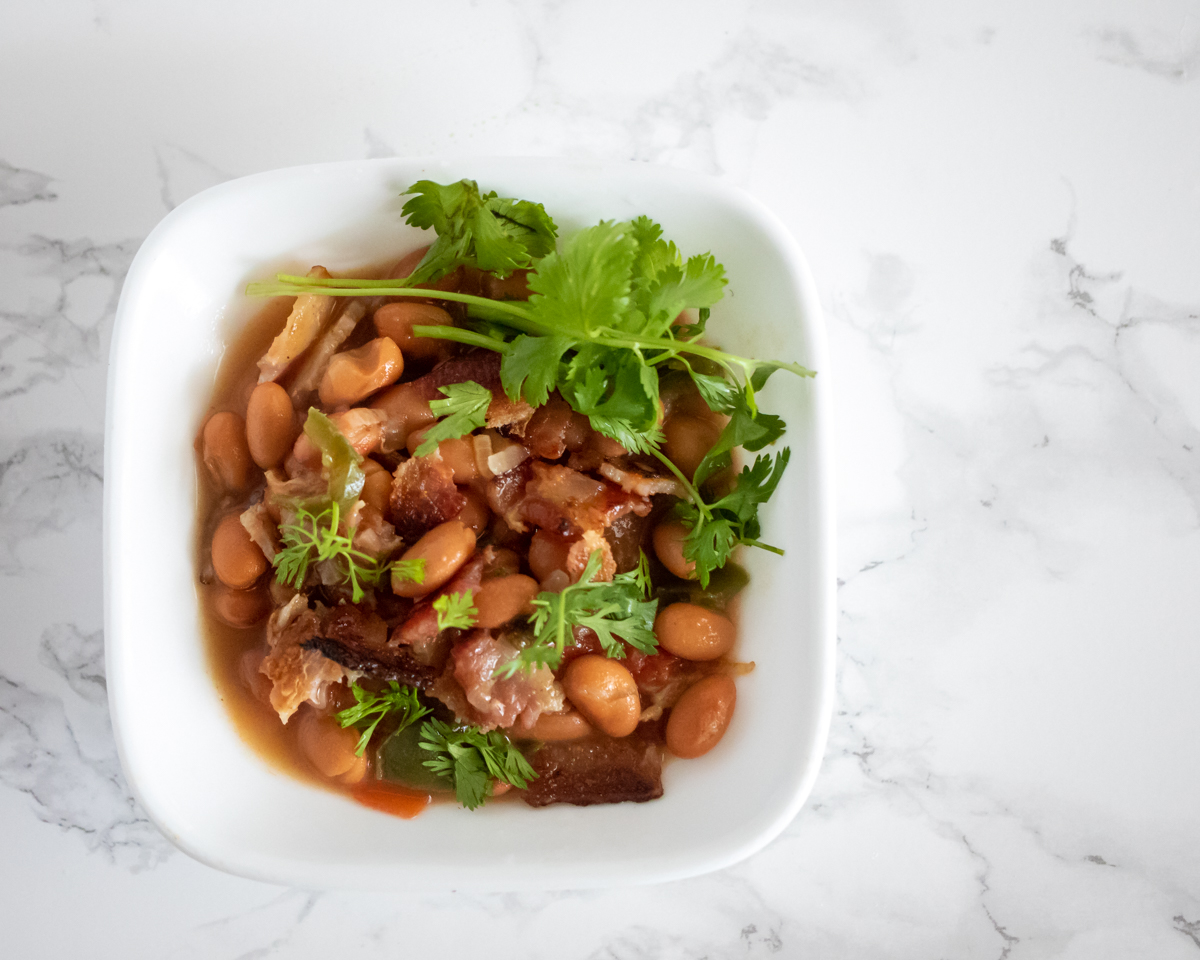 Jump to:
Full disclosure:, I have always hated beans. I hate them with all of my heart, mind, soul, and body. The smell makes me gag, even. If I go out for Mexican, I always ask for a double-order of rice instead of beans. (Refried beans are the worst...they look like someone already digested them for you. Ew.)
In a fit of bravery one night, and because a friend really encouraged me to do so, I had a little taste of the charro beans that came with my meal every time I visited Lupe Tortilla's in Houston. To my surprise, not only were they edible, they were actually good! Just goes to show you that a bunch of bacon can fix just about anything...even frijoles a la charra.
If you REALLY like beans, check out my recipe for Gallo Pinto! It's a Costa Rican breakfast version of rice and beans and it's SO GOOD!
What are Charro Beans (Frijoles Charros)?
The Spanish name of this recipe is frijoles charros. It has a base of canned pinto beans, but then it's made magical by the addition of veggies - diced tomatoes, jalapeno peppers, and onions. These flavors really work well with the beans and make something amazing out of a very plain can of beans!
Charro beans are an authentic Mexican recipe, but go hand-in-hand with any Mexican or Tex Mex main dish.
Can You Use Dried Pinto Beans?
Some people may not want to use canned pinto beans, and that's totally ok! If you prefer, you can cook dried pinto beans instead. Rinse one pound dried pinto beans, cover them with water to about three inches above the beans, and soak them overnight or for about eight hours. Transfer to a large pot, cover with 10 cups water, then boil for 2-3 hours.
I mentioned above that I don't care for the smell of cooking beans, so I don't do this. I like the recipe just fine with canned pinto beans!
Adjusting the Spice Level
If you like spicy charro beans, you can add more jalapeno peppers or even add a ghost pepper or habanero pepper. If you don't like any spice, you can omit them or use a bell pepper instead. It's nice to be able to customize the dish to different people's tastes.
You could also add something like chipotle peppers. Chipotle peppers are smoked and dried peppers, and they lend a delicious and aromatic smokiness to the final dish. If it's too hard to find chipotle peppers, then you can probably find dried chipotle in the spice section of your local supermarket.
Then to make a good thing great, we add bacon. If you're a vegetarian, you can of course leave out the bacon, but for it it simply makes the dish. The smoky flavor goes really well with the earthy beans and vegetables. Bacon makes everything better, after all!
And the entire dish gets topped off with fresh, vitamin-packed cilantro. Which also happens to be beautiful. By the way, if you have that gene that makes cilantro taste like soap, I'm so sorry. You don't know what you're missing.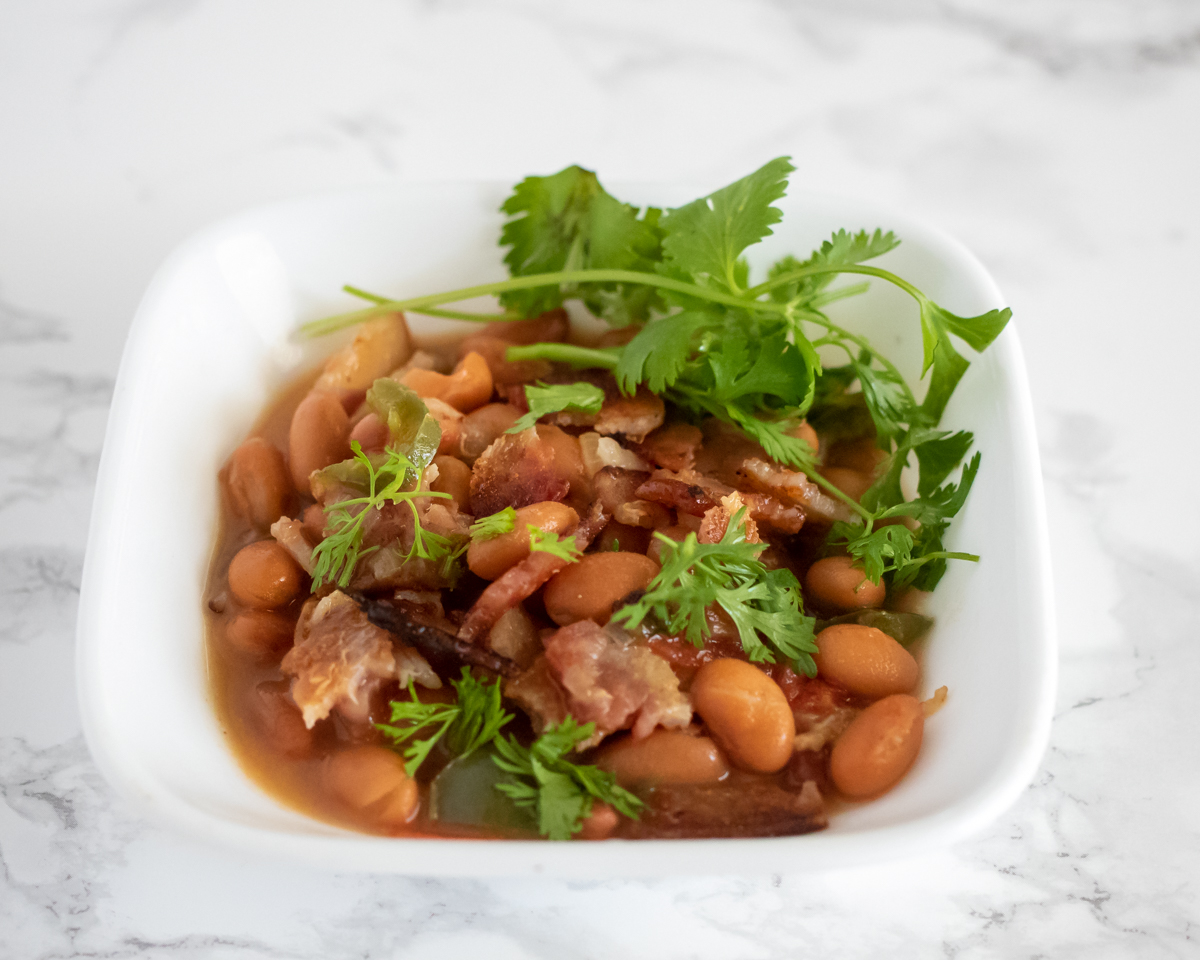 Delish!
I also have to share my gratitude with someone who goes by DiBs over at Texas Monthly (page has now been removed), who unknowingly blessed us by posting this recipe online. To my dear Lupe, please know that I'd come to your restaurant instead of making them at home if you'd only open up a branch in central Florida, but for now I'm cooking away at this secret recipe in my kitchen!
Goes great with Lupe's Fajitas Grandioso recipe! I love Mexican food, so I hope you'll enjoy all of the Mexican recipes on my blog. You can also check out my recipes for White Chicken Enchiladas, homemade Flour Tortillas, and my Walking Taco Bake Casserole.
📋 Recipe
Lupe Tortilla's Charro Beans Copycat Recipe
Mexican-inspired pinto-bean side dish with bacon, peppers, and spices.
Ingredients
2

16oz cans

pinto beans

4

slices

bacon

2

jalapeno peppers

seeded and diced

1

small

onion

diced

1

large

tomato

diced

2

teaspoons

cilantro

fresh, chopped
Instructions
In a medium saucepan, warm beans and the juice from the can.

In a small frying pan, saute bacon, jalapeno and onion until well browned.

Remove bacon from pan and cool on paper towels; add bacon grease, jalapeno, and onion to beans.

Once bacon is cool enough to touch, break into small pieces and add to beans.

Bring to a boil, then add cilantro.

Simmer over medium heat for 15 minutes.
Nutrition
Calories:
13
kcal
|
Carbohydrates:
2
g
|
Protein:
1
g
|
Fat:
1
g
|
Saturated Fat:
1
g
|
Polyunsaturated Fat:
1
g
|
Monounsaturated Fat:
1
g
|
Cholesterol:
1
mg
|
Sodium:
2
mg
|
Potassium:
77
mg
|
Fiber:
1
g
|
Sugar:
1
g
|
Vitamin A:
229
IU
|
Vitamin C:
8
mg
|
Calcium:
5
mg
|
Iron:
1
mg
View this recipe's web story.