Red onions are my favorite kind, and pickling them makes them extra special. Below you will find my Mexican pickled red onions recipe, one of my favorite burger and salad toppings. In Spanish-speaking countries you will hear these referred to as "cebollas curtidas" or "cebollas encurtidas". They are the perfect condiment for a wide variety of food!
Read on for non-spicy and sugar-free options as well.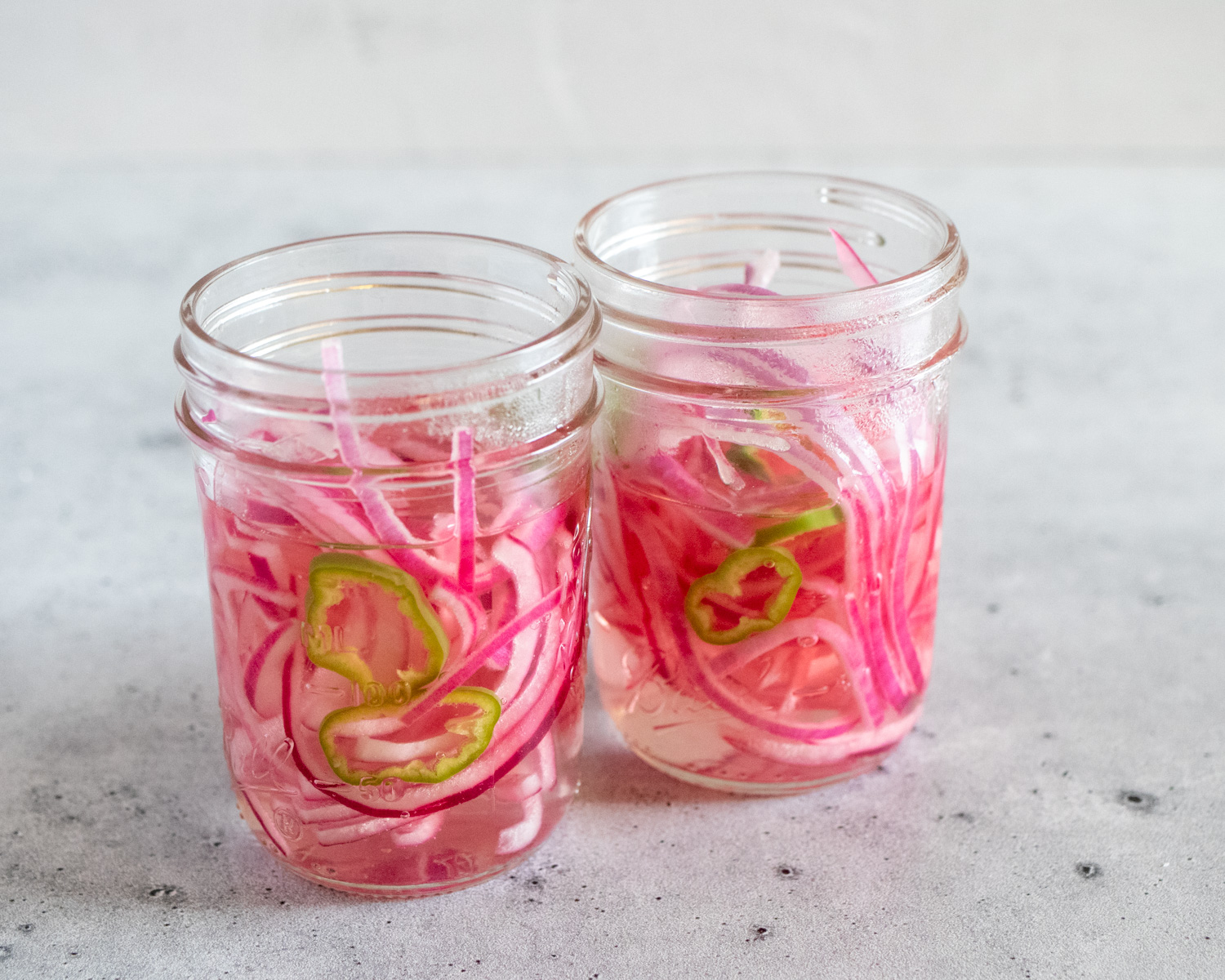 Jump to:
🥘 Ingredients
This is a really simple recipe that doesn't take long to make and only requires a few ingredients. Here's what you need to get started.
Red Onion - a single large red onion will make one jar of pickled onions, which should last a couple of weeks. If you want to make extra to share with friends, get extra onions and extra jars! Also, most people know this, but just in case...red onions are actually purple. You'll find them at the supermarket along with the white and yellow onions, but red onions are actually purple. For whatever reason, it's usually called a red onion instead of a purple onion!
Peppers - another optional ingredient, you can add a few slices of habanero or jalapeno peppers to the mix for a bit (or a lot!) of spice. In my example, I used ancho chilis from my husband's garden.
Vinegar - this is what does the "heavy lifting" of pickling the onions. I prefer apple cider vinegar, because I love the taste of apples. You could also use white vinegar, red wine vinegar, white wine vinegar, or rice vinegar. There's even something called champagne vinegar, which works great and makes it sound a little more fancy and special!
Sugar - this is an optional ingredient but it does help to cut the acid taste of the vinegar. You can substitute honey or agave syrup if you want. I don't personally like artificial sweeteners, so I haven't tried those and I don't know how well they would work. It SEEMS like it would be fine, though! If you try it please let me know so I can add it here.
Salt - regular, kosher, or sea salt is fine. You won't likely be able to tell the difference so use whatever you have on hand!
🔪 Instructions
Pickled red onions are super simple to make.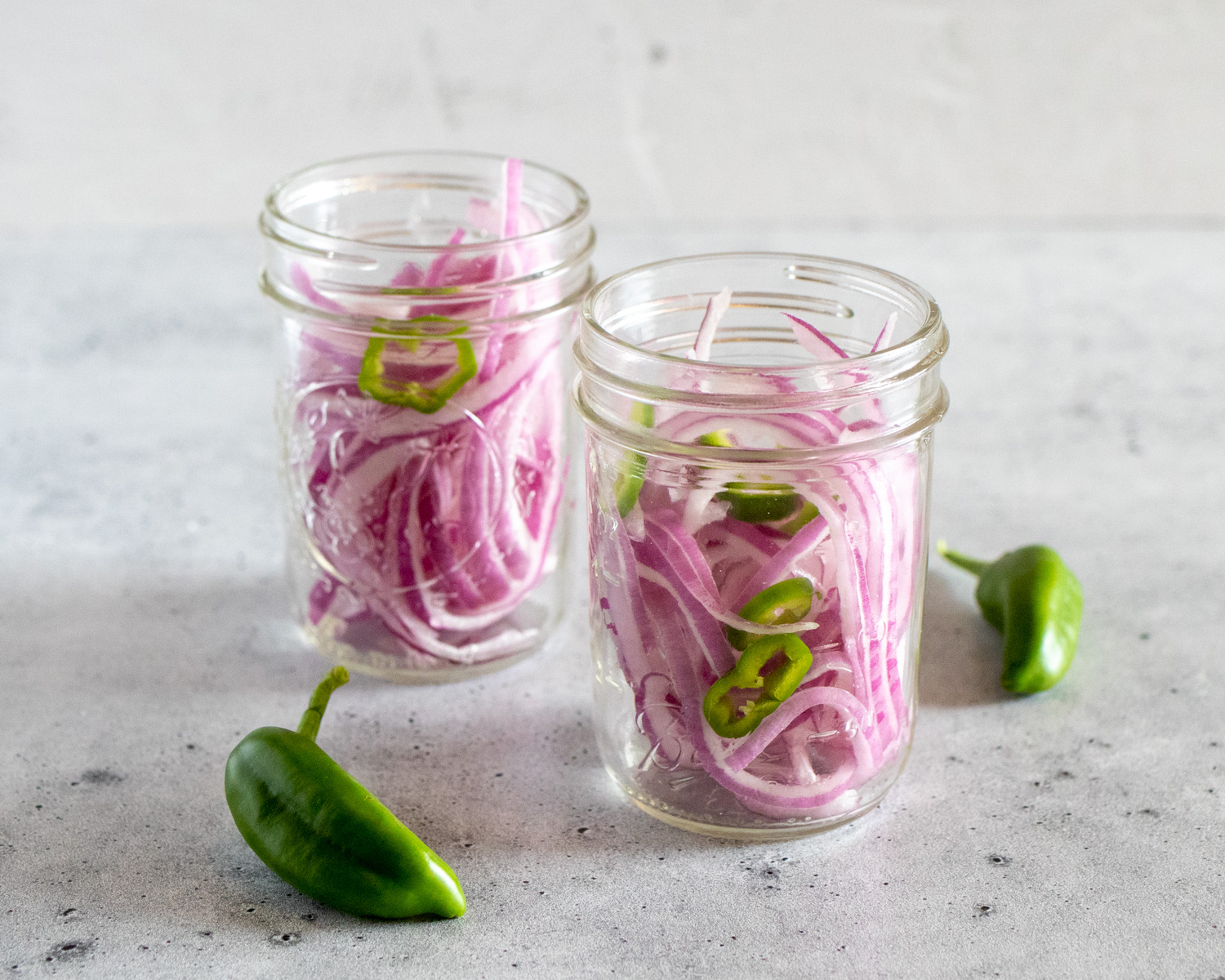 You start by peeling the red onion, and slicing it very thinly. You can use a mandolin slicer for this step; it will help you to get even, thin slices that all pickle properly. If you don't have an mandolin slicer, or you prefer not to use one, simply slice them with a sharp chef's knife or kitchen knife. Just try to slice them pretty thinly so they pickle evenly.
Slice the pepper, and place onions and peppers together in a Mason jar.
Next, combine the vinegar, salt, and optional sugar in a saucepan. Turn your stove to medium heat, and cook the mixture just to the point of boiling, then turn off the heat.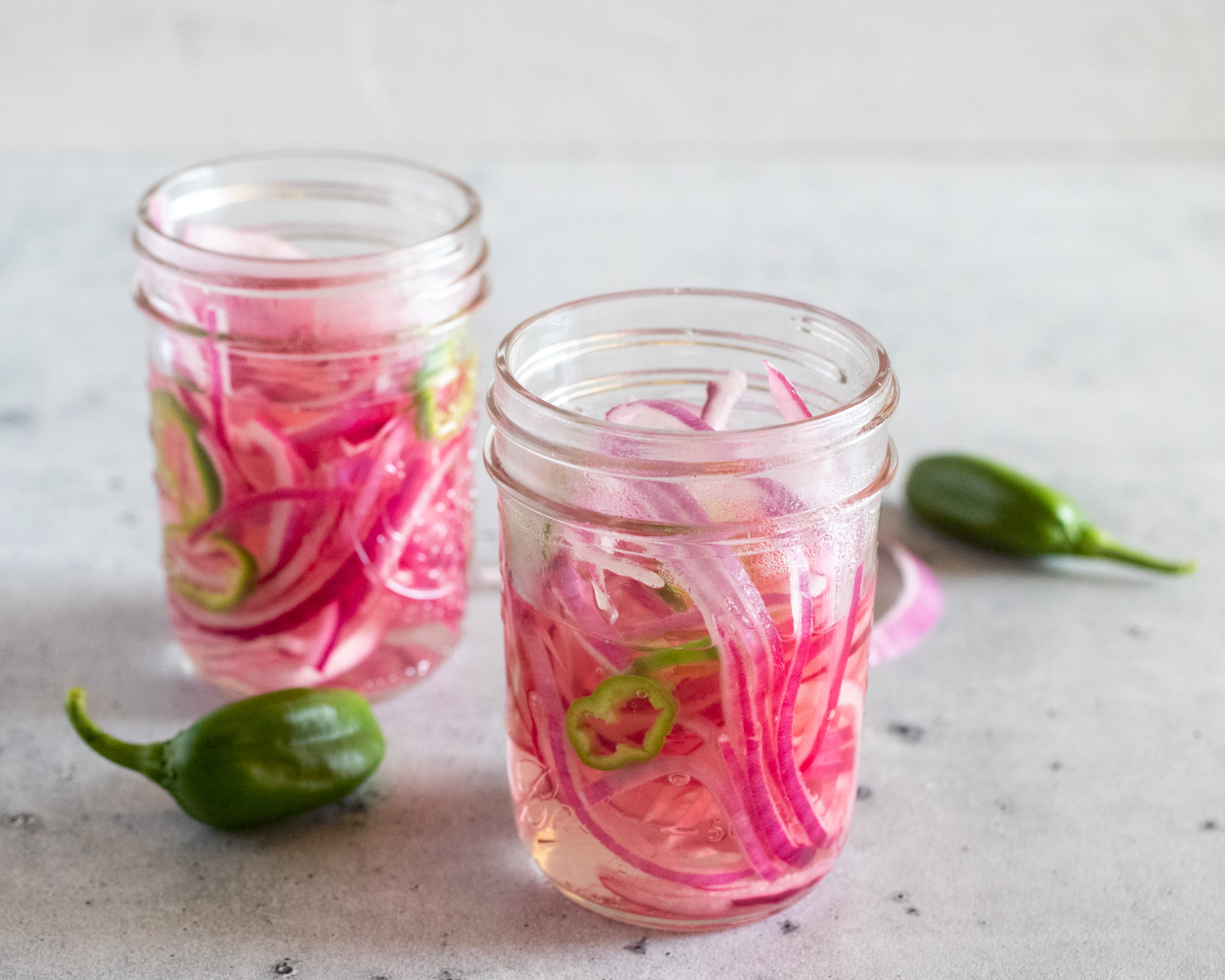 Finally, place the sliced onions and peppers into a glass jar, and carefully pour the hot vinegar mixture over top. Stir to combine, place the lid on, and refrigerate for 20-30 minutes. This gives the pickling solution time to work. It will soften the onions and add the flavors from the solution to the resulting pickled onions.
Once the pickling process has finished, they are ready to eat!
📖 Variations
No Sugar Option
If you are trying to cut calories, or you prefer a Keto / paleo option, you can simply omit the sugar or sweetener from the recipe. The nutrition information I've included assumes the use of sugar, which is the source of most of the calories in this recipe. Note that even with the sugar it's low-calorie. But without the sugar, this dish is almost calorie-free.
You get so much flavor with very few calories!
Less-Spicy Pickled Red Onions
Habanero peppers are the most traditional pepper for this dish, but they're also one of the spiciest. If you don't want your pickled onions that hot, you can use use fewer slices, or switch to jalapeno, ancho or serrano peppers instead. Each of those will give the pickled onions some kick, but without the high level of heat that comes from habanero peppers.
Non-Spicy Pickled Red Onions
For traditional, not at all spicy onions, simply leave out the peppers altogether. You can optionally include a tablespoon or two of lime juice as a flavor replacement, if you'd like.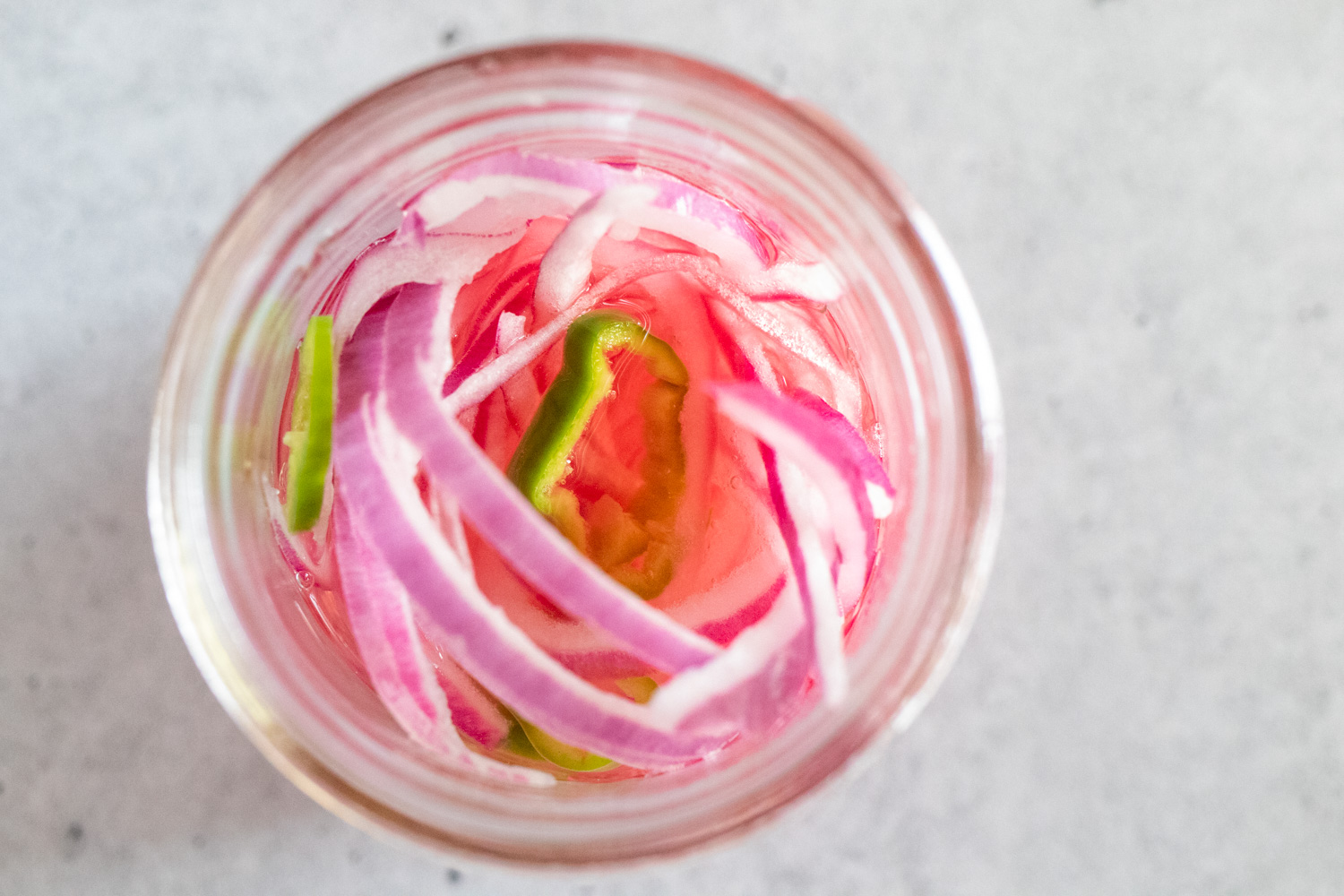 🥗 Where to Use
These quick pickled red onions are the perfect topping for many dishes! Here are some ideas for where to use them.
Burgers - many people use raw red onions on their burgers, which are absolutely delicious! But for something a bit different, try adding these pickled ones to your burger along with your other favorite toppings.
Tacos - these onions go great on your other favorite Mexican dishes like carnitas and fish tacos. This is a time when the Mexican version of this recipe comes in very handy, because it goes with the other flavors of Mexican cuisine.
Salads - Adding pickled red onions on top of salads gives them a little kick and extra flavor. Plus, since most salads are full of raw vegetables, the pickled onions are something a little different and therefore an exciting addition.
Sandwiches - pickled red onions go great on sandwiches. Whether you're having a stacked club sandwich or a simpler turkey or tomato sandwich, the onions give it a little extra oomph.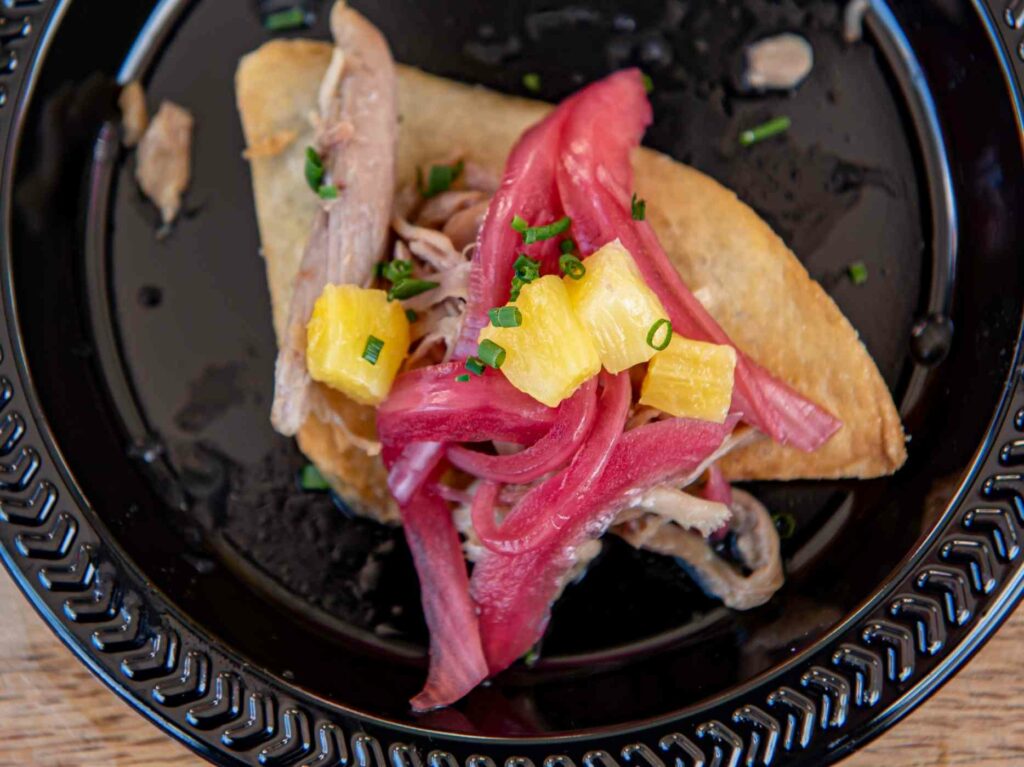 🔳 Storing
Pickled red onions will last about 2-3 weeks. Keep them refrigerated so they stay fresh. While store-bought items last longer, our homemade version doesn't have any extra preservatives, so it doesn't last quote a long. Everything is a trade-off!
👪 Are They Healthy?
Yes! Vegetables are always a healthy choice, and everything ese that goes into this recipe is a healthy and basic ingredient. Even the sugar is such a small amount that the result is still healthy, though you can use the no sugar option to avoid even that, if you want.
📋 Recipe
Mexican Pickled Onions
Pickled Mexican onions are a delicious addition to salads and sandwiches. They taste amazing by themselves, too! Here is the easy recipe along with traditional and no-sugar options, as well.
Ingredients
1

red onion

peeled and thinly sliced

2

slices

habanero or jalapeno peppers

¾

cup

apple cider vinegar

¼

cup

water

1

teaspoon

salt

2

tablespoons

sugar

optional, omit if making a no-sugar option
Instructions
Peel the onion and slice it as thinly as you can. A mandolin slicer is helpful, but you can just slice thinly with a knife if you prefer.

Thinly slice the pepper with a knife, and remove ribs and seeds.

In a small saucepan, combine the vinegar, water, salt, and (if using) the sugar. Turn the stove to medium heat and bring just to a boil.

Place onions and peppers in a large jar or other glass container. Pour the vinegar solution over them.

Stir the contents in the jar to evenly coat all of the onions, then use a spoon to push the onions down so they are completely covered by the liquid.

Screw on the lid, and place in the refrigerator for a minimum of 20-30 minutes for pickling.
Notes
The "regular" recipe calls for sugar and no peppers. You may omit the sugar for a zero-calorie, Keto or paleo version, and they still taste delicious. For extra heat, try the spicy version by adding peppers.
Nutrition
Calories:
5
kcal
|
Carbohydrates:
1
g
|
Protein:
1
g
|
Fat:
1
g
|
Saturated Fat:
1
g
|
Polyunsaturated Fat:
1
g
|
Monounsaturated Fat:
1
g
|
Sodium:
233
mg
|
Potassium:
45
mg
|
Fiber:
1
g
|
Sugar:
1
g
|
Vitamin A:
194
IU
|
Vitamin C:
21
mg
|
Calcium:
3
mg
|
Iron:
1
mg