White Chicken Enchiladas with Green Chilies is literally my favorite recipe.
For me, a good recipe - unless it's for a special occasion - needs to be fairly simple to make after a long day at the office. (Or, in my case, on my computer in the spare bedroom.) It needs to be something that everyone in my family likes. And it needs cheese.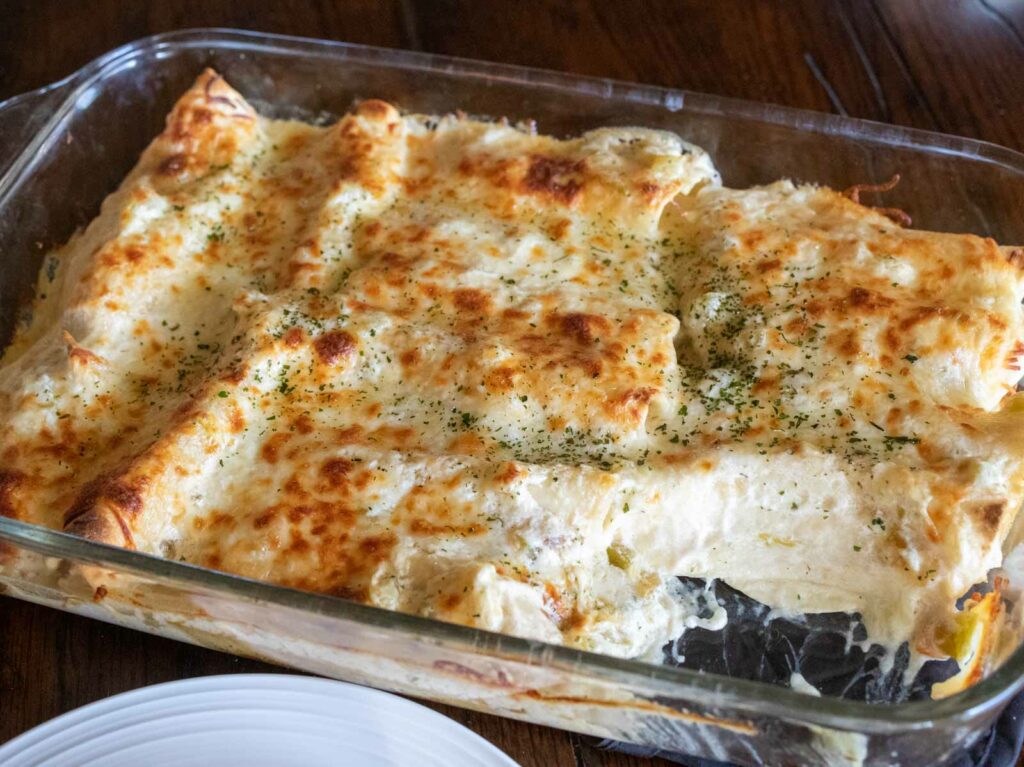 These white chicken enchiladas check off every single one of those boxes.
The best part of this dish is, by far, the creamy green chile sauce. Not the cheese! The sauce is so good that I literally just stand at the stove and eat it with a spoon when my husband isn't watching.
Jump to:
Ingredients
The ingredients in this recipe are pretty simple. They consist of:
Chopped, cooked chicken - using pre-cooked chicken makes this easier than if you have to cook the chicken as part of the preparation. I like to "cheat" and use a rotisserie chicken that I buy from the supermarket and chop up. My family likes the flavor of the rotisserie chicken, and it's easier than cooking chicken breasts. However, I have made it with chicken breasts and it's just as good!
Shredded cheese - I'm a stickler for Monterey Jack cheese in this recipe; I don't want it to look orange. (And it is Monterey with one "R", not Monterrey Jack cheese!) I have no idea why! You could definitely use Cheddar Jack or a Mexican blend instead, or even straight up cheddar. Use whatever you like best. I'll admit to using those bags of shredded cheese here, since they make life easier.
Tortilla shells - Soft flour tortilla shells are used to hold the chicken and cheese mixture. You can honestly use any size you want, but I have found taco-sized ones to work best. Street taco size is too small and they won't stay rolled up. And burrito-sized shells are hard to fit into the baking dish. But if I have a different size already in my pantry, I'm definitely using them no matter what size they are. Waste not, want not! As a side note, I have never tried this with corn tortillas, but I best that's good too.
Sour Cream - sour cream is the base of the sauce in this dish. I mentioned above how delicious the sauce is! Of course, if you don't like sour cream, you may disagree with me and you probably won't like this recipe. But I promise you it's amazing and you should definitely try it before making up your mind. MY middle kid hates sour cream but she likes this.
Mild Green Chilis - you find these in a small can in the Mexican foods section of the grocery store. There are several brands, and they are not at all spicy. They had a nice flavor without introducing any heat. (Here's a neat article about the spelling of chilis, chilies, or chiles, if you're interested.)
Butter and flour - this is used to flavor and thicken the sauce
Chicken Broth - adds flavor and keeps the sauce from being too sour cream-y
Instructions
The first thing you do is mix up one-and-a-half cups shredded Monterey Jack cheese and all of the chicken in a bowl. Then, divide the mixture by the number of taco shells you're using...it's fine to just approximate this. Roll up some of the chicken and cheese into each tortilla, and arrange them in a dish. When you're finished it should look like this:
Fitting the tortillas in the casserole dish is a bit like Tetris, especially since the layout changes depending on what size taco shells you use!
Next you make the enchilada sauce. Start out by melting the butter and then whisking in the flour. This makes a thick based from which to start. Continue to cook this while whisking in the chicken broth.
At this point, you will stop adding to the sauce, and let it simmer while some of the liquid evaporates. After about 10 minutes, remove it from the heat and stir in the sour cream and diced green chiles. If it's too thick to easily pour, then you may have simmered it too long or at too high a temperature. Not to worry, just stir in some additional chicken broth until it's the consistency you want.
Now, pour the sour cream sauce over the rolled up enchiladas already in the baking dish. Sprinkle with the remaining cheese, then bake for 22 minutes and broil for an additional 3 minutes to brown up the top. (Especially if someone in your family loves "the burned stuff" as much as my husband does! See the photo below for the two he selected out of the entire casserole dish.)
White chicken enchiladas with green chilies goes great with charro beans and Mexican rice, or a side salad if you prefer. These creamy chicken enchiladas are sure to be a hit with your family!
Background
I originally discovered White Chicken Enchiladas with Green Chilies on Joyful Momma's Kitchen; her recipe was huge on Pinterest a few years ago. I recently went there to follow along while cooking, only to discover she had closed her blog. Well, it's back now, so I'm not sure what all transpired there. But I'm not taking chances anymore. I'm putting it HERE where I can always get to it. I do want to give her credit, though, so please go over to her site if you want to see the original and inspiration!
Thank you Joyful Momma. I'm sure you've done many amazing things in your life, but if this were the only thing you ever accomplished, I would still love you for it!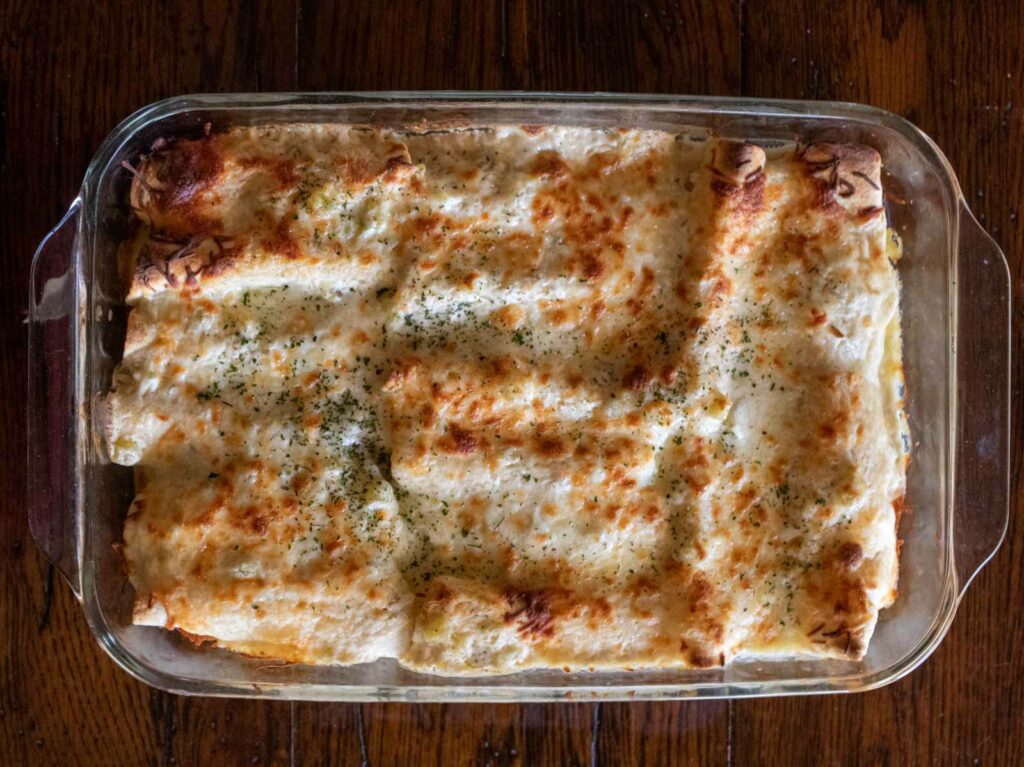 📋 Recipe
White Chicken Enchiladas
A mild, creamy Mexican dish made with chicken, a sour cream-based sauce, and cheese.
Ingredients
8

soft flour tortillas

"taco size"

2

cups

chicken

cooked and shredded

2

cups

Monterey Jack cheese

shredded

3

tablespoons

butter

3

tablespoons

flour

2

cups

chicken broth

1

cup

sour cream

1

4-oz can

diced chilis
Instructions
Preheat oven to 350 degrees Farenheit.

Grease the bottom of a 9x13 baking dish

In a large bowl, mix chopped chicken and 1 cup of Monterey Jack cheese.

Fill ⅛ of chicken and cheese mixture into each taco shell, and roll up. Place taco shells side-by-side in baking dish with the "seam" of the shell on the bottom. Feel free to get creative with placement, and try to cover the entire dish!

In a small saucepan, melt butter over medium heat. Whisk flour into butter and cook for 1 minute.

Slowly add chicken broth while continuing to whisk. Cook for 10 minutes, or until sauce thickens.

Remove sauce from heat, stir in sour cream and chilis.

Pour sauce over enchiladas in dish

Top with remaining cheese and bake for 22 minutes. Then switch on the broiler for 3 minutes to brown top of cheese.
Nutrition
Calories:
297
kcal
|
Carbohydrates:
19
g
|
Protein:
13
g
|
Fat:
19
g
|
Saturated Fat:
10
g
|
Polyunsaturated Fat:
1
g
|
Monounsaturated Fat:
6
g
|
Trans Fat:
1
g
|
Cholesterol:
51
mg
|
Sodium:
611
mg
|
Potassium:
193
mg
|
Fiber:
1
g
|
Sugar:
3
g
|
Vitamin A:
426
IU
|
Vitamin C:
5
mg
|
Calcium:
286
mg
|
Iron:
2
mg
I hope you enjoyed this chicken enchilada recipe. Click to view this recipe as a web story.