Jump to Recipe
When we lived in Texas, our favorite restaurant BY FAR was Lupe Tortilla's. It's a fun family-friendly restaurant with good margaritas and great Tex-Mex food and the most amazing Lupe Tortilla's Fajitas Grandioso!
Signs outside tell customers to expect a wait – if you are in a hurry you are encouraged to come back another time. The wait was always worth it, though, and each location has a children's play area with sand and toys…conveniently located next to the outdoor bar. :)
Houston locals know not to bother with a menu. The regular food is good, but if you know the ropes, you order fajitas grandioso for two without bothering to look at the menu. (Heck, I even ordered them once when I dined alone, while traveling back to deal with bad renters in the house we still had there.) Honestly, these are the best fajitas you will ever eat. You can get chicken and/or beef in the restaurant, but beef is my favorite. And they go great with a side dish of charro beans!
So God Bless Texas, and "Scott", who posted the fajitas grandioso recipe over at Tastebook. I've made it several times now and I have to say, it's REALLY close. I think the only reason it's not the same is that my cast iron skillet isn't very seasoned yet. Take note: cooking these fajitas on cast iron is a MUST. Any other cookware simply.will.not.do.
Start with 1.5 lbs of skirt steak. Do NOT use flank steak or anything else that kinda looks the same…looks can be deceiving. You want SKIRT steak!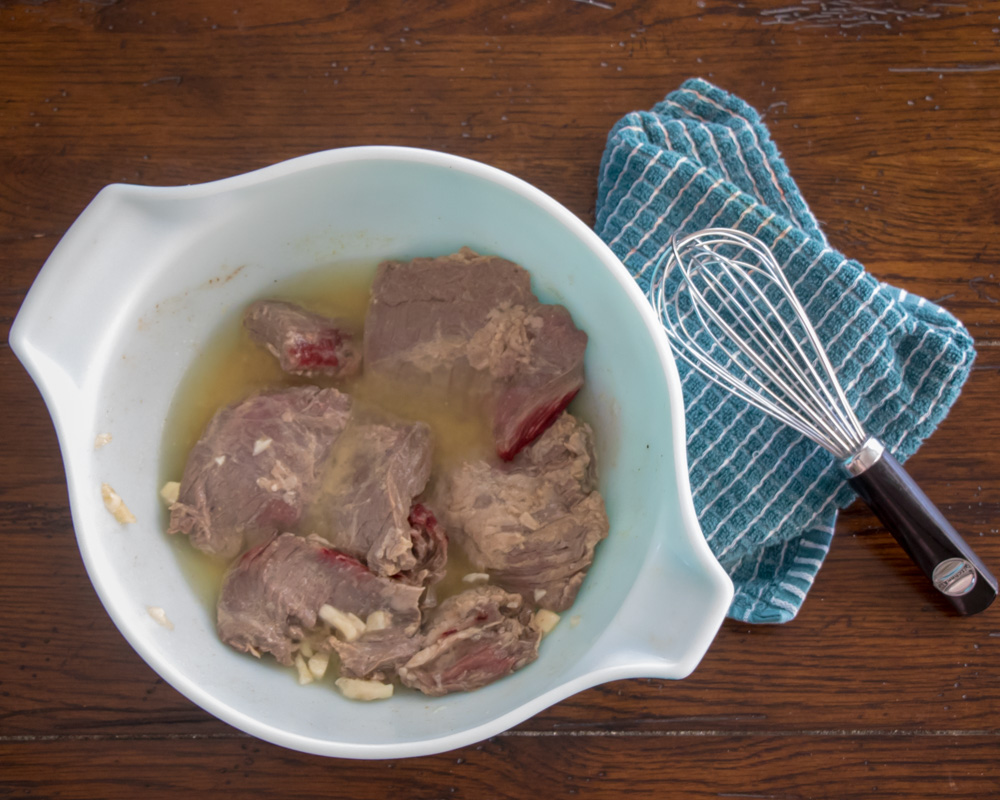 The first step is the marinade. Scott's recipe calls for marinade for 2 pounds of skirt steak; IMO this is enough for only about 1.5 pounds. You need to have enough marinade for the meat to settled into; otherwise the steak won't be tender enough. It's the citric acid in the lime juice that breaks down the meat, tenderizing it in the process, so you want enough marinade for the steak to sit in. It's not just about the flavor.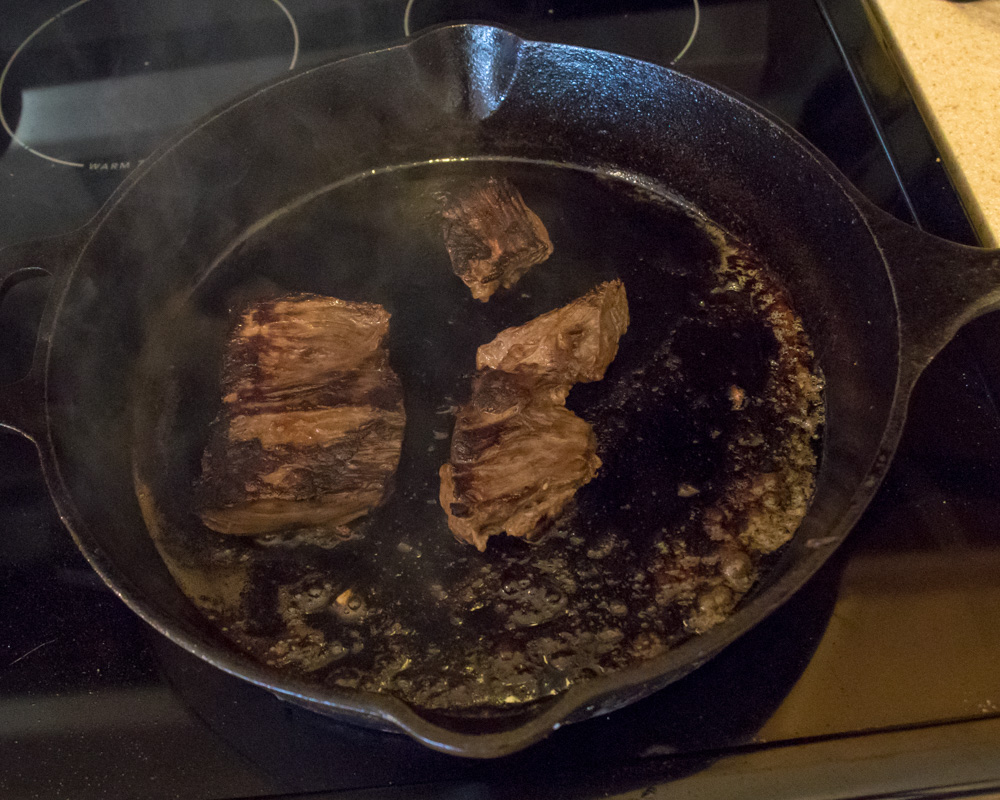 After that, you want to grill the steak on medium-high heat. If the temperatures is too high, the outside of the meat will get tough before the inside is cooked. And if it's too low, there won't be enough searing on the outside to really develop the flavor. The other thing I do differently is to cook the meat for awhile, then slice it against the grain and return it to the skillet to finish cooking. I think the flavor develops better this way.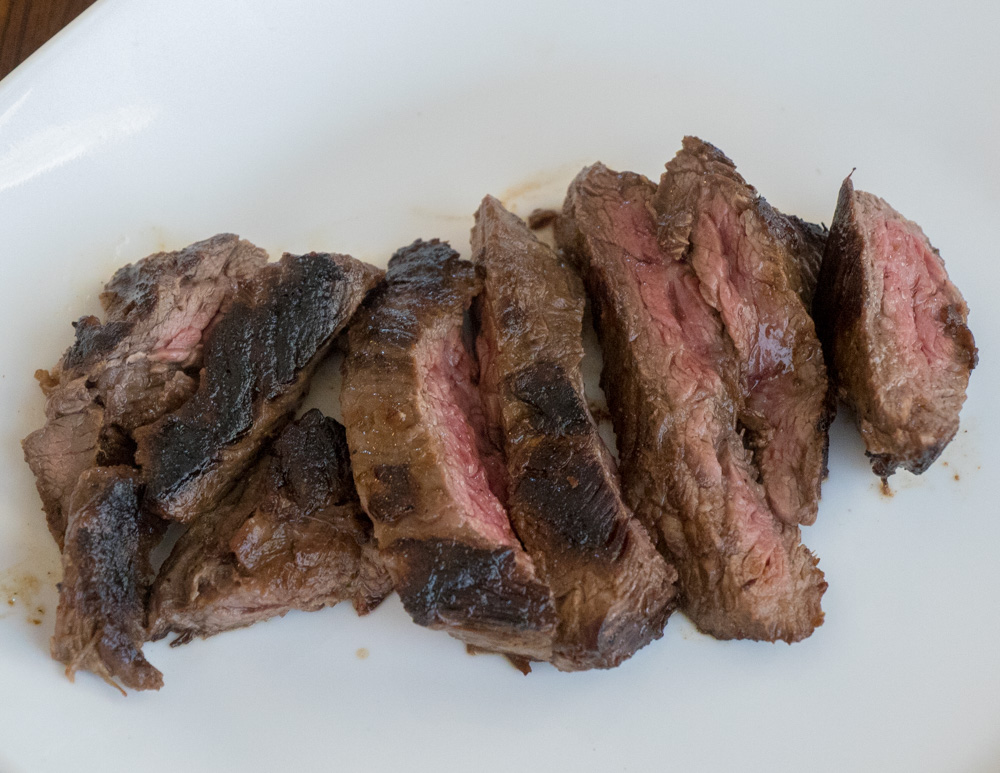 Doesn't it make your mouth water? Here's a close-up, just in case!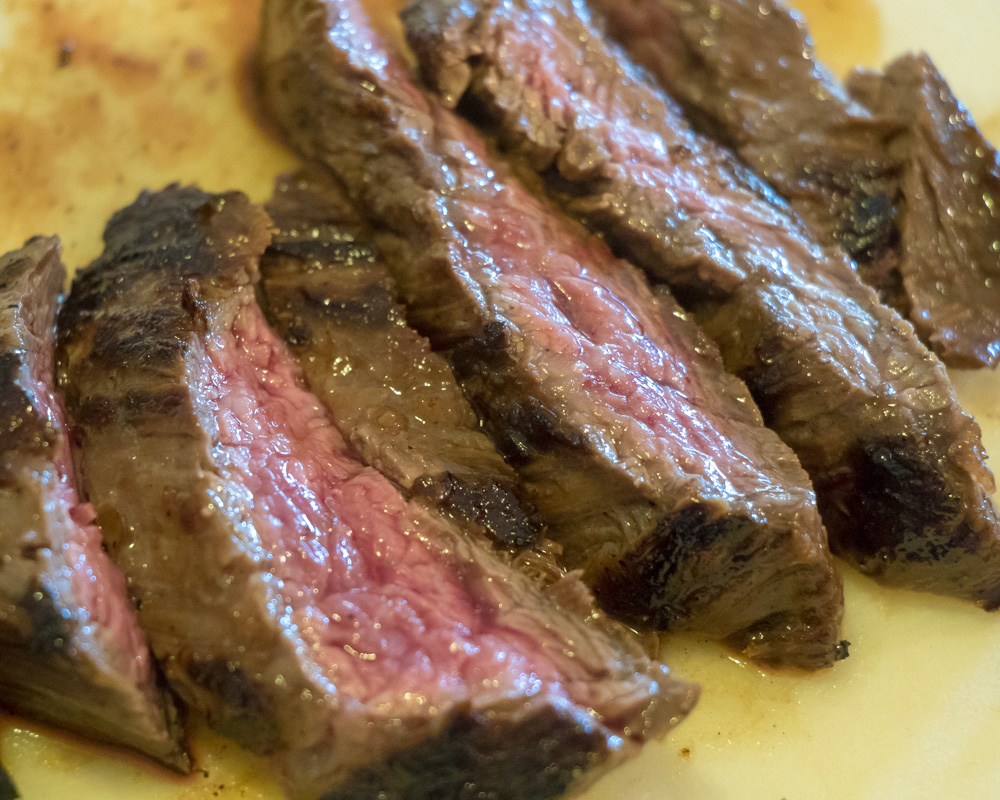 Tonight I cheated and used store-bought tortillas. Boy did I hear about it from my family. Oh well. Here is the completed dish – sour cream, salsa, cheese, and steak on a flour tortilla.
Here's a photo from another night when I didn't cheat, and made my delicious homemade flour tortillas. They are WAY better than anything you'll ever find in a store. In fact, they're so good that they've ruined me for store-bought tortillas for the rest of my life.
One note: this recipe differs a little from my original version of Lupe Tortilla's Fajitas, which excluded the mayo and adobo, and included tequila. Based on reader feedback and especially suggestions from reader Kathryn, I've changed it up a bit. We tried this out and it's delicious. The final recipe with these changes is what is shown below. Thanks for all the help, blog readers!
View the web story version now!
Lupe Tortillas Fajitas Grandioso – Copycat Recipe
Ingredients  
1.5

lbs

skirt steaks

3

cloves

garlic

peeled and mashed

1/3

cup

vegetable oil

1

teaspoon

mayonnaise

1

teaspoon

Goya Adobo seasoning

1

teaspoon

salt

1

bunch

green onions

4

tablespoons

fresh lime juice

from real limes

1

teaspoon

ground cumin
Instructions 
Make the marinade by combining the garlic, vegetable oil, mayonnaise, lime juice, cumin, adobo, and salt in a large glass or Pyrex bowl.

Cut the steak into 5-6 inch sections, or whatever will fit in your skillet. Place steak in marinade and make sure the marinade covers the meat as thoroughly as possible. Marinade for a minimum of 2 hours; I usually let it sit in the marinade, in the refrigerator, overnight.

Heat your cast-iron skillet over medium-high heat. When it's hot, place the skirt steak pieces on the skillet and cook until medium-rare, about 10 minutes on each side. The meat should start to develop a slight "crust" on the outside.

Remove meat, slice against the grain into strips, and (optionally) return to pan to finish cooking.

At this point, add the green onions (full length or cut in half; not chopped) as well and let them cook in the grease from the meat. Add more vegetable oil if needed.

Serve on warm flour tortillas with Mexican rice, salsa, cheese, sour cream, lettuce, diced tomatoes, etc.