I once turned up my nose up at the very idea of rice and beans. It just wasn't my thing. If you feel the same way, don't leave just yet! I promise you have not truly lived until you have tried this Gallo Pinto breakfast version of rice and beans. It's amazing!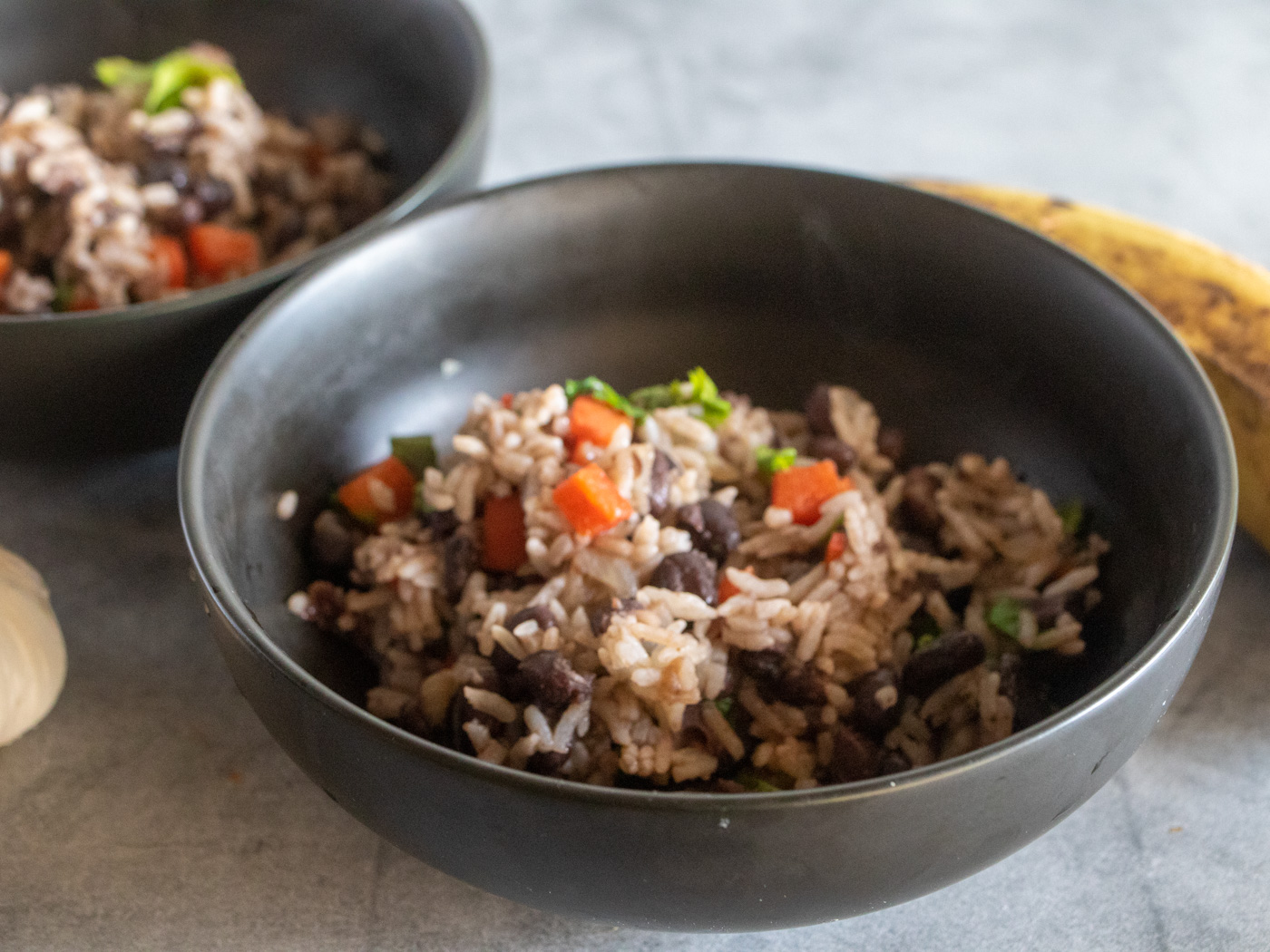 Our family just got back from our first trip to Costa Rica, where we were blown away by the country! The people are friendly, welcoming, and very focused on preserving the environment. In fact, more than 50% of the land is protected for wildlife and conservation.
One of the things we really enjoyed there was the food. I had prepared myself to eat lots of chicken, rice, and beans and to basically be bored with the cuisine. I couldn't have been more wrong. We had great pizza, authentic Indian food, and fresh seafood.
And yes, we had rice and beans. Even for breakfast. And it was everything I could never have imagined! (Even better than charro beans, which are another favorite of mine!) I knew I had to come back, learn to make it, and share it with you.
Jump to:
🥘 Ingredients
Gallo pinto is a funny name for a dish, because it literally translates as spotted rooster. I have no idea why, because it doesn't contain any chicken, particularly of the spotted male variety.
What it does contain is shown below. White rice, black beans, fresh produce, and a local sauce.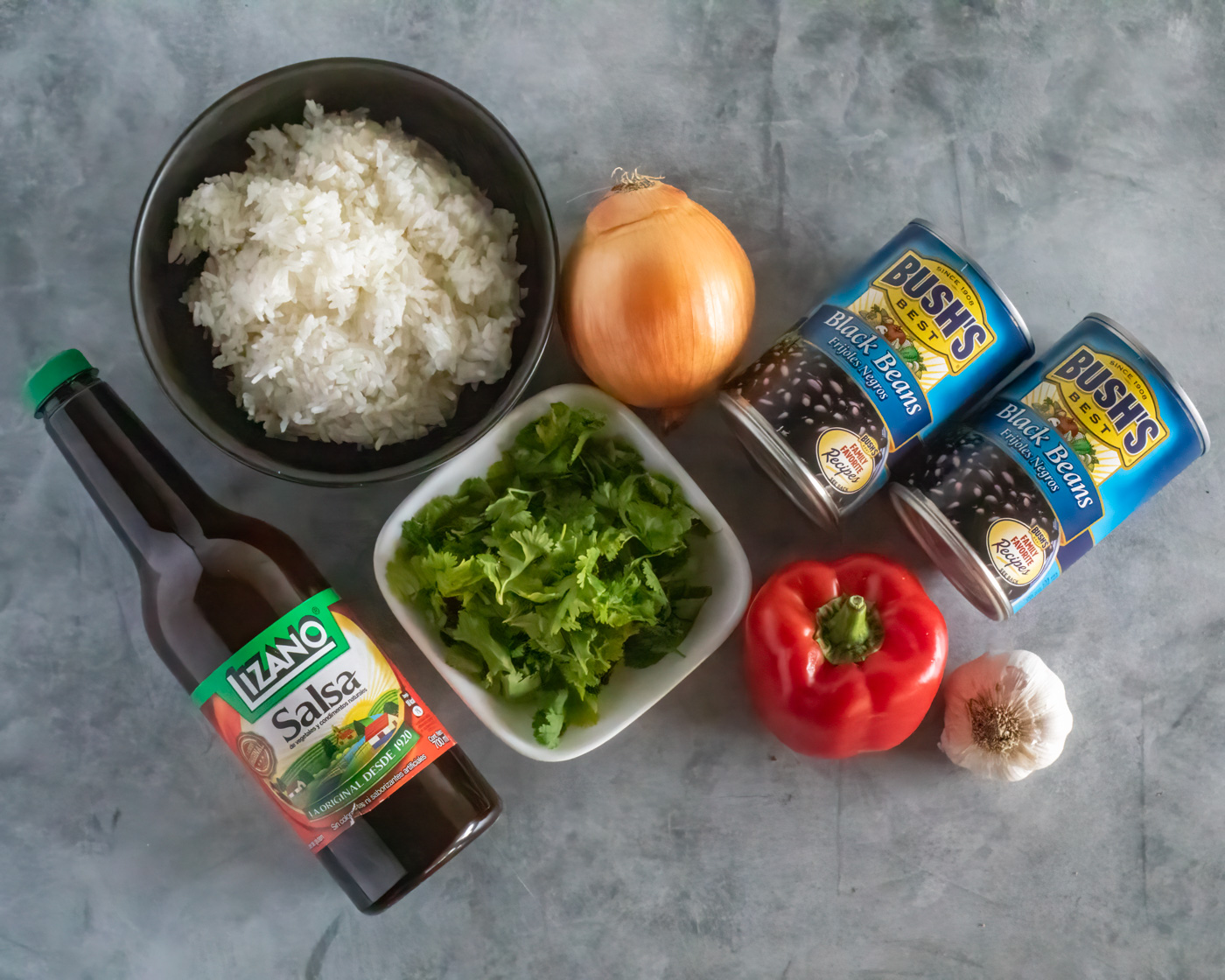 cooked white rice
canned (or fresh) black beans
yellow onion
red pepper
garlic
cilantro
Salsa Lizano
olive oil
You might be wondering about that last one, and whether you can get it locally. I'm thrilled to tell you that you don't have to fly to Costa Rica for Lizano sauce! (Of course, doing so is highly recommended.) Many US-based grocery stores carry it in their international aisle. If yours doesn't, click here to order it from Amazon.
Don't mistake Salsa Lizano for "salsa", which is a Spanish word that simply translates to sauce. This isn't salsa as Americans think of it; it's more of a condiment. It's a brown sauce that supposedly is similar to Worcestershire...except it's way better.
🔪 Instructions
Before cooking, dice the onion and red pepper, and 2 cloves of garlic. You'll also want to make sure your rice is already pre-cooked. It's fine to use leftover rice; it doesn't have to be freshly cooked.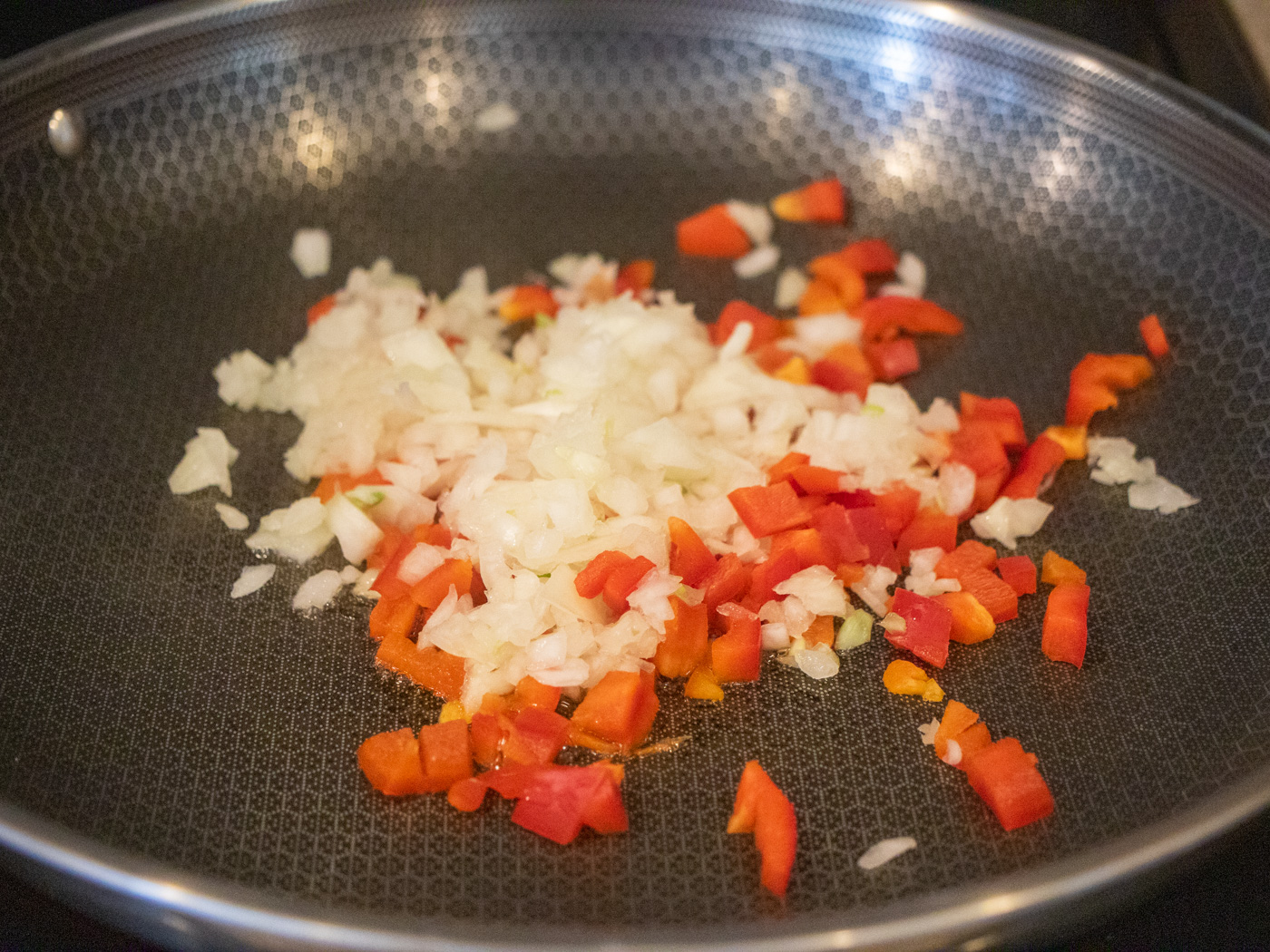 Step 1: Sauté pepper, onion, and garlic in olive oil over medium-high heat.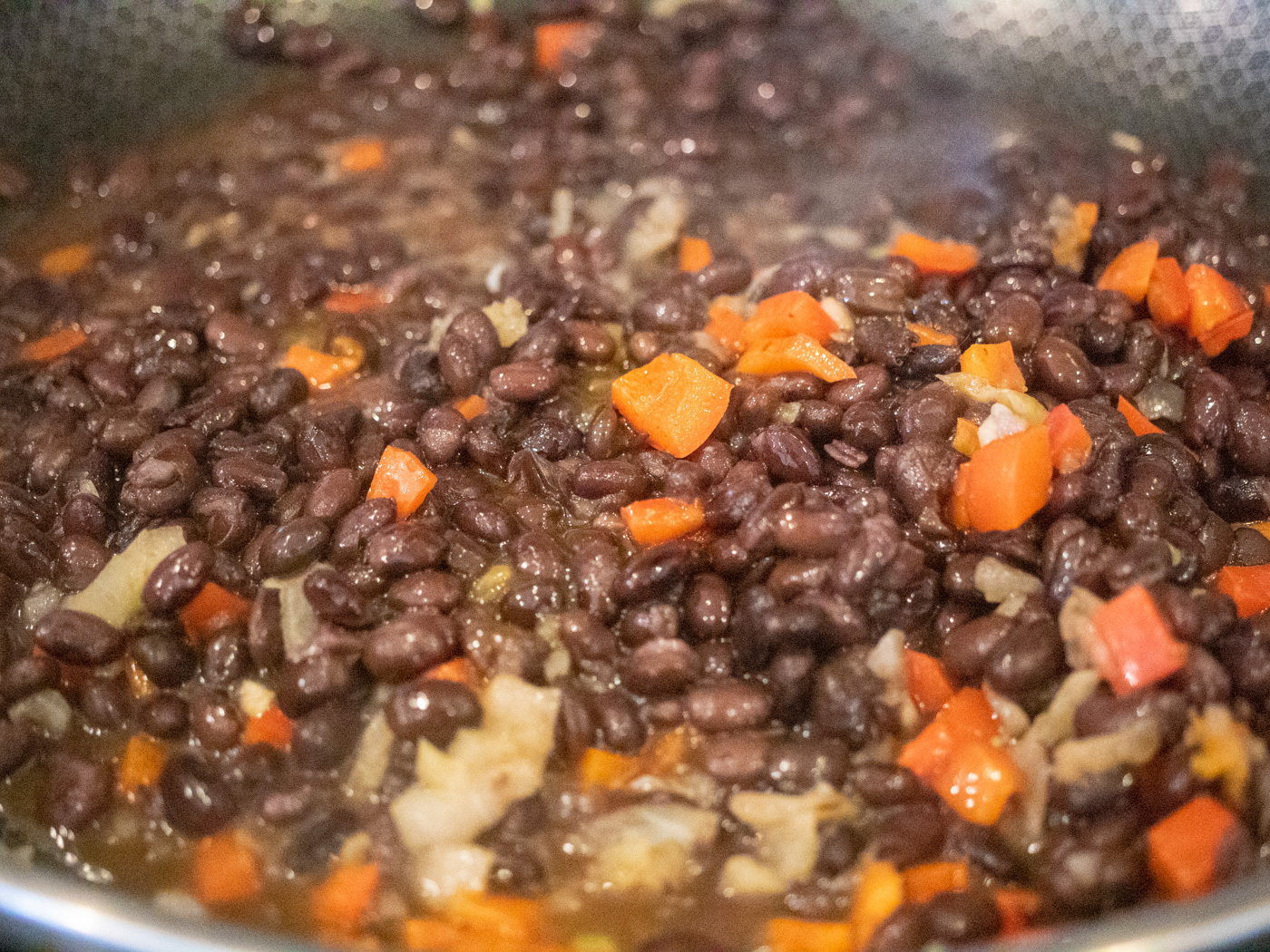 Step 2: Add undrained beans and Salsa Lizano, and continue to cook, while stirring occasionally.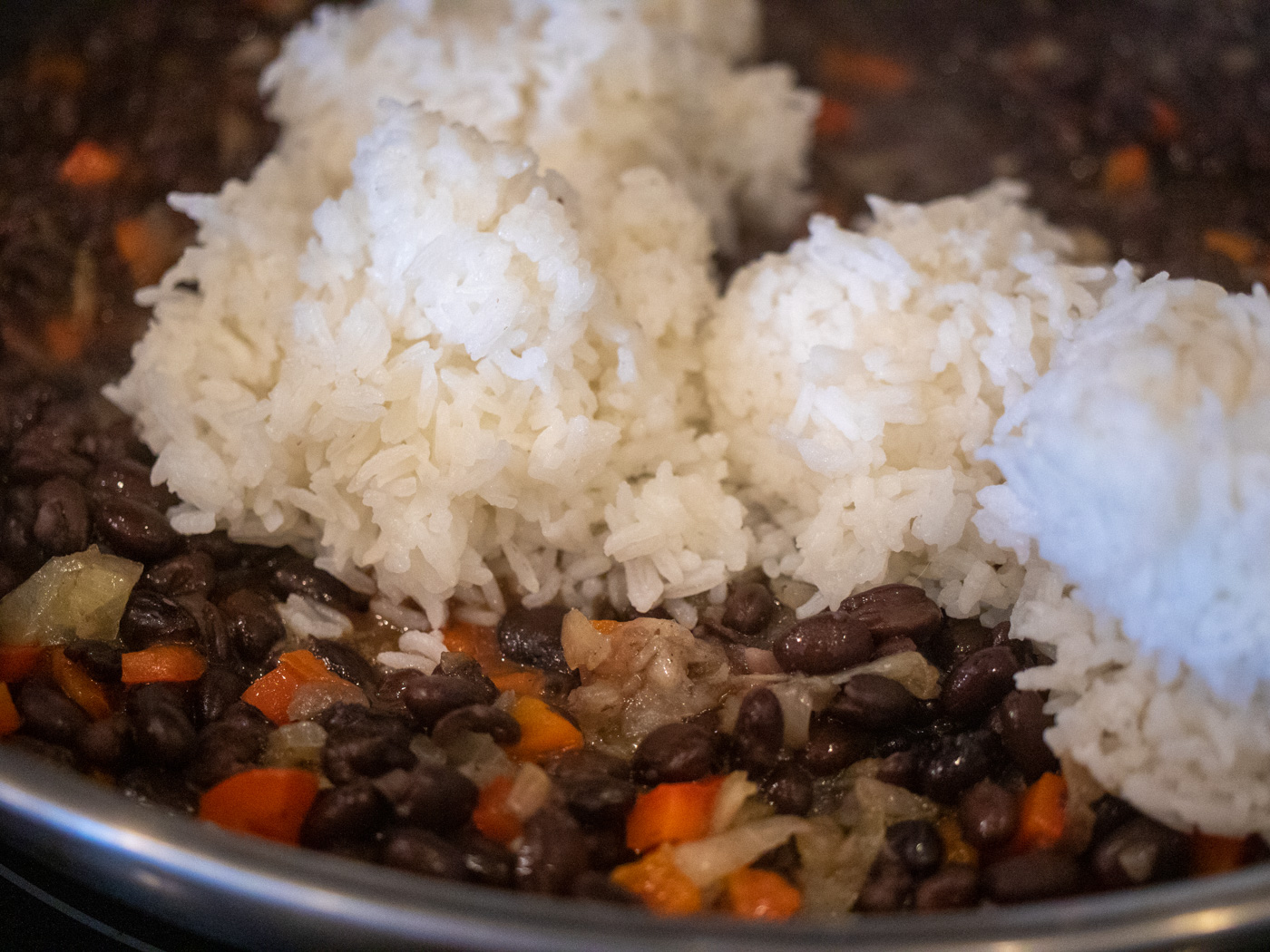 Step 3 - Add the cooked white rice, and stir while it heats through. If the dish starts to get too dry and begins sticking to the pan, you can add water as needed.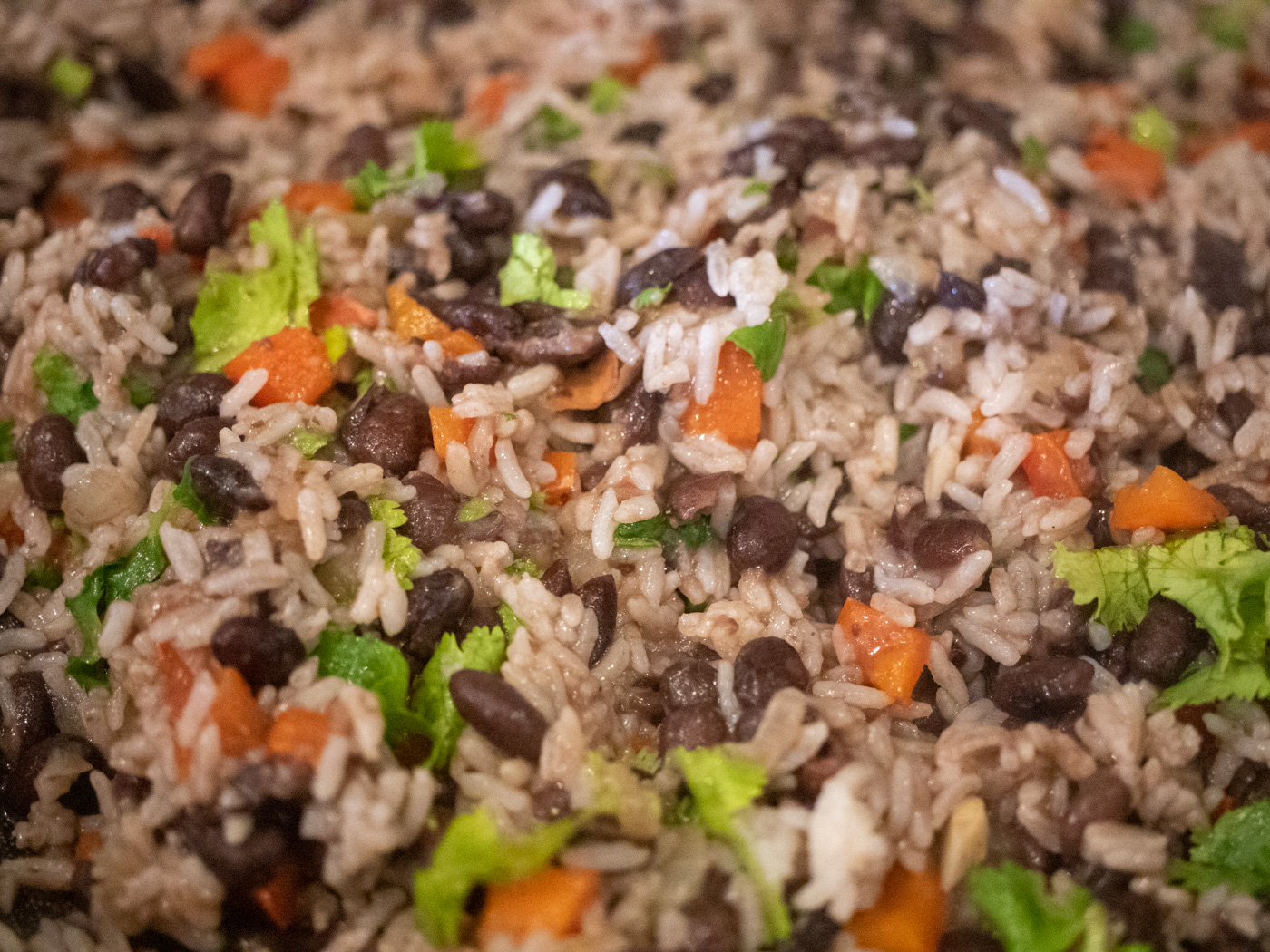 Step 4 - Remove from heat, stir in cilantro, and serve warm.
Remember, gallo pinto is a breakfast dish! But I have to admit that I have eaten it for lunch, dinner, and as a snack as well.
If you want to have a traditional Costa Rican breakfast, serve gallo pinto with fresh eggs and fried plantains, and a big cup of delicious Costa Rica coffee!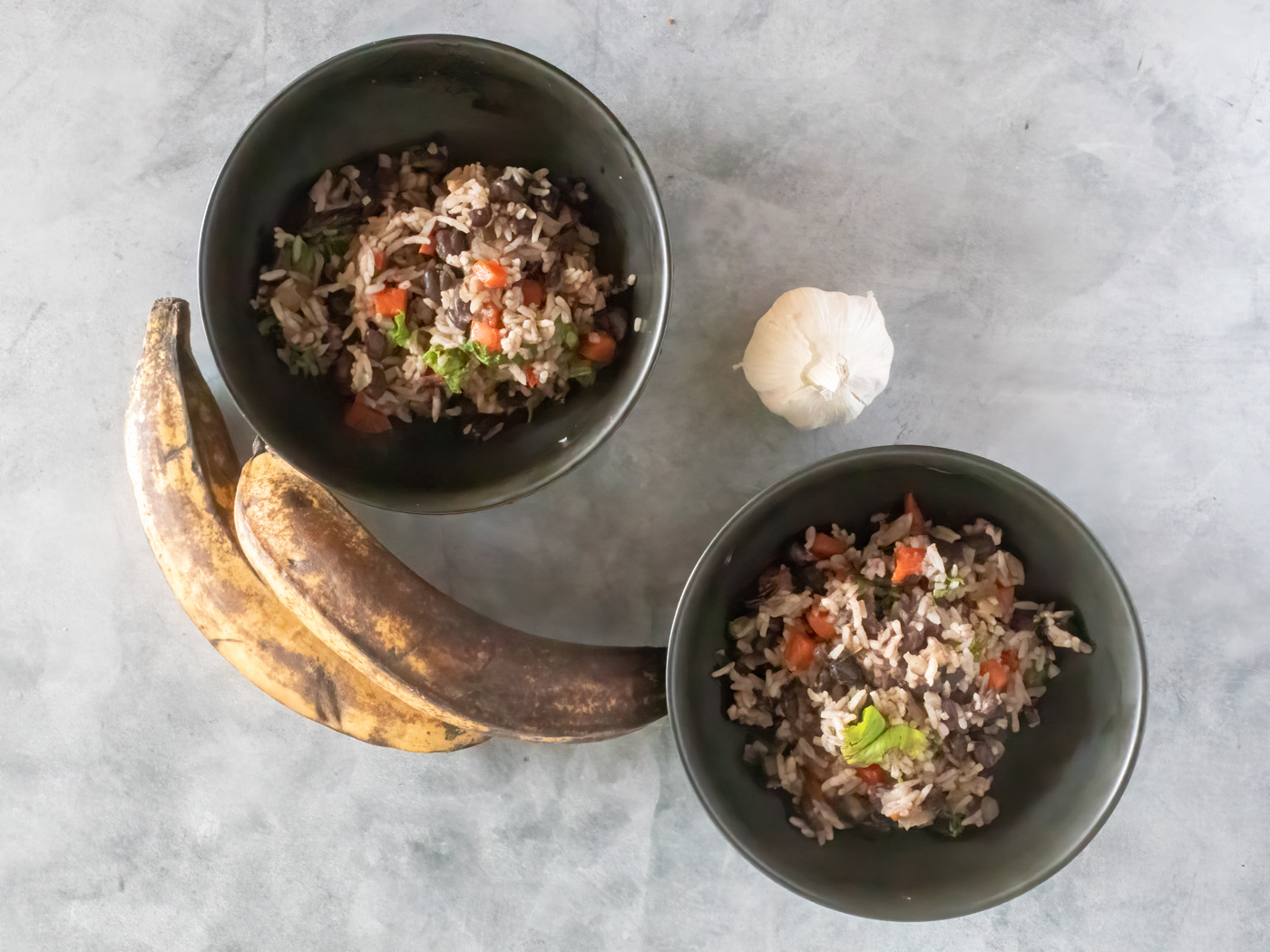 📖 Variations and Substitutions
If you have the time and patience, you can use dried black beans and cook them yourself.
You could also use brown rice if you prefer it for health or taste reasons. It's less authentic but it still tastes quite good!
For more spice, substitute or add hotter peppers.
🍽 Equipment
The only requirement for this dish is a large skillet in which to cook it, and a spoon to stir. You might also benefit from a chopper and a rice cooker, but neither is required.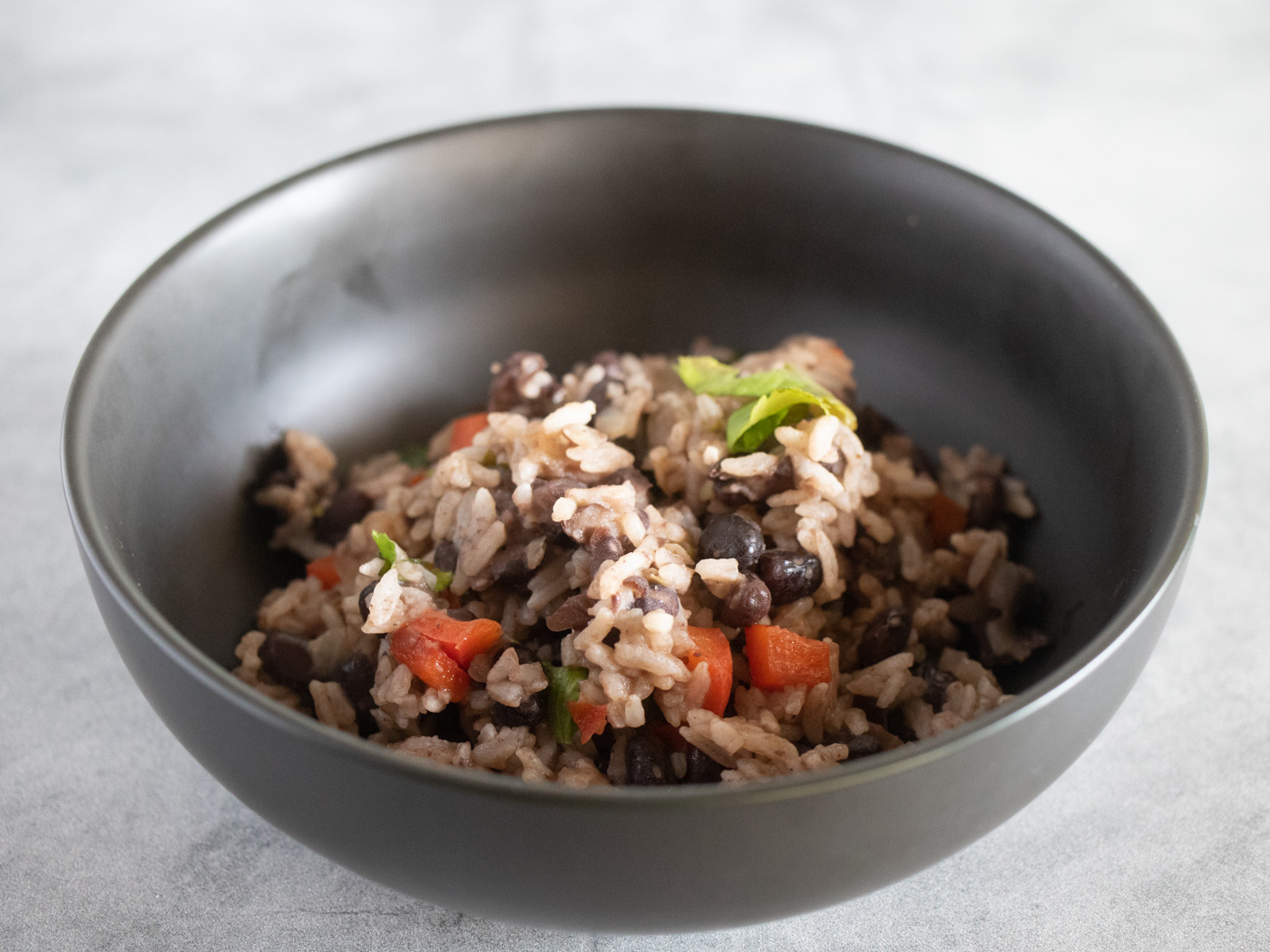 🥡 Storage
You can store the finished gallo pinto in the fridge for about a week. Keep it in an airtight container to keep odors from getting in and changing the taste, or getting out and affecting your other food items.
💭Top Tip
Have you ever heard of Blue Zones? They're areas of the world that are healthier than average. People in blue zones live much longer than people in the rest of the world! Part of the reason is their diets, and gallo pinto plays its part in Costa Rica's healthy eating habits.
❓ FAQ
Where is gallo pinto from?
Gallo pinto originated in Costa Rica and its neighboring country Nicaragua.
Is gallo pinto healthy?
Yes! As a plant-based meal, gallo pinto is extremely healthy, and provides fiber, protein, antioxidants, and lots of vitamins.
Why do Costa Ricans eat gallo pinto?
First, because it's their national dish! Second, the ingredients are readily sourced and inexpensive. Third, because it's healthy and delicious.
📋 Recipe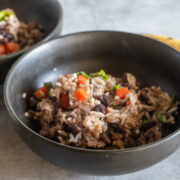 Gallo Pinto
Gallo pinto is a traditional Costa Rican breakfast version of black beans and rice. The dish has a delicious flavor and is a perfect accompaniment to eggs, queso fresco, and fried plantains!
Ingredients
2

cans

black beans

15-oz

3

cups

white rice

cooked

2

cloves

garlic

minced

1

red pepper

diced

1

small yellow onion

diced

¾

cup

Salsa Lizano

see notes

2

tablespoons

light olive oil

¼

cup

cilantro

chopped
Instructions
Heat the olive oil in a large skillet over medium-high heat. Once the oil is hot, add onions and red peppers. Saute for 5-6 minutes.

Add garlic and continue to sauté for another 2 minutes.

Add both cans of UNDRAINED black beans, as well as the Salsa Lizano. Continue cooking for 5 more minutes.

Add the cooked white rice, and continue cooking until heated through and any extra liquid has been absorbed. If you find the dish too dry while cooking, you can add additional water.

Stir in cilantro, and serve!
Notes
Salsa Lizano is a specialty sauce found throughout Costa Rica. You can find it in the international aisle of many grocery stores. If yours doesn't carry it, you can order it online from Amazon.
Nutrition
Calories:
252
kcal
|
Carbohydrates:
48
g
|
Protein:
7
g
|
Fat:
3
g
|
Saturated Fat:
0.5
g
|
Polyunsaturated Fat:
0.4
g
|
Monounsaturated Fat:
2
g
|
Sodium:
4
mg
|
Potassium:
239
mg
|
Fiber:
5
g
|
Sugar:
1
g
|
Vitamin A:
336
IU
|
Vitamin C:
14
mg
|
Calcium:
28
mg
|
Iron:
1
mg