Cheese is my love language, and beer is my aqua vitea. So this soft pretzel cheese dip with a hint of beer brings together two of my favorite things. The result is warm and gooey with just the right amount of pull. What's pull? You know - when the cheese stretches from the serving dish back to the food you just dipped! That tells you just how good it is.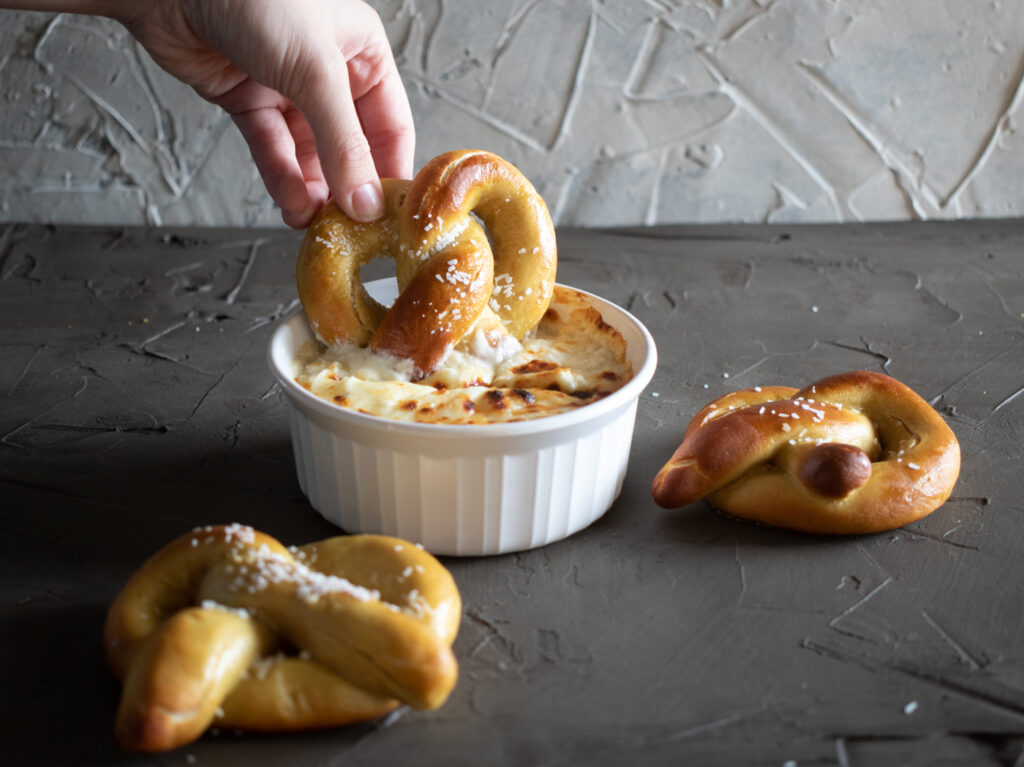 Jump to:
It's made from three different kinds of cheese: cream cheese so it's smooth, sharp cheddar cheese for a bite, and mozzarella cheese to round everything out. The beer and a bit of garlic powder impart additional flavors and they all just blend so beautifully.
Cheese is delicious and filling, and if you serve it with pretzels or pretzel bites, they are too. So invite some friends over for game day: to watch a the Super Bowl, a hockey game on a cold winter night, or any other sporting event you like. Or just throw a party or a girls' night out and enjoy!
What Pairs Well
Think cheese fondue when you make this beer cheese sauce recipe and you'll know right away what to serve it with. Cut raw vegetables like carrots, celery, and broccoli are perfect. Small cubes of bread are too, as well as crackers. For a bit more pizzazz, try it with candied grapes!
And of course, any kind of pretzel - twisted pretzels, soft pretzel bites, bits of pretzel buns, you name it!
My favorite thing to serve with this dip recipe is homemade soft beer pretzels. (You can never have too much of a good thing...so beer in the pretzels and beer in the cheese, and a cold beer in the bottle to wash it all down.)
And of course, it pairs very well with beer, because it has beer in it! It really is a perfect combination of pub food and beer.
Ingredients
Let's answer some common questions about the ingredients.
What Kind of Beer Should I Use?
When I first started working on this recipe, the original one I used called for a lager. That's pretty non-specific, but I complied and grabbed a six-pack of Sam Adams lager. It's a good beer but it didn't go well with this cheese; it was bitter and imparted more bitterness than flavor to the cheese.
So I started experimenting to see what I liked best. I thought a pilsner might work better - after all, a pilsner is a type of lager. If you're not into beer, this may not mean much to you, but many large-run beers you think of (Budweiser, Michelob, etc) are pilsners. They have a much different flavor than the darker Sam Adams lager does. This works well enough and produces a delicious outcome. (Though you may want to get a better pilsner - I like Paulaner's.)
But on a lark I decided to try a kölsch one time. Kölsch is a German ale (basically the opposite of a lager) that's cold-stored and aged more like a lager. This was my favorite one so far! I recommend Früh Kölsch, which is the exact beer I used in this soft pretzel cheese dip.
Can I Use the Shredded Cheese You Buy in Bags?
You can do whatever you want, of course...but no. Don't do this. Shredded cheese has something added to it to prevent clumping within the bag, and it doesn't make as good of a dip as freshly-grated cheese. It's not hard or even time-consuming to grate this amount of cheese using a box grater, and the result is worth the effort.
Tips and Variations
I have never found this to come out too thick, but if you have that happen, you can thin it with a small amount of whole milk.
Also if you like your pretzel cheese sauce spicy, you could replace some of the cheese with a pepper jack variety, or add in a few drops of hot sauce, both of which will give it an extra kick.
📋 Recipe
Pretzel Cheese Dip with Beer
This creamy warm cheese dip has just a hint of beer for depth and flavor. Serve with cut vegetables, soft pretzels, crackers...the choices are limitless!
Ingredients
4

ounces

cream cheese

softened

1

cup

white cheddar cheese

grated

¾

cup

mozzarella cheese

grated

¼

cup

beer

room temperature, see notes

1

teaspoon

garlic powder
Instructions
Place softened cream cheese into a bowl and stir until smooth

Add all of the cheddar cheese, ½ cup mozzarella, and garlic powder. Stir until combined

Add beer and stir until incorporated

Pour into small oven-proof baking dish, and sprinkle remaining mozzarella cheese on top

Place dish on a baking sheet, and cook at 350° for 15 minutes.

Optional: place under broiler for a few minutes to brown top.
Notes
You can use any kind of beer you like, but I suggest a light and easy drinking beer such as a pilsner or kölsch. My go-to beer for this recipe is Früh Kölsch. You'll have some leftover so pick a beer you'd like to drink too!
You can buy pre-grated cheese in bags from the store, but this recipe tastes best if you buy blocks of cheese and grate it yourself. The pre-grated cheese has some sawdust-like stuff added to keep it from sticking together, and it detracts from the creaminess of the recipe a bit.
Nutrition
Calories:
188
kcal
|
Carbohydrates:
2
g
|
Protein:
9
g
|
Fat:
16
g
|
Saturated Fat:
9
g
|
Polyunsaturated Fat:
1
g
|
Monounsaturated Fat:
4
g
|
Cholesterol:
52
mg
|
Sodium:
266
mg
|
Potassium:
64
mg
|
Fiber:
1
g
|
Sugar:
1
g
|
Vitamin A:
537
IU
|
Vitamin C:
1
mg
|
Calcium:
226
mg
|
Iron:
1
mg