I have to admit that I love bread, in fact, I love carbs of all kinds. Fortunately I also love to run, so I like to think the two things offset each other. I'm not entirely sure that's true, but I plan to keep making and eating these soft beer pretzels with beer. They're just too good not to enjoy frequently!
This soft pretzels with beer recipe takes a couple of hours from start to finish, mainly because it's made with yeast and therefore you have to give the dough time to rise. This shouldn't be a problem as long as you plan ahead, but it does mean it's not a spur-of-the-moment snack. I have seen other food bloggers make soft pretzels with store-bough pizza dough, and I think that's worth a shot if you're in more of a hurry. But this recipe is totally worth the time!
Jump to:
I always make this and my cheese dip with German beer at the same time. The two go perfectly together. Plus, I really enjoy cooking with beer, and this gives me a chance to do it twice in one afternoon.
You could also serve the pretzels with marinara sauce or ranch dressing, or you could replace the finishing kosher salt with a cinnamon and sugar mix for a sweet treat.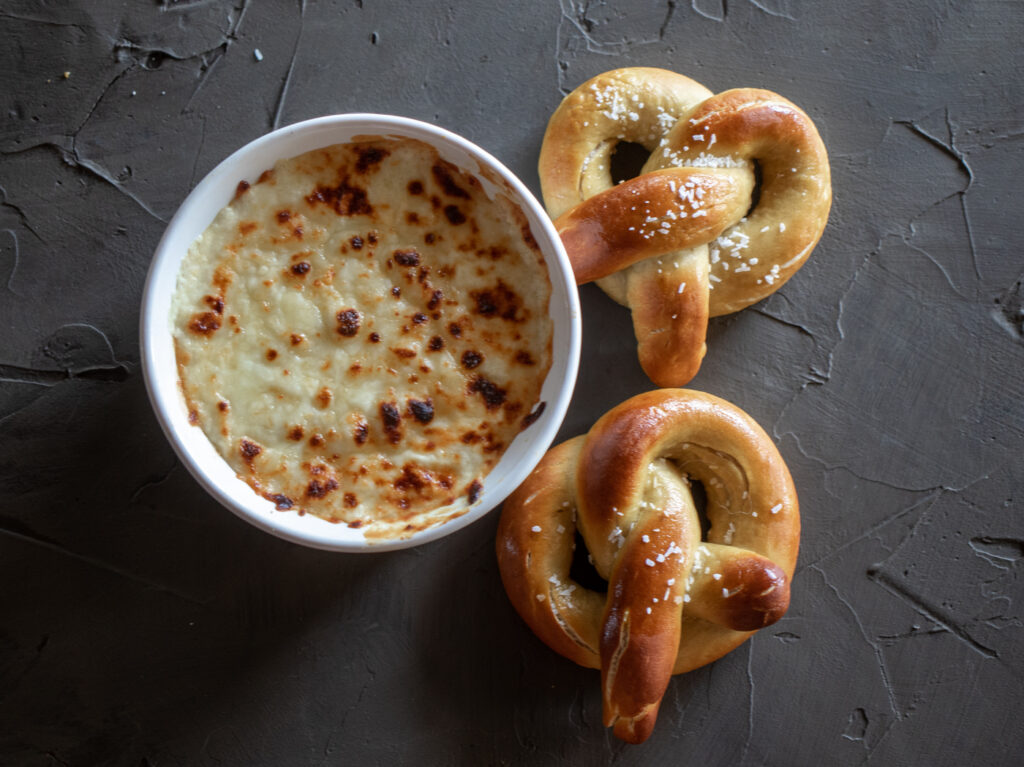 What Kind of Beer?
Like my beer cheese recipe, I have tried this with different kinds of beer to figure out what I like best. Again, I started with a Sam Adams lager but it was too bitter. I love IPAs, but they also tend to be bitter and I thought that wasn't a good idea.
Then I landed on the idea of using a pilsner. If you aren't a beer drinker, then you may not know what the different kinds are. A pilsner is what most large, commercial breweries in America make. So Budweiser, Coors, Michelob, etc... most of those are pilsners.
However, I don't really like those mass-produced beers, so I found an import I like instead. it's called Flensburger Pilsener and it's imported from Germany. I get most of my beer at Total Wine, and they're usually good about having this one stocked. If not, just check for any other pilsners from Germany and you'll be on the right track.
The recipe calls for 12 ounces of beer. The Flensburger Pilsener actually comes in an 11.2 fluid ounce bottle, so I make up the difference by adding a very small amount of water.
However, don't feel like you have to do it exactly the way I do! If you love cooking with beer, you'll know that experimenting with different styles is one of the best parts. So try a darker beer, a lower-IBU IPA (that's "international bitterness units" and "India Pale Ale", not to blogger-splain this too much!) or even a flavored beer like maybe a pumpkin one in the fall.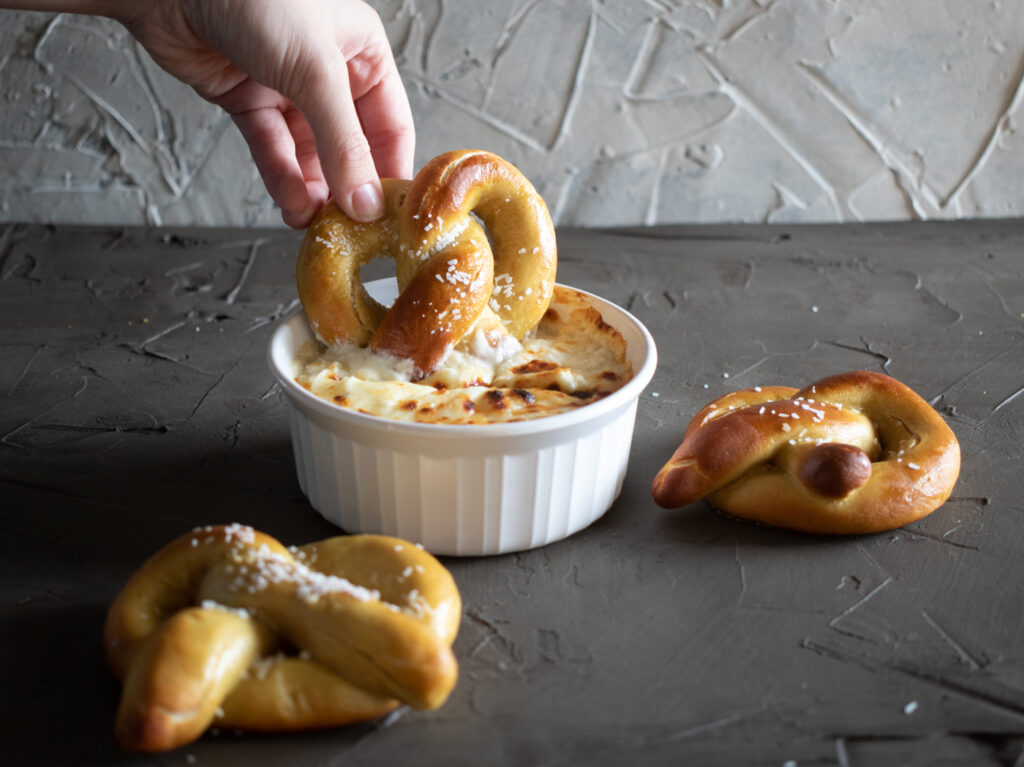 Shaping the Pretzels
Shaping dough into pretzels isn't as hard as it looks, but it takes some practice. In my opinion, the most difficult part isn't the twisting; it's getting the dough to roll out into a 2-foot long rope. You could do this on a floured surface if you want, but I don't find any extra flour is needed.
I start with ⅛ of the dough, and just start rolling it across my (clean!) counter with my hands, applying gentle pressure that helps stretch the dough until it's long and skinny. If you find that it's snapping back too much, then let it rest for 5 minutes and then resume. That will let the gluten relax some and help prevent the snap-back.
Once you have a long skinny rope, cross the ends like this: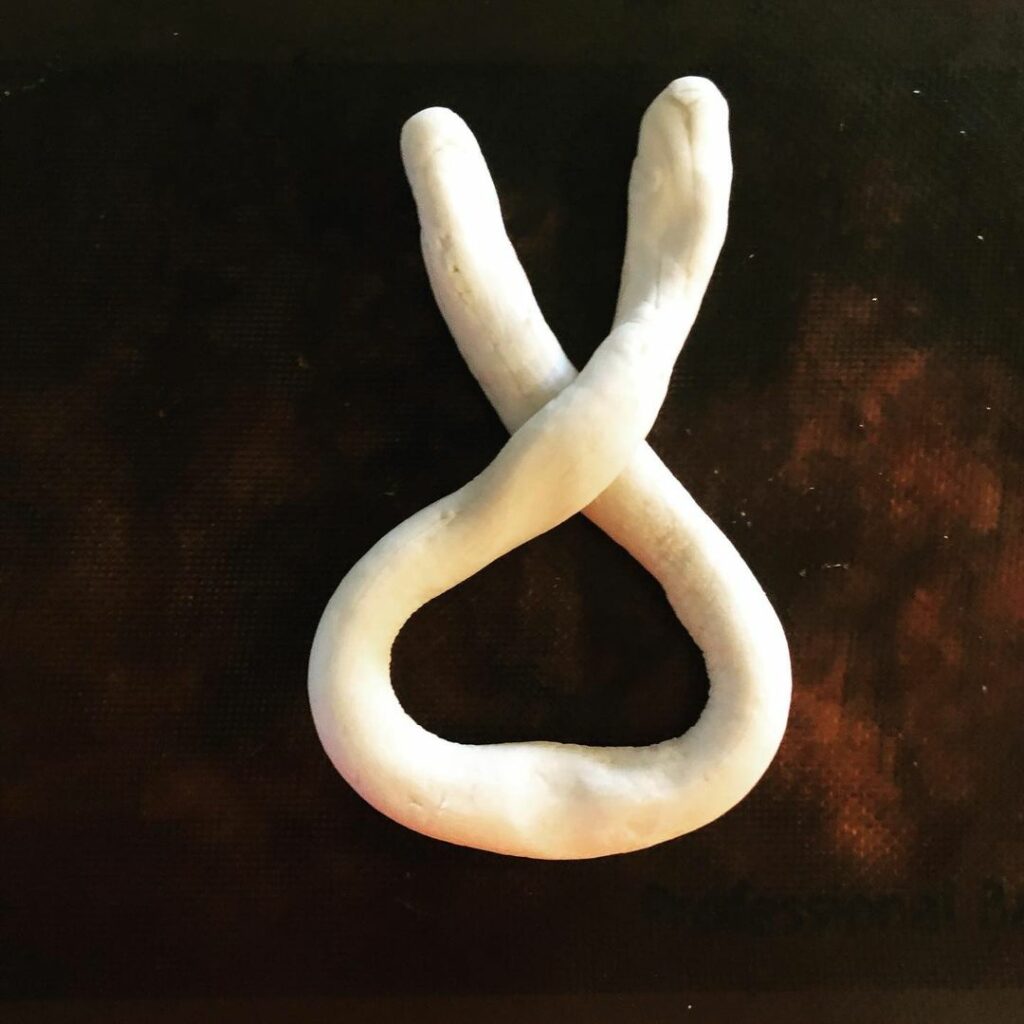 Then cross the ends again, so they're actually double-crossed: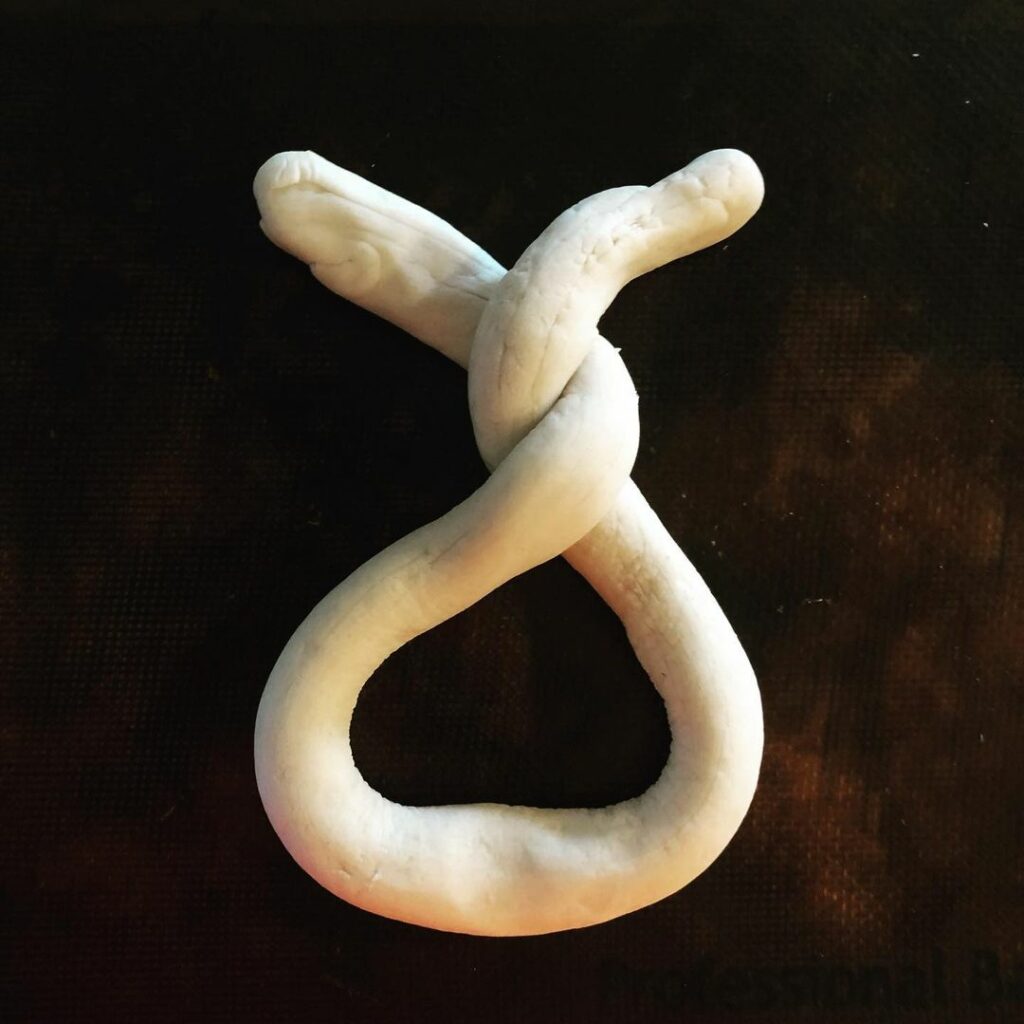 Finally, fold the ends back toward you and over the middle of the of the rope. Voila! Pretzel!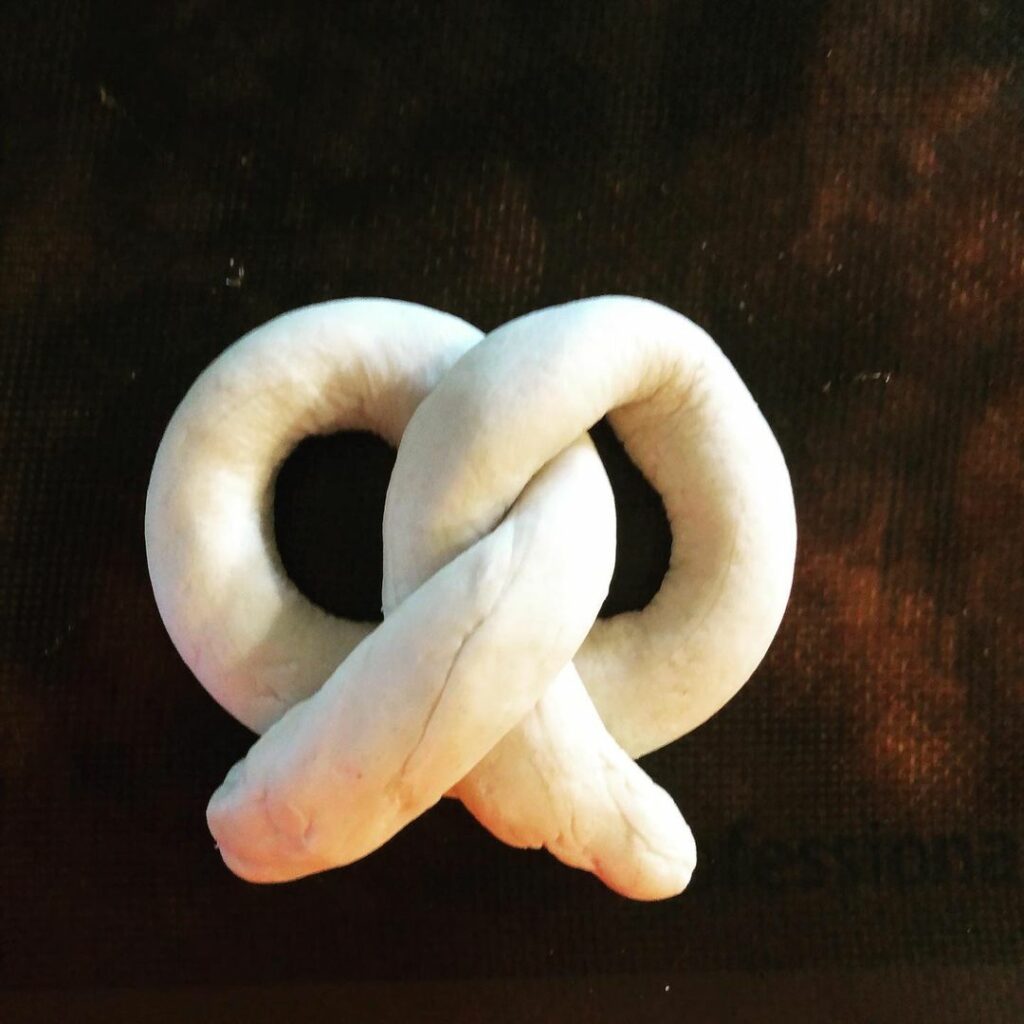 You may want to pinch the cross parts together just slightly, so the dough holds its pretzel shape while boiling. If you're gentle when placing the pretzels into the pot of boiling water, and gentle when you remove them, they should hold their shape well.
Why Do You Boil Pretzels?
You may wonder why you need to boil the pretzels before you bake them.
While it's true that baking the pretzels will thoroughly cook them, the boiling step serves a different purpose. When you boil dough in baking soda water, it actually "sets" the crust, which stops the dough from rising further while cooking. It's also the reason why pretzels have that shiny, brown layer outside with the softer layer inside. The longer you boil the pretzels, the denser the resulting inside will be.
Pretzels aren't the only bread you boil first. Bagels are usually boiled in the same manner.
I hope you've enjoyed my soft pretzels with beer recipe. If you have tried it, please drop a comment below and let me know what you think. And also give the recipe a rating by clicking the stars in the recipe or by rating it along with your comment.
View this recipe as a web story
📋 Recipe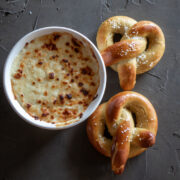 Soft Pretzels with Beer
Warm, soft pretzels are the ultimate comfort food. Make for game day, weekends, or anytime you want this delicious treat. Goes perfectly with beer cheese dip!
Equipment
1 mixing bowl

1 large stock pot

1 slotted spoon
Ingredients
12

ounces

beer

I prefer Flensburger Pilsener, but try different ones to figure out what you like. If your beer is less than 12 ounces, make up the difference with water.

1

tablespoon

white sugar

4

teaspoons

Kosher salt

1

package

active dry yeast

½

stick

unsalted butter

4½

cups

all purpose flour

good to have a bit extra on hand in case dough is too moist

⅔

cup

baking soda

1

egg

yolk only

1

teaspoon

vegetable oil

for bowl
Instructions
Heat beer in a small saucepan until it's temperature is about 115° Farenheit.

In your stand mixer's bowl, gently combine beer, sugar, and 2 teaspoons of the kosher salt. Sprinkle packet of yeast on top and let it sit for 5 minutes. The yeast will work best if you haven't created a lot of head (foam) when you pour in the beer.

Add the melted butter and 4½ cups of flour. Place the bowl on the stand mixer and mix at medium-low speed until combined, using the dough hook attachment.

Turn the mixer speed up to medium speed, and knead the dough for 5 minutes. Alternatively, you can knead by hand for 15-20 minutes.

If the dough is too wet, add 1-2 tablespoons additional flour. The dough should not stick to the sides of the bowl.

Coat the inside of a mixing bowl with 1 tablespoon vegetable oil, or cooking spray, and move dough to this bowl. Roll the dough around to coat it in the oil.

Cover the dough with plastic wrap and/or a kitchen towel and place in a warm location to rise. Wait one hour, and dough should have roughly doubled in size.

Fill your stock pot with 10 cups of water. Add ⅔ cup baking soda, stir, and bring to a boil over high heat on your stovetop.

While waiting for the water to boil and the oven to heat, divide your dough into 8 pieces if making pretzels. You can also make pretzel sticks or pretzel bites, in which case you'd divide the dough according to the size/quantity you want to make.

Roll each portion of dough into a 2-foot long rope. Shape into a pretzel.

When water and baking soda is boiling, gently place each pretzel, two at a time, into the pot. Boil for 30-40 seconds each, then remove with a slotted spoon and place on a Silpat-mat lined baking sheet. Continue with all pretzels. (I end up putting 4 on each baking sheet.)

Combine the yolk of one egg with one tablespoon water. Brush over the top of each pretzel, then sprinkle the remaining kosher salt over each one.

Bake at 425°F for 14-15 minutes until browned.

Serve while warm, with beer cheese dipping sauce if desired.
Notes
The step for boiling the pretzels in a baking soda and water mixture is what gives them their nice shiny brown sheen. If you don't have baking soda, you can omit this step and it will still taste good; they just won't be as pretty or as slick.
Nutrition
Calories:
346
kcal
|
Carbohydrates:
57
g
|
Protein:
9
g
|
Fat:
8
g
|
Saturated Fat:
4
g
|
Polyunsaturated Fat:
1
g
|
Monounsaturated Fat:
2
g
|
Trans Fat:
1
g
|
Cholesterol:
36
mg
|
Sodium:
3911
mg
|
Potassium:
105
mg
|
Fiber:
2
g
|
Sugar:
2
g
|
Vitamin A:
206
IU
|
Vitamin C:
1
mg
|
Calcium:
18
mg
|
Iron:
3
mg