Indulge in the sweet and crunchy goodness of candied grapes! These delicious treats are made by coating plump grapes in a sugary syrup and then rolling them in granulated sugar. Perfect as a snack or dessert, candied grapes are sure to satisfy your sweet tooth.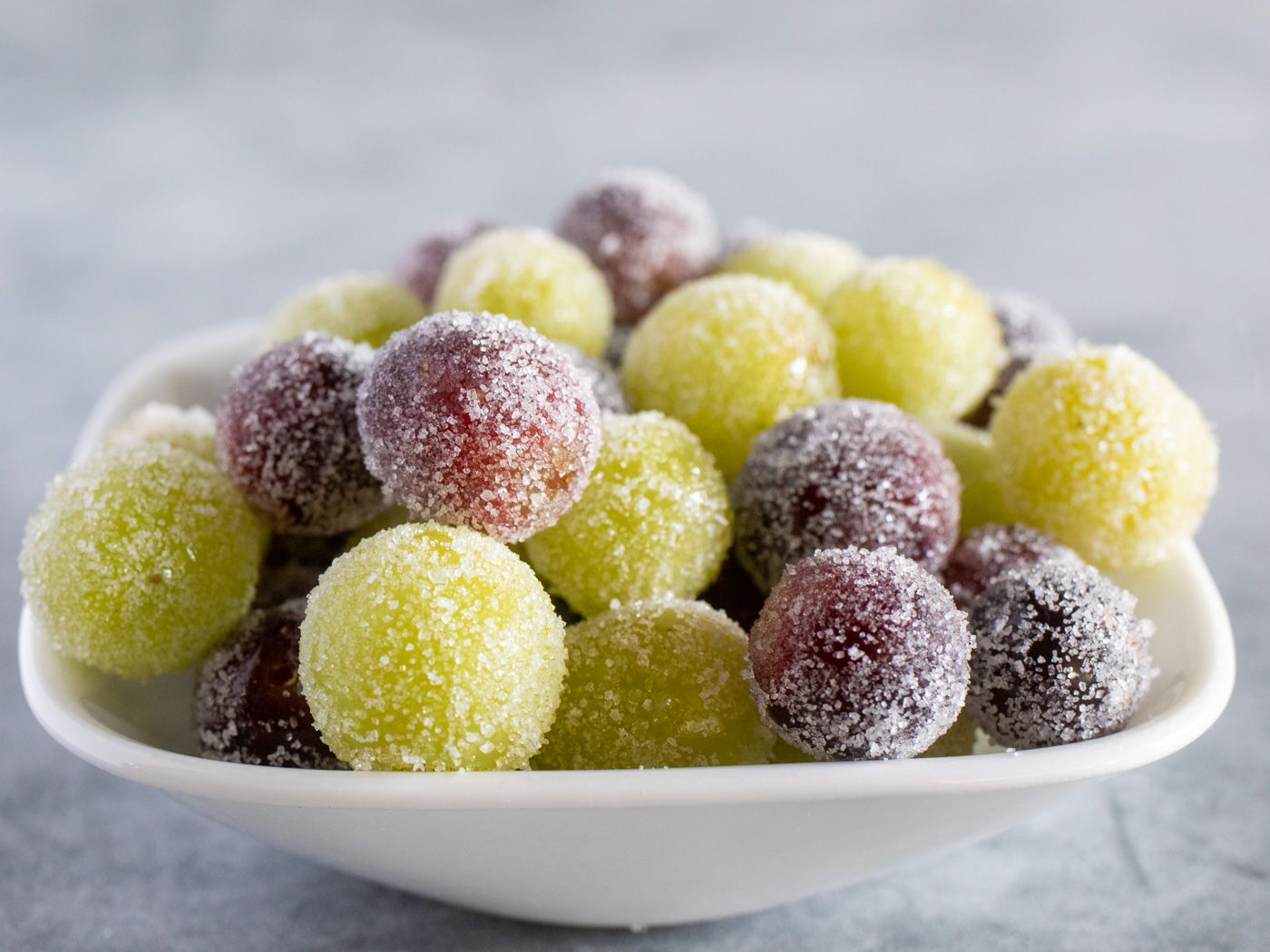 If you love fruit as much as I do, but you're looking for something a bit more special, these are perfect. They add a touch of pizzazz to any party menu, but they're also a delicious treat for afternoon snacking or an almost-healthy dinner dessert.
And when it comes to holidays, look no further! Candied grapes exude elegance and are the perfect addition to your Christmas or other special occasion spread. But you don't have to wait for a special occasion; these are a fun snack for any day!
Looking for other party food? Try my recipes for Tuna Pate or Strawberry Pretzel Salad.
Jump to:
🥘 Ingredients
You can't get easier than this! This candied grape recipe requires require only 3 simple ingredients, and one of those is just water.
seedless grapes (green, red, or black)
white granulated sugar
water
🔪 Instructions
Making candied grapes is really simple, but it does take some time. The reason is that if you try to do them really fast, they end up sticking together or not being completely coated in sugar. For the best results, make sure to take your time, especially when rolling each grape in the sugar.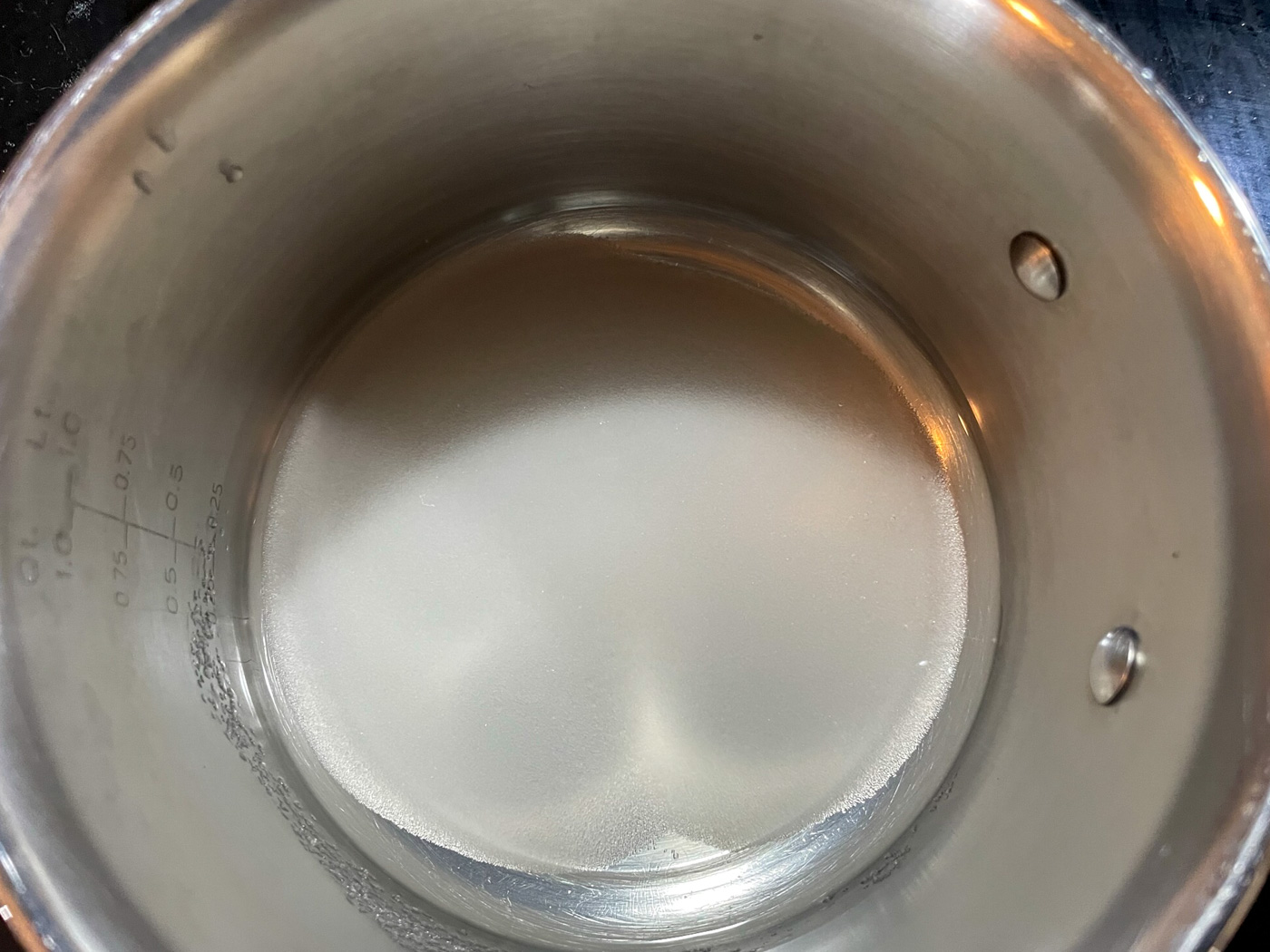 Step 1 - Begin by making the candy syrup. Combine half of the sugar with the water in a small saucepan, bring to a boil, and stir until sugar is dissolved.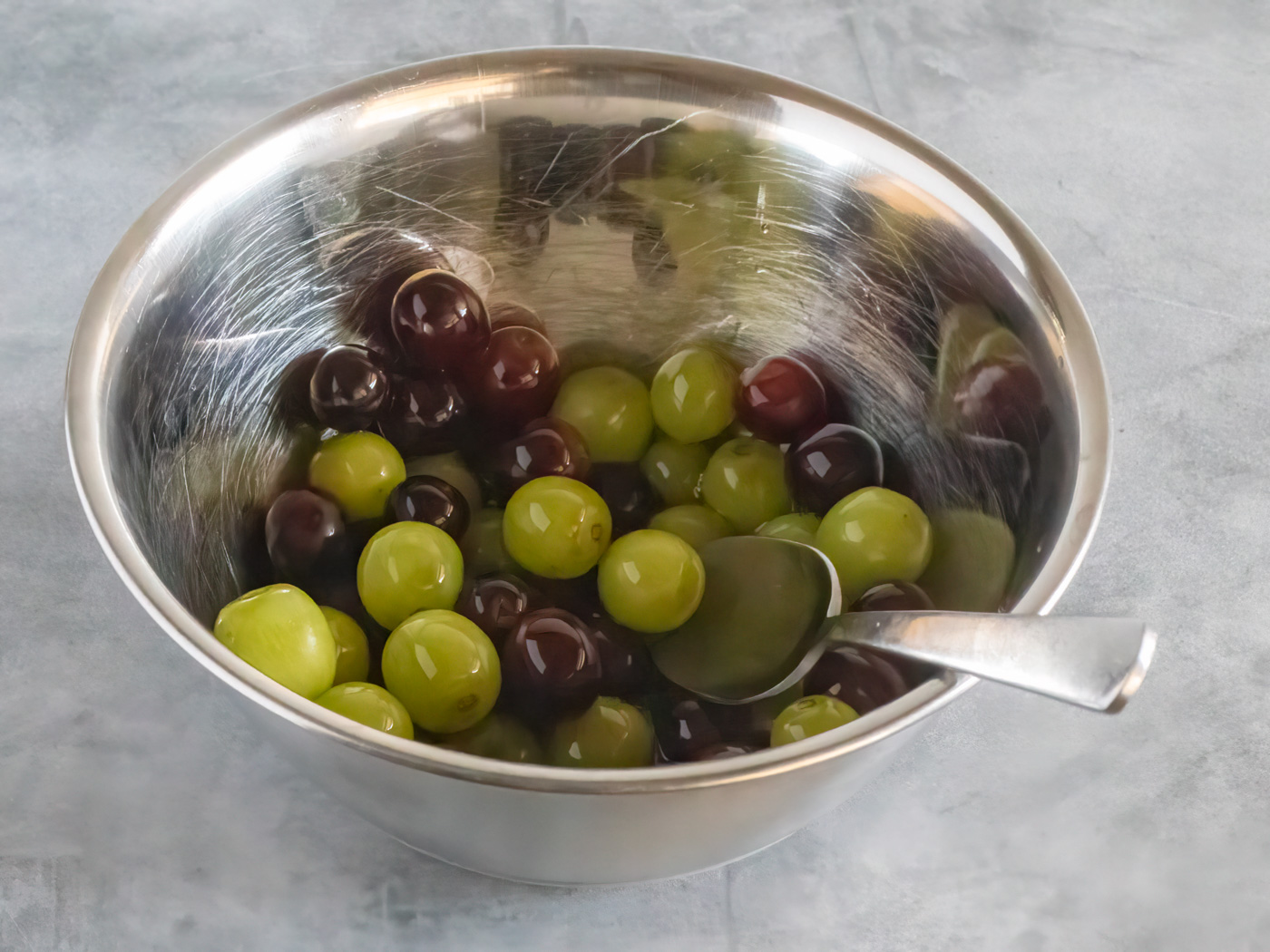 Step 2 - Remove sugar solution from heat and allow to cool slightly. It doesn't have to get to room temperature, just cool enough that you don't cook the grapes! Add grapes to sugar mixture and swirl to coat.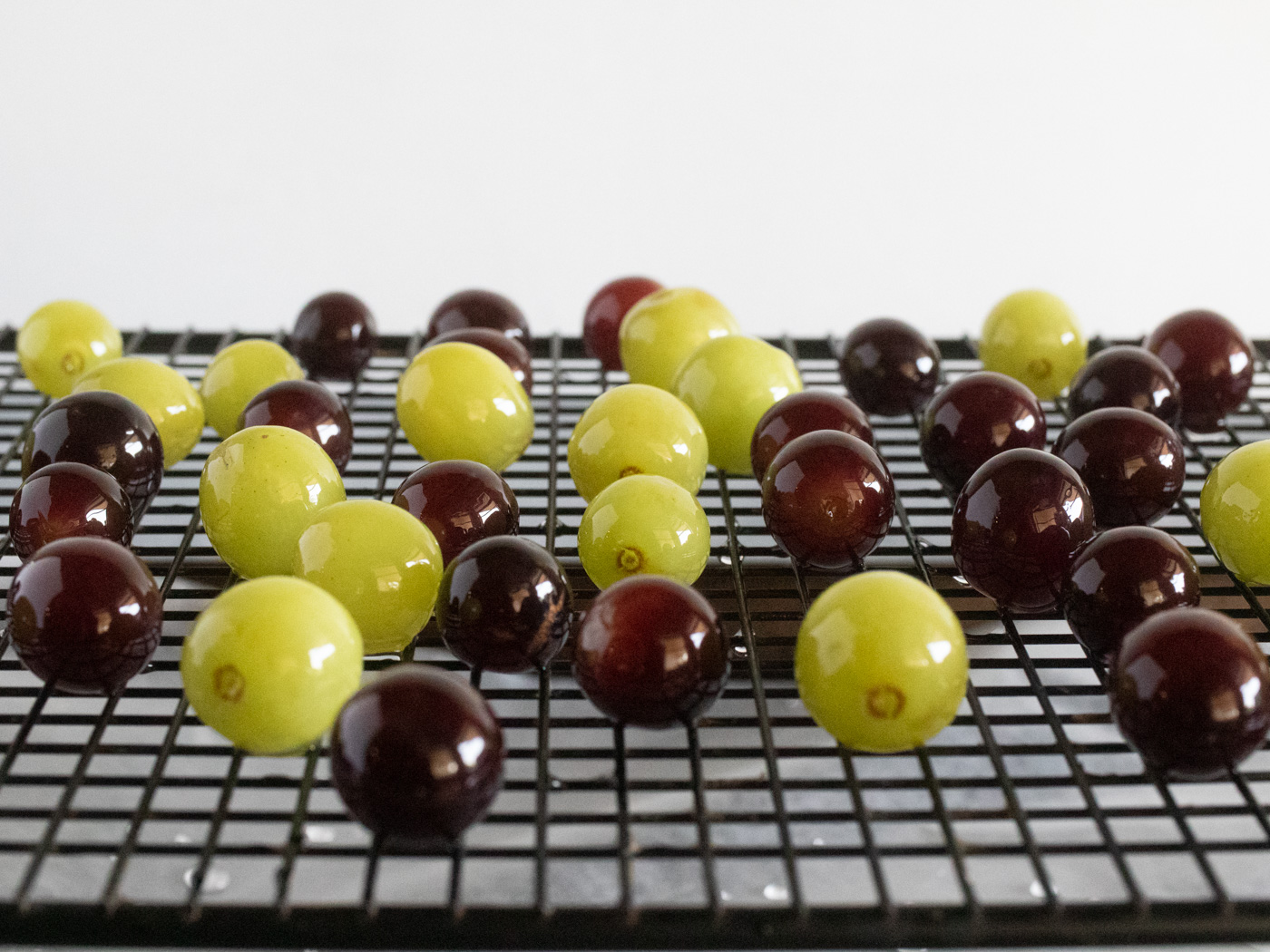 Step 3 - Place syrup-coated grapes in a single layer on a wire rack, and allow to dry for 30-60 minutes. Make sure the grapes aren't touching each other.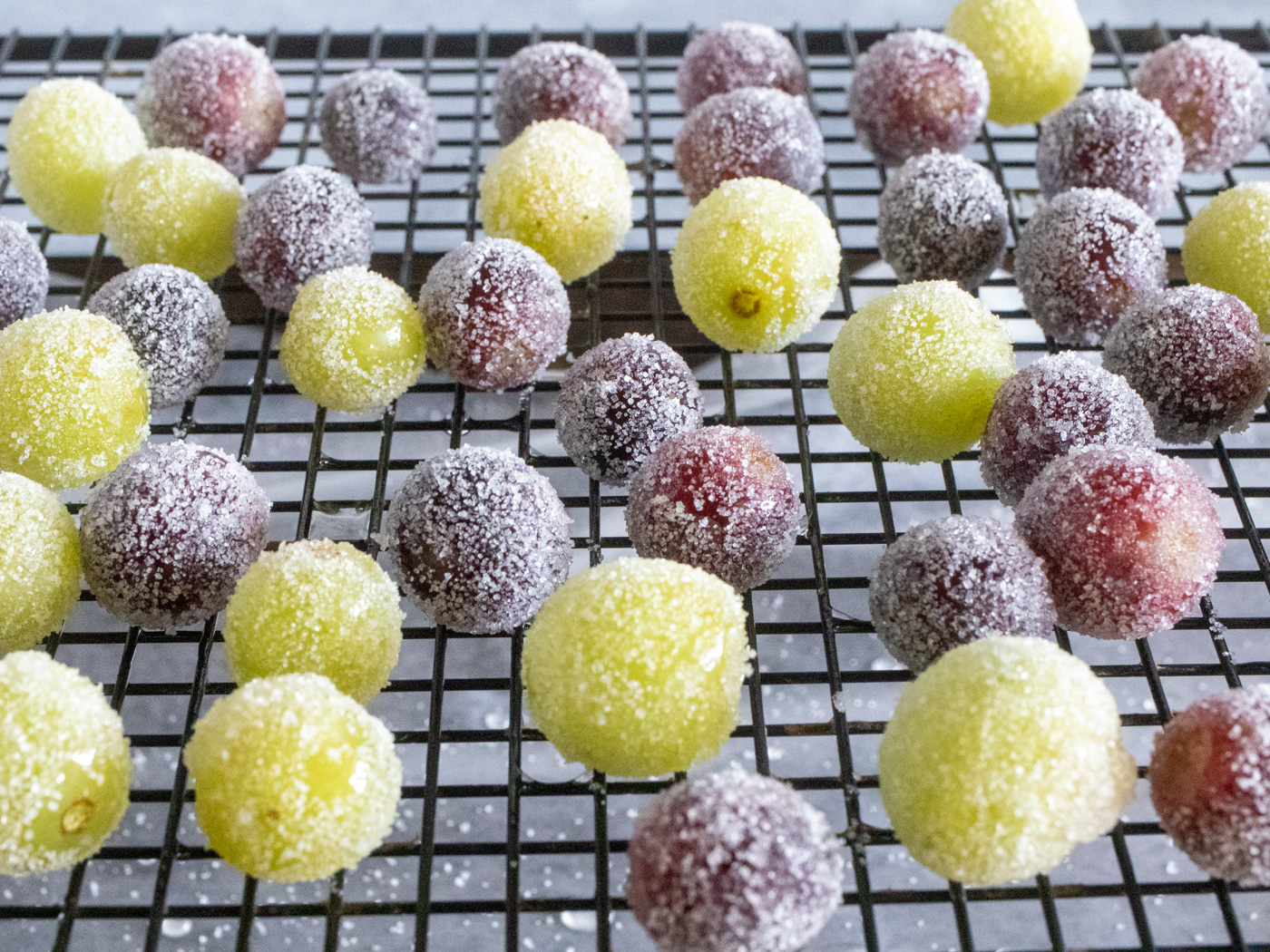 Step 4 - Roll each grape in additional granulated sugar, which will stick to the syrup that is already partly dried. After each grape is coated, return it to the wire rack to dry for another 30-60 minutes.
After the second round of drying time, you can go ahead and serve the grapes, or put them in an airtight container in the refrigerator to enjoy later. The candied grapes taste great at both room temperature and when served at refrigerated-temperature.
📖 Variations
A fun variation is to make jello grapes! For additional flavor or color, you can add some Kool-Aid powder or Jell-O powder (uncooked and no water added) to the sugar in Step 4, or you can omit the sugar and only use jello powder. Use a variety of Jell-O flavors, such as strawberry, orange, green apple, and blue raspberry (or whatever your favorite flavor is) to get different colors and flavors. The Jell-O colors show up best on green grapes!
Another version was popularized on TikTok and is called "Crack Grapes" or Jolly Rancher grapes. Instead of rolling the coated grapes in granulated sugar, you roll them in crushed Jolly Ranchers instead. The Jolly Rancher candies tastes delicious along with the fresh grapes. These make a delicious snack!
🍽 Equipment
No special equipment is needed, really. You'll use a saucepan to create the sugar and water-based syrup. And you'll probably want to use a wire rack to allow the grapes to try, although in a pinch you could use waxed or parchment paper on top of a baking sheet, or even just your kitchen counter. If you do that, you may need to roll the grapes halfway through the first drying stage, so they dry more thoroughly.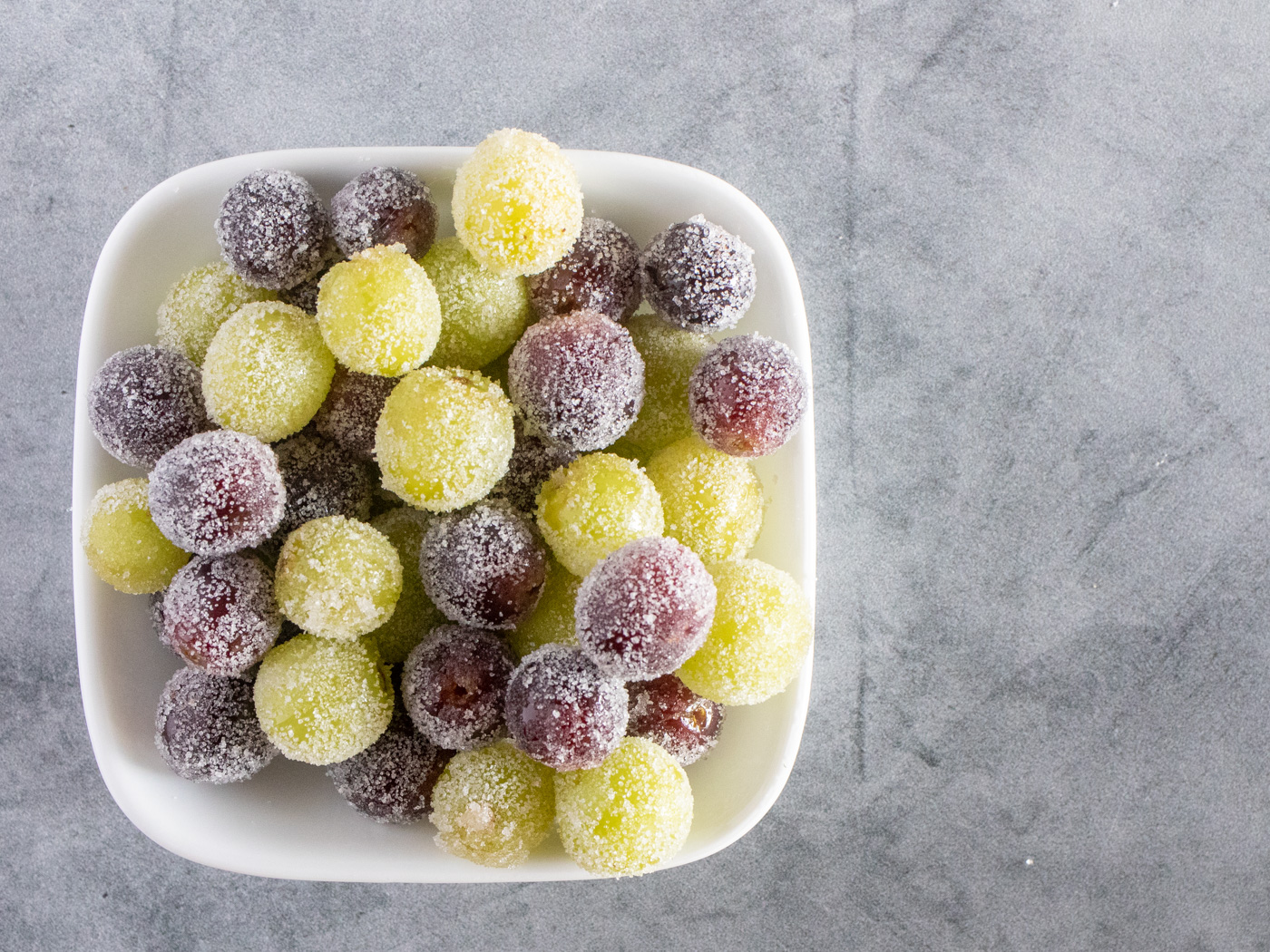 🥡 Storage
Candied grapes can be stored for 2-3 days in the refrigerator. Just put them inside an airtight container, like a Tupperware or Rubbermaid container, or even Zip-Loc bags. The coating won't go bad or get gooey as long as the container is properly sealed, and they'll last as long as regular grapes do before they start to go bad.
💭Top tip
When you make candied grapes, patience is key to producing the best results! The steps are simple, but trying to roll multiple grapes in sugar just ends up with half-coated grapes or a cluster of them stuck together. Take your time to roll each grape individually, and if you want, enlist your family to help. It can be lots of fun for younger kids!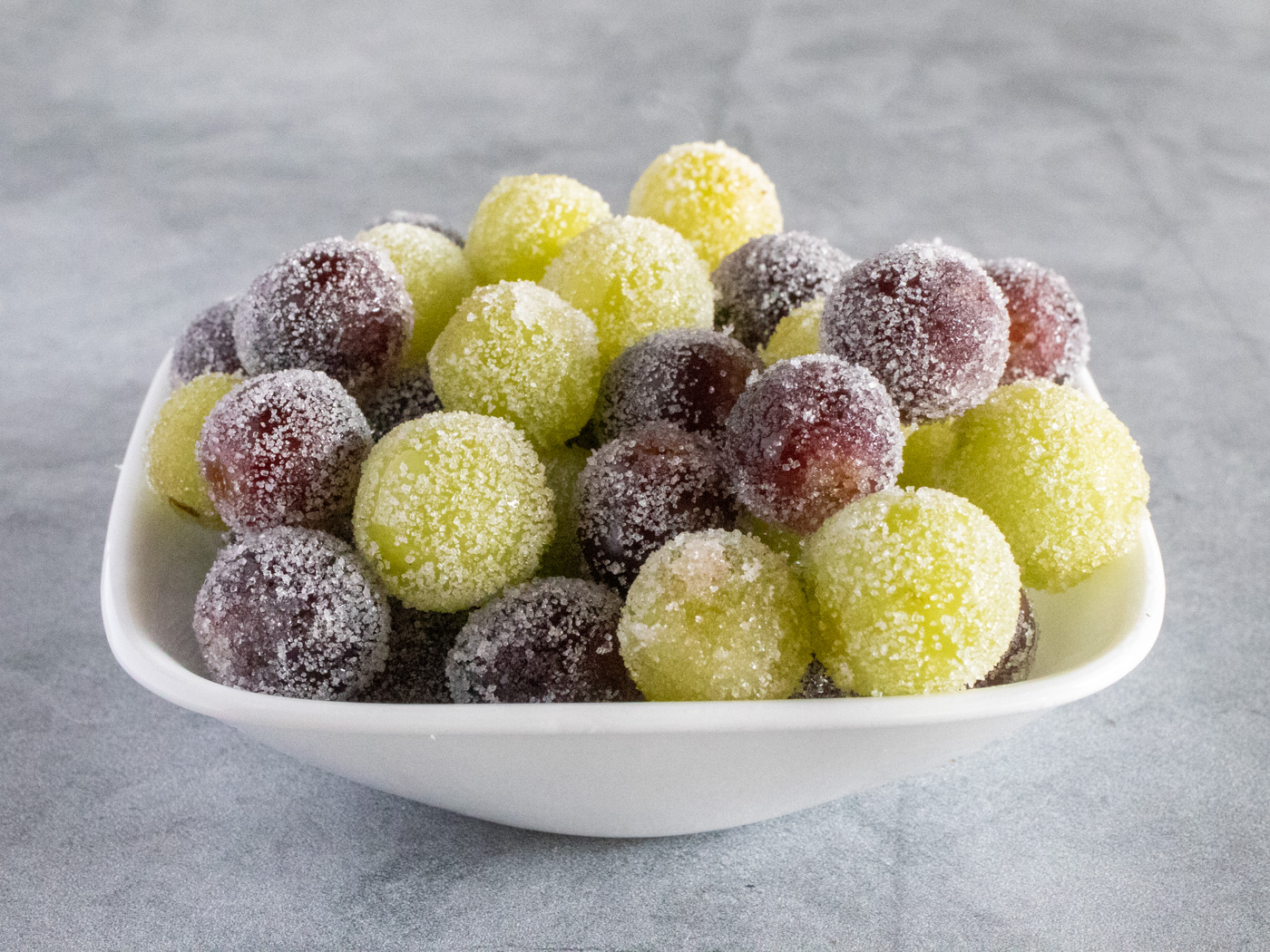 ❓ FAQ
What are candied grapes?
Candied grapes are regular grapes with some kind of candy coating. For this recipe, it's a simple sugar syrup with additional granulated sugar.
What do candied grapes taste like?
They taste just like grapes but a little sweeter! The granulated sugar gives a small crunch, and adds sweetness to the sweet-but-tangy flavor of the grapes.
Are candied grapes the same as cotton candy grapes?
Nope! Cotton candy grapes are a variety you can buy at the grocery store that is a hybrid of two other varieties and tastes a bit like their namesake. They're just grapes, though, no special coating.
Are grapes healthy?
Absolutely! They contain antioxidants that help fight disease, and can lower blood pressure and inflammation.
What kind of grapes should I use?
Seedless grapes produce the best results because you'll want to keep popping more and more in your mouth! Choose either red or green seedless grapes, and go for the plumpest juicy grapes.
📋 Recipe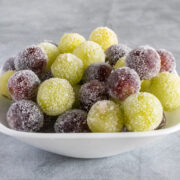 Candied Grapes
Indulge in the sweet and crunchy goodness of candied grapes! These delicious treats are made by coating plump grapes in a sugary syrup and then rolling them in granulated sugar. Perfect as a snack or dessert, candied grapes are sure to satisfy your sweet tooth.
Ingredients
3

cups

grapes

green, red, black, or a combination

½

cup

white granulated sugar

divided

¼

cup

water
Instructions
Combine ¼ cup of sugar and ¼ cup of water in a saucepan, and heat over medium-high heat until sugar is dissolved.

Remove from heat and allow mixture to cool slightly.

Add grapes to sugar mixture, an mix to make sure grapes are well-coated.

Place sugar-coated grapes on a wire drying rack, making sure the grapes don't touch. Allow them to rest for 30 minutes or up to an hour. By this point, the sugar mixture should be drier but still sticky. (You can use a cookie sheet if you don't have a wire rack.)

Place the remaining granulated sugar in a bowl or on a plate. Add grapes one at a time, and swirl until completely coated in sugar.

Place back on drying rack and allow to rest for another 30-60 minutes, then serve and enjoy! Or they can be refrigerated for several days in an airlock container.
Nutrition
Calories:
174
kcal
|
Carbohydrates:
45
g
|
Protein:
1
g
|
Fat:
0.3
g
|
Saturated Fat:
0.1
g
|
Polyunsaturated Fat:
0.1
g
|
Monounsaturated Fat:
0.01
g
|
Sodium:
3
mg
|
Potassium:
217
mg
|
Fiber:
1
g
|
Sugar:
43
g
|
Vitamin A:
75
IU
|
Vitamin C:
4
mg
|
Calcium:
12
mg
|
Iron:
0.4
mg