Jump to Recipe
This shrimp pasta salad recipe is perfect for any time of year. It's hearty enough for colder weather, but the citrus and Greek flavorings really make it a perfect dish for summer, too. It's also a favorite dish of two of my kids, which is a plus because it means the one who has moved to college will come home for it, and the one who still lives here will actually eat what I make! (The third child is weird and doesn't like it. "Whatever" LOL)
I got this from my mother-in-law originally, whose scallop casserole recipe I've already featured here. She really has some amazing recipes! This is a dish she makes for every party, and it's easy to see why. Almost everyone loves it, and it's really easy to make. That's a combo you just can't beat.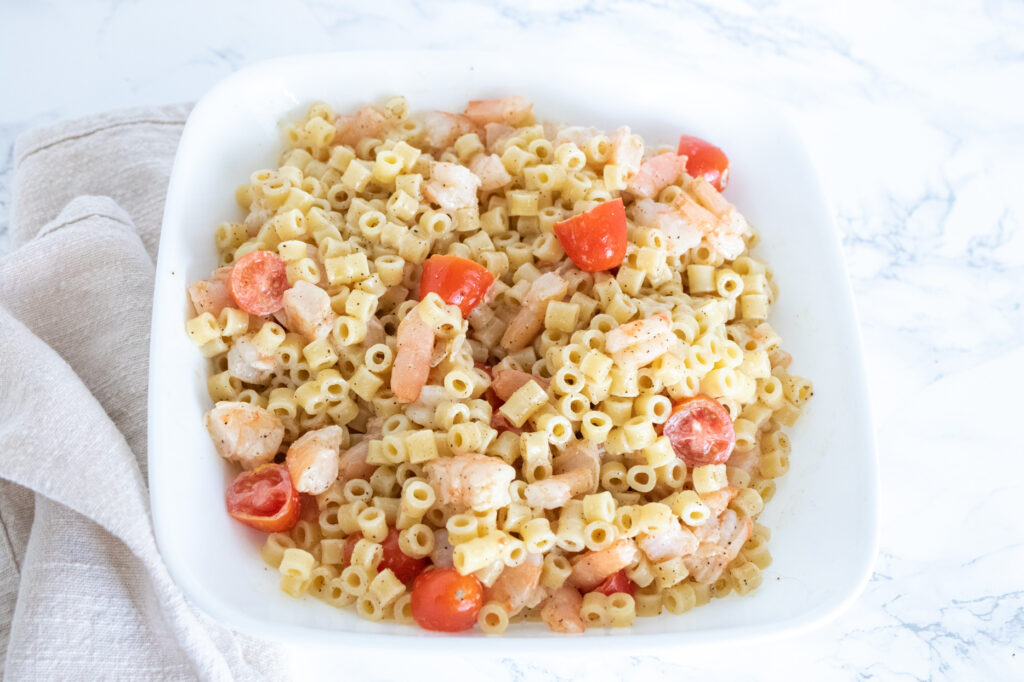 I buy medium-sized frozen shrimp that is already cooked, peeled, and deveined. I don't know how your grocery store works. but at Publix, that means the shrimp are still sitting in the shell. But it has been split, at least to the base of the tail (and sometimes the entire tail), and the vein has been removed. Still, it takes me about 15 minutes to rinse the shrimp, remove the shells, and then rinse again. Then I coarsely chop the shrimp and add it to the already cooked pasta.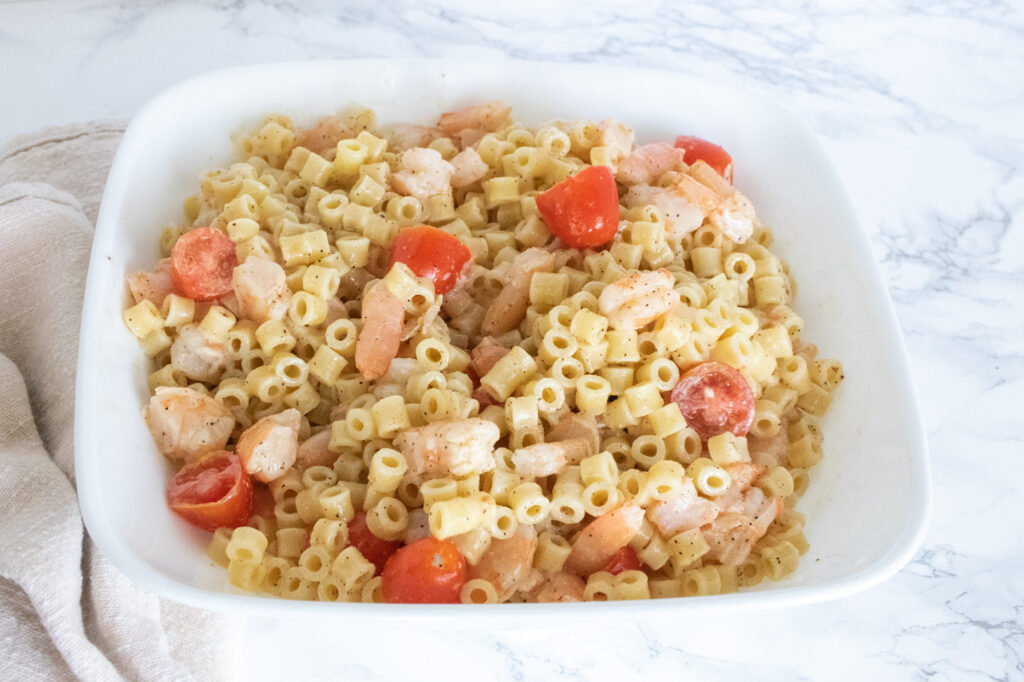 As you can see here, I've added tomatoes too. But feel free to get creative. Some additional good options to include, depending on your family's preferences, are:
black olives
chopped red onions
artichoke hearts
English peas
chopped bell pepper
chopped cucumbers
feta cheese
fresh parsley
fresh basil
And if your family doesn't like shrimp, this is just as good with cooked, cubed chicken, or as a meatless dish. I've also had it with imitation crab meat. It's really hard to go wrong, just be creative and taste-test any additions before you add it to the entire bowl!
The Greek seasoning I use is by Cavender's and can be found at Publix and other supermarkets, or ordered online from their website. If you can't find it, or a similar replacement, you can make it at home from this recipe.
I hope you enjoy this. If you try it, leave me a note in the comments below. I'd love to hear how it goes for you! And I really enjoy hearing how others choose to customize this dish, so if you added a unique ingredient that you loved, please share that too.
Shrimp Pasta Salad with Greek Flavors Web Story
Shrimp Pasta Salad with Greek Flavors
A delicious pasta salad that can be a light meal or a hearty side dish, this combination of pasta and shrimp with Greek spices and flavors is sure to please a crowd.
Ingredients  
1

lb

pasta (ditalini, rotini, etc)

24

oz

shrimp

cooked, deveined and peeled

8

oz

cherry tomatoes

1

lemon

3

tbsp

Greek seasoning

1/2

cup

light extra virgin olive oil

5

tbsp

mayonnaise
Instructions 
Cook pasta according to directions, then drain

Chop up cooked shrimp and add to pasta

Cut tomatoes in half and add to pasta

Grate the peel of lemon over pasta

In a small bowl, add the juice of the lemon (about 3 tbsp), Greek seasoning, olive oil, and mayonnaise. Whisk to combine.

Pour dressing over pasta dish, and stir to combine

Can be served cold or room-temperature