This scallop casserole is delicious as either an entrée or a side dish. Scallops are healthy and full of protein. Learn how to make this delicious dish, one of my favorite seafood recipes.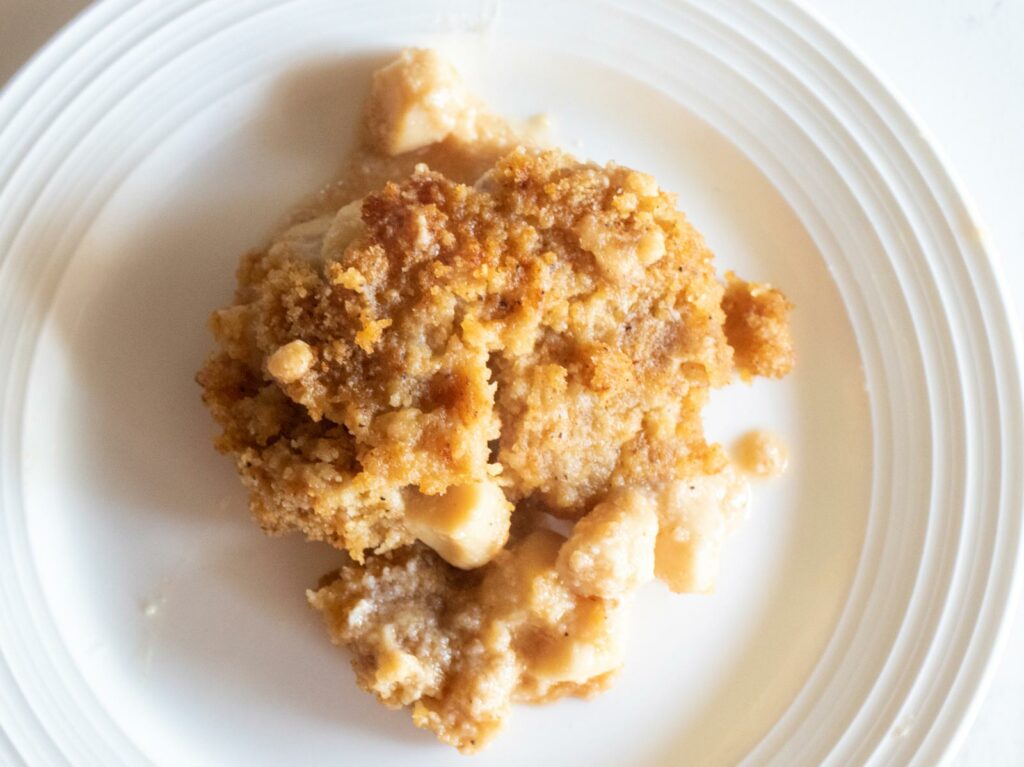 When you get married, you inherit some things. In-laws are a good example. Sure you're marrying your spouse, but if they have family, in-laws come with the territory.
And, sometimes, the in-laws' recipes also come along.
Fortunately I have wonderful in-laws with amazing recipes! (Thanks Kathleen!) And this scallops casserole is one of hers. This is one of two dishes that seems to always be on the menu at her family gatherings. Everyone likes it and there are almost never any leftovers!
Jump to:
The best part of this scallops recipe is that it's really simple. There's no chopping, only very easy mixing, and the rest of the time it just sits in the oven. That's my kind of recipe, if it means I don't have to spend an hour in the kitchen prepping things!
Ingredients
Not to state the obvious, but this casserole has scallops in it! Scallops are a shellfish. Many people are familiar with its shell, as the scallop seashell is has an iconic shape that's popular in décor, crafts, and more. Not everyone has eaten one, though. They definitely have a seafood-y taste, but they aren't fishy at all. The meat is tender and flavorful, but not overpowering.
Additionally, the casserole calls for half and half cream, butter or margarine, breadcrumbs, and a few spices, namely celery seed, paprika, salt, and pepper.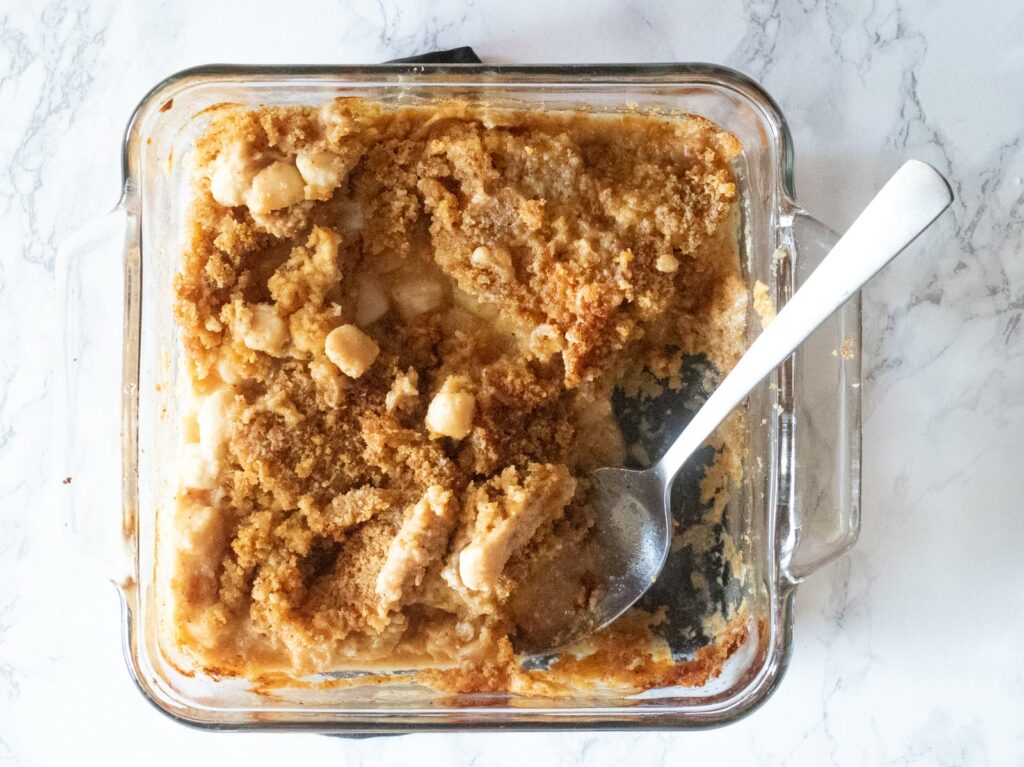 Instructions
The only part of this recipe that takes any significant amount of time is washing the scallops, as you need to be careful to pick out any pieces of shells. Of course, how much you have to do that will depend on how well it was done by the place you purchase them! Nothing is worse than crunchy shells in your dish, though, so it's worth the time to do this right.
Once they've been cleaned, however, assembling this casserole couldn't be simpler. You start by mixing the breadcrumbs, melted butter, and spices in a bowl. Next, put the scallops in a casserole dish, and pour half of the cream over them. Then add the breadcrumb mixture, on top, and finally pour in the rest of the cream. Sprinkle with paprika and bake!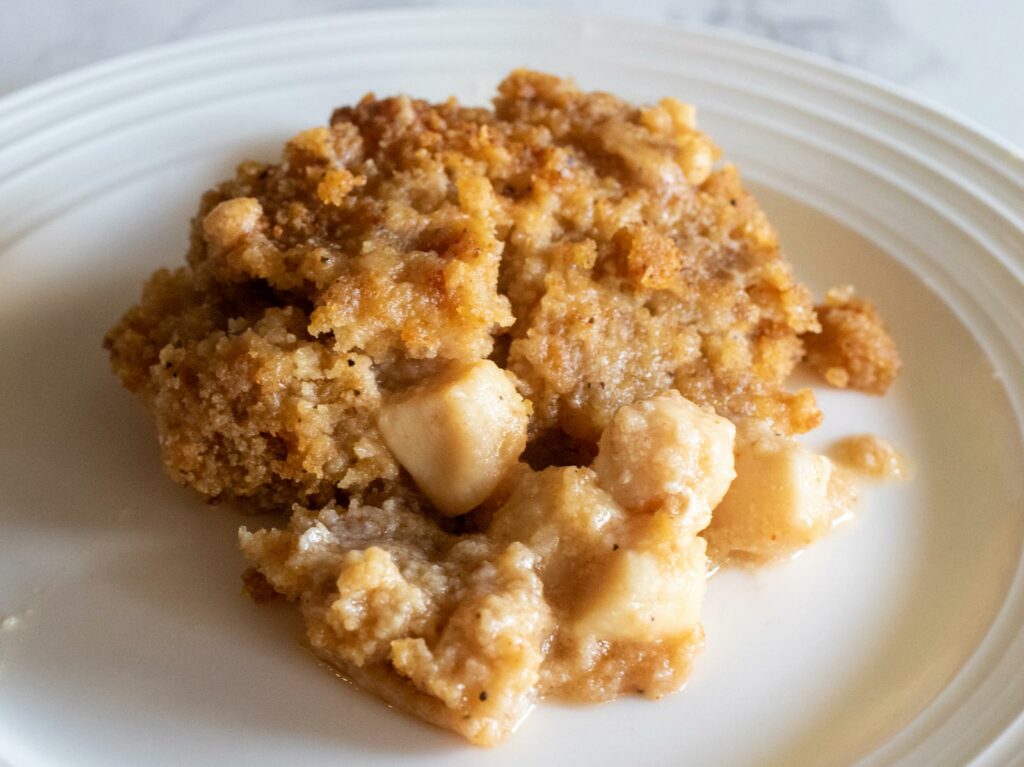 Variations
There are a number of ways to tweak the recipe to make it your own. For a delicious smoky flavor, you can substitute smoked paprika for the regular kind. Or try replacing the breadcrumbs with crushed Ritz crackers.
I like to make this with bay scallops, but the larger sea scallops are just as good. Whichever you choose is simply a matter of preference. You can also choose between fresh or frozen scallops, depending on what's available in your area.
You may also want to squeeze a lemon over the top after baking, or serve a lemon wedge alongside so people can choose for themselves whether they want to add it.
Are Scallops Healthy to Eat?
Did you know scallops are healthy?
It's true! Scallops are more than 80% protein - which makes them both low-carb and low-fat. Baked scallops are also a great source for magnesium and potassium. On their own, scallops are actually very healthy.
The cream and butter in this casserole makes it a little more fattening and decadent, so I won't claim this whole recipe is healthy. I personally think that's a good tradeoff. If you're trying to eat lighter, you might want to use margarine instead of butter. The cream is going to be a source of fat, though, and I don't think it would work if you substituted milk.
Lots of us also eat too much red meat, so substituting chicken recipes or seafood (like my Greek shrimp pasta) can add variety to our meals as well as nutritional value.
📋 Recipe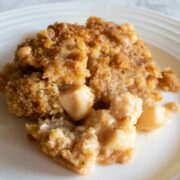 Scallop Casserole
A delicious blend of cream, scallops, and herbs make this casserole perfect for an entree or a side dish. You can choose whether to use bay scallops or sea scallops.
Ingredients
12

ounces

scallops

(bay or sea scallops)

¾

cup

half and half

1

cup

bread crumbs

½

cup

margarine or butter

melted

2

teaspoons

celery seed

1

teaspoon

salt

½

teaspoon

pepper

½

teaspoons

paprika

or to taste
Instructions
Preheat oven to 375 degrees.

Wash scallops and remove any pieces of shell, if necessary. If using larger sea scallops, cut into ½ inch pieces.

Arrange scallops in a greased pan (12 x 7 ½ x 2, or 9 x 9 x 2)

Pour half of the half-and-half over the scallops

Mix breadcrumbs, butter or margarine, and all spices in a small bowl. Sprinkle over scallops.

Top with the remaining half-and-half. Liquid should come about ¾ of the way up the scallops..

Sprinkle with paprika, to taste.

Bake uncovered until hot and bubbly, 25-30 minutes.
Nutrition
Calories:
346
kcal
|
Carbohydrates:
20
g
|
Protein:
13
g
|
Fat:
24
g
|
Saturated Fat:
15
g
|
Polyunsaturated Fat:
1
g
|
Monounsaturated Fat:
6
g
|
Trans Fat:
1
g
|
Cholesterol:
79
mg
|
Sodium:
1068
mg
|
Potassium:
247
mg
|
Fiber:
1
g
|
Sugar:
1
g
|
Vitamin A:
699
IU
|
Vitamin C:
1
mg
|
Calcium:
102
mg
|
Iron:
2
mg