Sometimes a recipe post is brought about by sheer desperation, and that's the case with this recipe for chicken and rice casserole without soup.
I've had this recipe for "Super Chicken" printed out on a piece of computer paper for about 8 years. It was given to me, along with a full meal that included the dish, when my youngest was born. I've referred to it many times, so it's covered in splashes and splatters, but the worse part is that one of my kids used it to make a Sharpie work of art on the back that almost obliterated the instructions.
Well, see for yourself...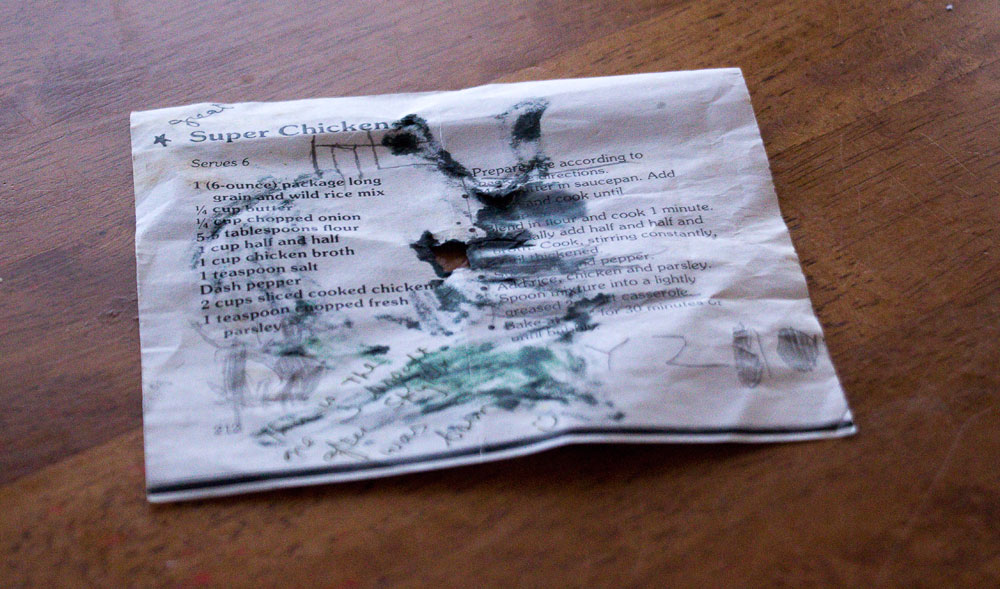 And now, here I sit, squinting at the page, in an effort to save the recipe for my own use...and your benefit! I've enjoyed this Chicken and Rice Casserole Without Soup meal many times and have shared it with my extended family at get-togethers too. It's always a hit. It's tasty without being overpowering, but it's never bland.
The best thing I ever learned on the internet was this: If your recipe calls for chopped or shredded chicken, head to Publix and grab a rotisserie chicken. Original flavor works best, but none of them are so flavorful that they'll ruin a recipe, especially since you're just going to discard the skin. So grab a rotisserie chicken, pull back the skin, get all the meat off, and chop it up.
Of course, if you prefer, you can pre-cook some boneless, skinless chicken breasts and use them instead. Here's my favorite article that tells you how to cook perfectly moist, boneless chicken breasts. (There are few culinary mistakes worse than overcooked, dry chicken.)
Here are the ingredients: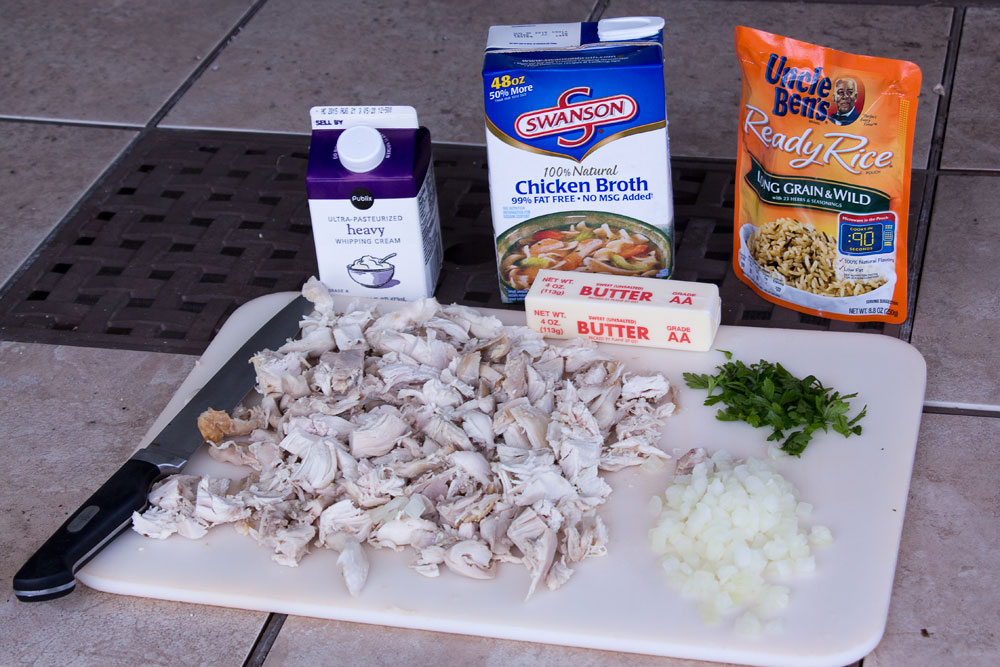 I'm all about that easy-peasy-ness, so I also use pre-cooked, microwaveable rice and frozen pre-chopped onions in this chicken rice casserole recipe. Pre-ANYTHING always speeds up a busy weeknight dinner. If you're not fond of that, go ahead and chop a fresh onion and cook a box of uncooked wild rice (Far East is a good brand) and it will be fine. But if you're lazy efficient like me, follow along. (Because this Uncle Ben's rice is already pre-cooked, I use two packages. If you're using uncooked rice, one package is fine. The volume increases when you cook it, after all.)
So the first step is to cook the rice according to package directions. Bear with me, because this is a bit complicated - tear open the package where indicated about 2 inches, and microwave for 90 seconds. Got it? Good. Now repeat with the other bag of rice.
If you're using an uncooked rice mix, simply follow the instructions on the package to prepare it.
Next, cook the onions (no need to thaw first) in the butter until the onions are transparent.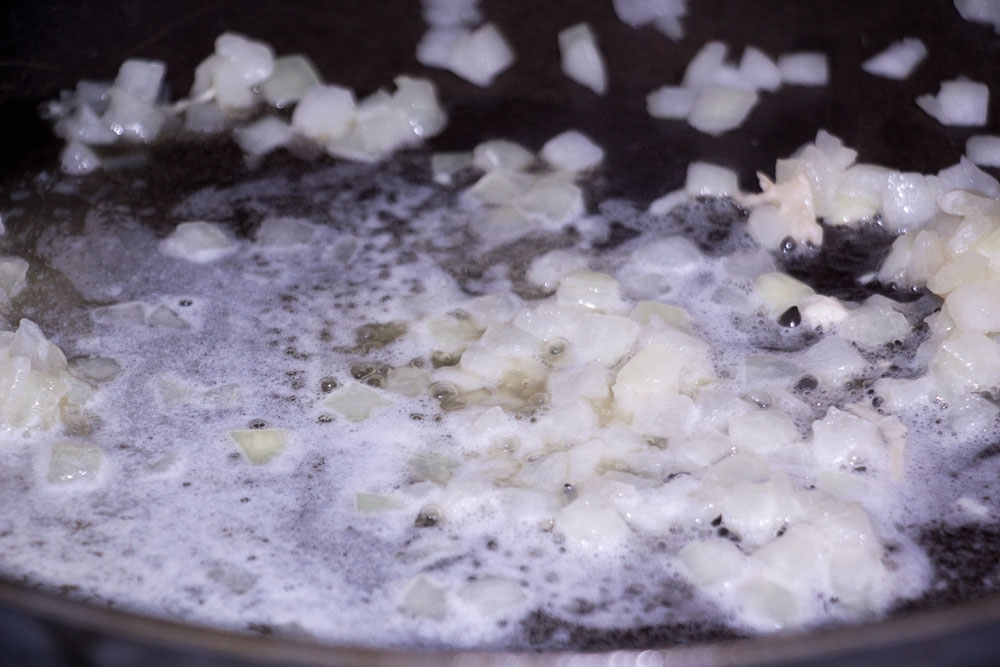 Go on, sniff your computer screen. You know you want to.
Anyway, once the onions are transparent, add in the flour. Cook for one minute while stirring, then slowly add the half and half and the chicken broth. Cook all of that until thickened, still stirring. Seriously, stirring is the hardest part of this dish. Except maybe waiting for it to cook. Next, add the salt and pepper, and now you have this: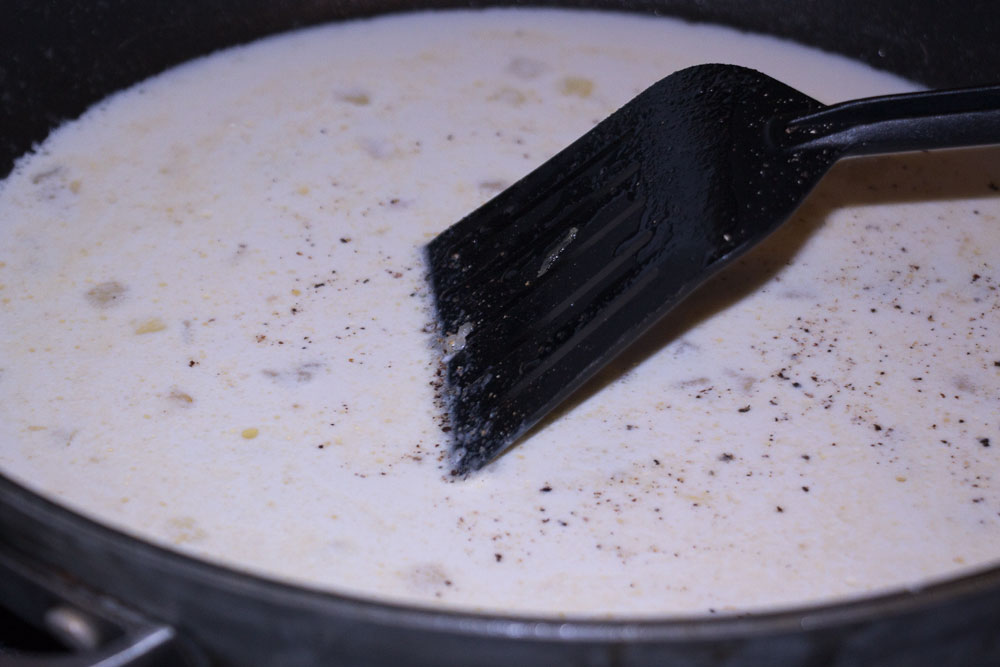 Now just dump in the chicken, rice, and parsley. (Dump carefully so you don't have as much of a mess to clean up.) Stir to combine.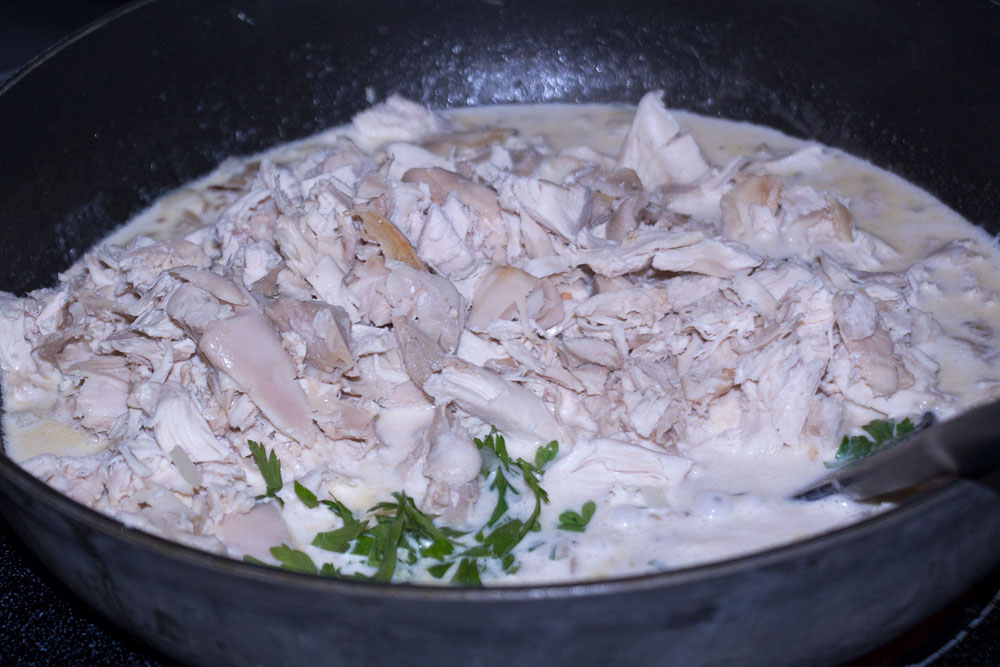 Put that whole shebang into a lightly-greased, 13" x 9" in casserole dish. Throw it in a 425-degree oven for 30 minutes or until it starts to bubble.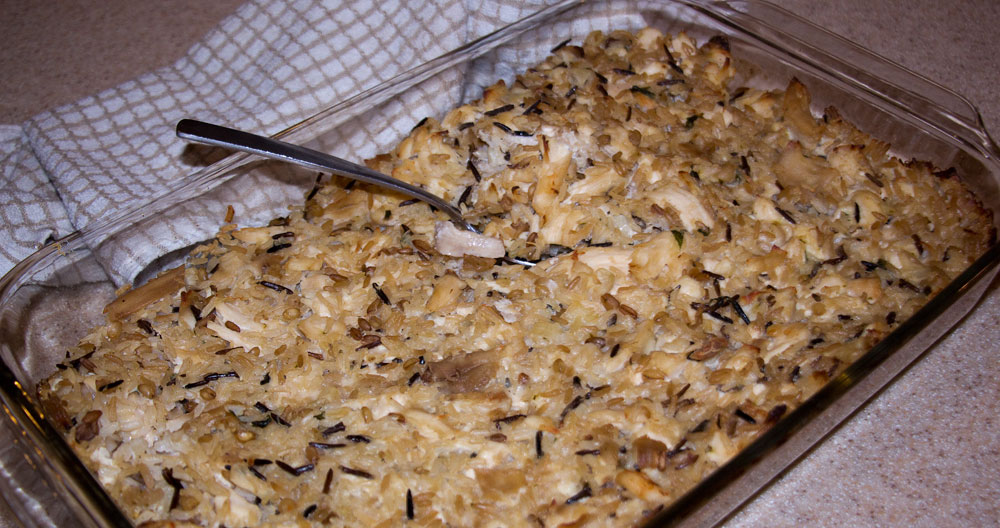 Check out all that deliciousness. See that burned stuff along the edges up there? That's my husband's favorite part.
So that's it! If you've been looking for a recipe for a chicken and rice casserole with no soup, I'm sure you'll enjoy this one. Please leave me a note in the comments and let me know what you think. If you're a big casserole lover like me, you may also want to check out my Walking Taco Casserole recipe.
📋 Recipe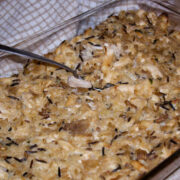 Chicken and Rice Casserole Without Soup
A chicken and rice casserole that has a unique flavor without being either boring nor overpowering.
Ingredients
2

packages

long grain and wild rice mix

(If you're using the uncooked kind, one package should be fine.)

¼

cup

butter

¼

cup

chopped onion

5-6

tablespoons

all-purpose flour

1

cup

half and half

1

cup

chicken broth

1

teaspoon

salt

1

dash

pepper

2

cups

chopped, cooked chicken

1

teaspoon

chopped, fresh parsley
Instructions
Prepare rice according to packages directions.

Melt butter in saucepan. Add onion and cook until transparent.

Stir in flour and continue cooking for 1 minute.

Gradually add broth and half and half. Cook, stirring continuously, until thickened.

Sprinkle in the salt and pepper.

Add rice, chicken, and parsley and combine well.

Spoon mixture into a lightly-greased 9x13 baking dish.

Bake uncovered for 30 minutes or until bubbly.
Nutrition
Calories:
168
kcal
|
Carbohydrates:
8
g
|
Protein:
9
g
|
Fat:
11
g
|
Saturated Fat:
5
g
|
Polyunsaturated Fat:
1
g
|
Monounsaturated Fat:
4
g
|
Trans Fat:
1
g
|
Cholesterol:
44
mg
|
Sodium:
585
mg
|
Potassium:
187
mg
|
Fiber:
1
g
|
Sugar:
1
g
|
Vitamin A:
214
IU
|
Vitamin C:
4
mg
|
Calcium:
63
mg
|
Iron:
1
mg