Anyone else trying to improve their eating habits? And I don't mean just fewer trips to Starbucks or McDonald's – I mean adding in the GOOD stuff, like fresh fruits and vegetables!
If you're like me, trying to add more veggies, then this Pear, Banana, and Greens Smoothie Recipe is right up your alley. It's my latest favorite way to down my veggies! It has two full servings of greens, plus a helping of fruit too. It's packed with vitamins, and has a low glycemic index if you use unsweetened almond milk. Just don't overdo the honey, which has lots of sugar.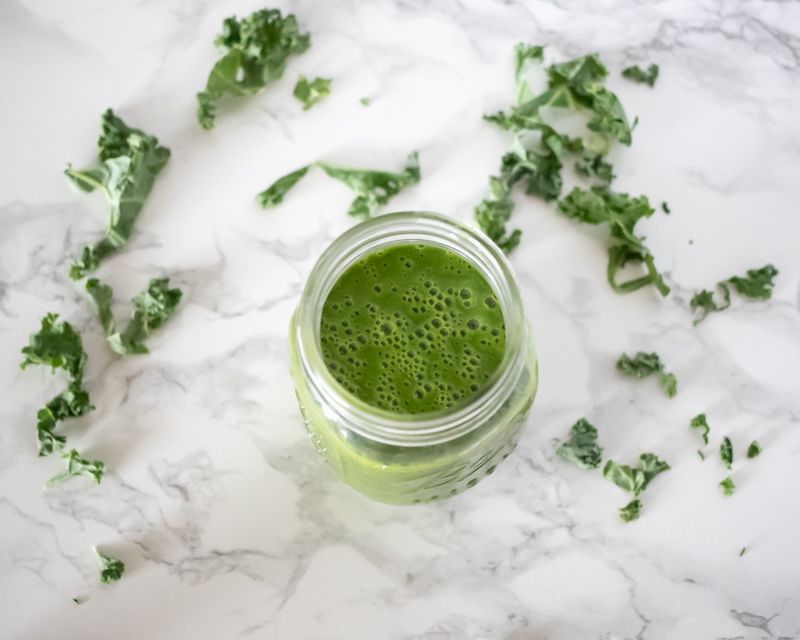 One neat little trick with this smoothie – and it also works for many others – is to use frozen fruits instead of room-temperature ones. If you want to give this a shot, just freeze your banana the day before. The colder fruit brings down the temperature of the smoothie, making it more refreshing. (I supposed you could also add ice but maybe that just dilutes everything. I haven't tried it.)
Now on for the shopping list and easy instructions. Original recipe from Joy the Baker.
Shopping List
1 cup raw spinach
1 cup raw kale
1 pear
1 under-ripe banana
1 1/2 cups almond milk
1 tbsp honey
You may want to use organic fruits and vegetables if they are readily available.
Pro Tip: For added immune support, find locally-grown honey; it helps your body fight off locally-grown germs!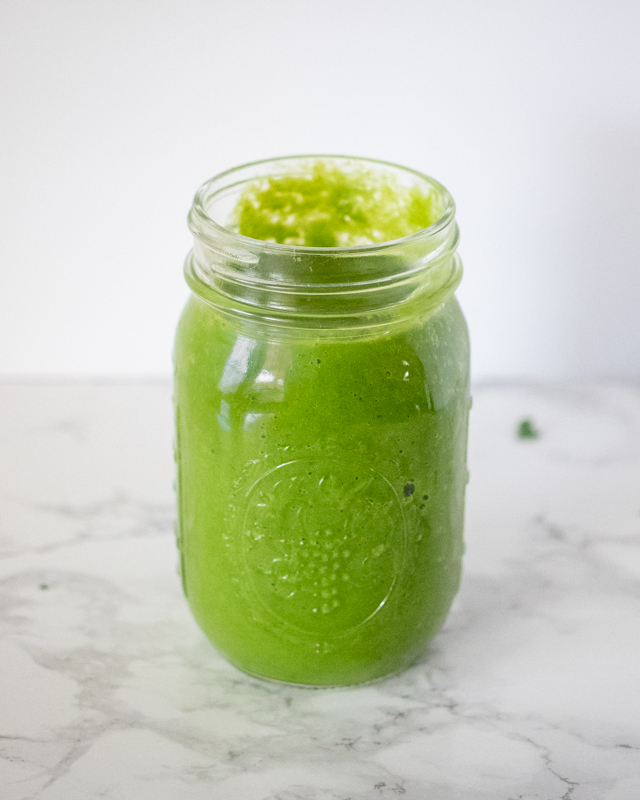 Preparation
Start with 1 cup each raw spinach and raw kale. Kale is the curly-leaved vegetable shown in the photo above. Kale has a thick stalk in the middle of each leaf; you want to remove the more tender green parts and discard the center stem. Put both into the blender with a cup of unsweetened almond milk. Blend thoroughly until you've gotten rid of as many small bits of greens that you can.
Add 1 banana (frozen, if you think to do this in advance), 1 chopped pear, and 1 teaspoon honey. Blend again until everything is thoroughly mixed.
Pear, Banana, and Greens Smoothie
A delicious, healthy smoothie with lots of greens.
Ingredients  
1

cup

raw spinach

1

cup

raw kale

1

pear

1

banana

(underripe and frozen, if possible)

1

cup

Almond milk

unsweetened

1

tsp

honey
Instructions 
Peel the pear and cut it into bite-sized pieces

Remove tough center stem from kale leaves and any longer stems from spinach

Add kale, spinach, and almond milk to blender, and blend until the leaves are as small as possible

Add banana, pear, and honey

Blend again until pear pieces are throughly blended