Jump to Recipe
Do you love the taste of cherries, but lack time to bake an entire cherry pie? Then this dessert is right up your alley! Cherry fluff salad combines the delicious flavor of cherries with Cool Whip, pineapples, and nuts for a delightful treat.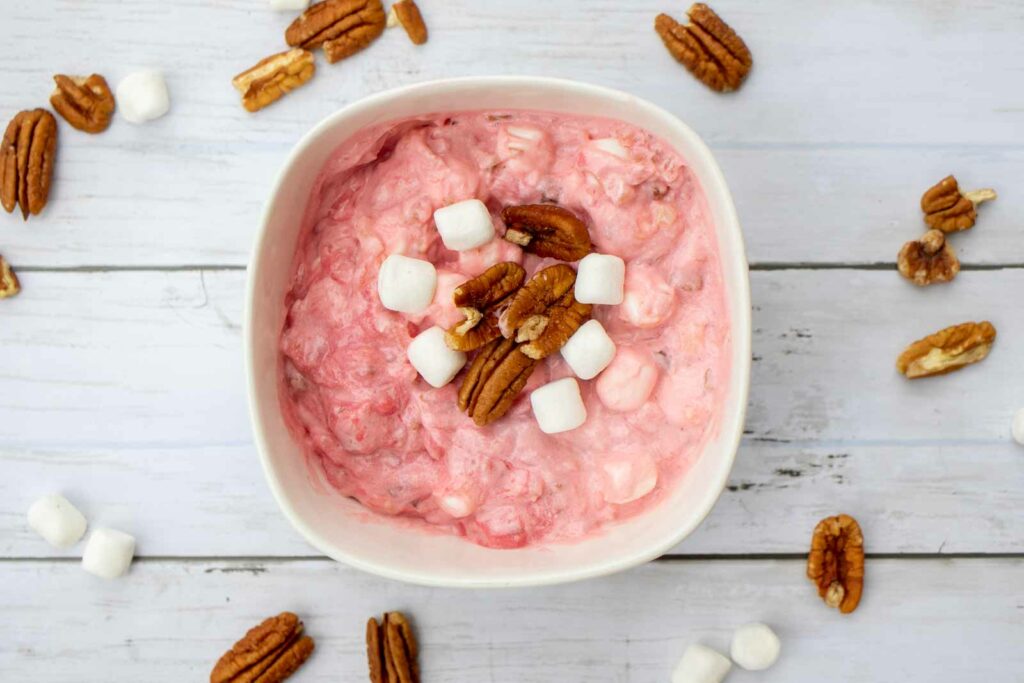 I've written before about how much I like dishes that can do double-duty as either a side dish or a dessert, such as my Strawberry Pretzel Salad. This is another one of those dishes! Because of its versatility, this Cherry Pie Fluff recipe is perfect for a large gathering, such as family reunions and pot luck dinners, where people can choose if they want to eat it with their meal or after.
This dish is also known as cherry pie salad, cherry pie dessert, cherry Watergate salad, and simply cherry fluff.
What Goes Into the Cherry Fluff Salad Recipe?
Cherry pie dessert is a fruit-lover's dream, as it includes both cherries (in the form of cherry pie filling) and pineapple. The condensed milk and marshmallows add extra sweetness, and the chopped pecans add a delicious nutty crunch.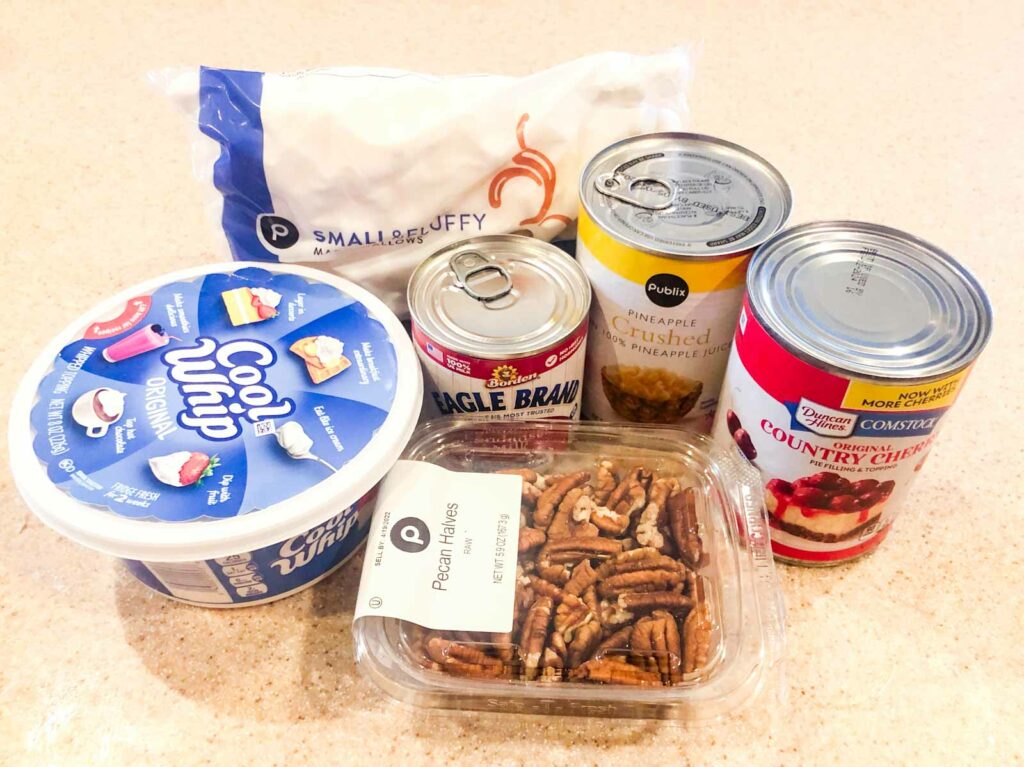 And, of course, the "fluff" comes from Cool Whip brand whipped topping.
The different ingredients complement each other and make a delicious and pretty pink dessert salad.
How to Make Cherry Fluff Salad
This is such a quick and easy recipe to prepare. It involves no cooking, just a small amount of prep and a little refrigeration time.
The preparation includes chopping the pecans and draining the crushed pineapple.
I like to use a food chopper for chopping up the pecans. I'm pretty clumsy sometimes and if I don't have to use a nice on something hard to cut, I won't. Plus, it can be helpful to take out my frustrations with the chopper!!! You only need to roughly chop up the pecans. You don't want to grind them to dust.
With the canned pineapple, you want to drain out (and discard) as much of the liquid as you can. The soupier you leave the pineapple, the soupier your cherry pie fluff will be. Too much liquid detracts from the fluffiness! I use a spoon to even press out some of the liquid, which gets out even more than gravity does by itself.
After you've chopped the pecans and drained the pineapple, you simply combine all the ingredients in a big bowl and stir to combine. If you prefer you can take this in steps: do the cherry pie filling and condensed milk first then add everything else. It makes it easier to get a consistent result.
After mixing, put the cherry pie salad into a Tupperware / Rubbermaid type of container (or any airtight container of your choice) and place it in the refrigerator for at least 30 minutes. Then you can serve it, or it will keep in the fridge for several days.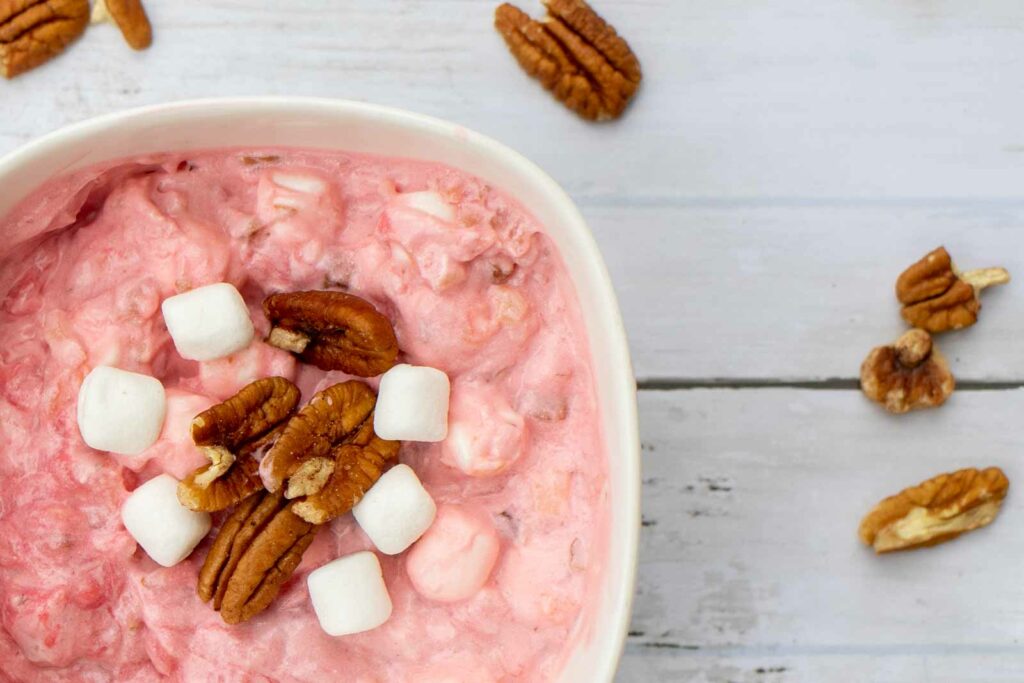 What to Serve with Cherry Pie Salad
This cherry fluff recipe is light and fruity, so it works well in hot weather, as long as it's not too hot that the Cool Whip melts. Also, by "light", I'm referring to the texture. This is definitely not low in calories!
But if you're having a picnic, barbecue, or pool party, this is perfect.
It also goes well with a Thanksgiving dinner spread, especially for people who don't like cranberries. Cherries have a similar flavor as cranberries, in that they're fruity but tart. Of course, the sweetened condensed milk and Cool Whip offset the tartness, making it a nice blend that goes well next to turkey.
Cherry Fluff Salad
Get the classic taste of cherry pie with a fraction of the effort. This 6-ingredient dessert tastes just as good, and it works equally well as a dessert or a side dish.
Equipment
1 food chopper (or a kitchen knife)
Ingredients
1

can

cherry pie filling

20 ounces

1

can

crushed pineapple

20 ounces

8

ounces

Cool Whip whipped topping

thawed

10

ounces

mini marshmallows

1

can

sweetened condensed milk

14 ounces

1

cup

coarsely chopped pecans
Instructions
Open can of crush pineapple and drain as much of the liquid as possible. Discard liquid.

Coarsely chop pecans using a knife or food chopper.

Combine cherry pie filling, pineapples, and condensed milk in a bowl.

Fold in marshmallows, Cool Whip, and pecans.

Transfer to a large airtight container and refrigerate for 30 minutes or longer.

Serve as a side dish or dessert.
Notes
If you are allergic to nuts or simply don't like them, you can omit the pecans. 
Keeps for several days in the refrigerator
Perfect for family gatherings and pot luck dinners
Nutrition
Calories:
357
kcal
Carbohydrates:
64
g
Protein:
5
g
Fat:
10
g
Saturated Fat:
3
g
Polyunsaturated Fat:
2
g
Monounsaturated Fat:
5
g
Cholesterol:
14
mg
Sodium:
84
mg
Potassium:
292
mg
Fiber:
2
g
Sugar:
42
g
Vitamin A:
251
IU
Vitamin C:
7
mg
Calcium:
134
mg
Iron:
1
mg
If you enjoyed this recipe please let me know by leaving a comment below. For more delicious dessert recipes, click here.