Air fryer plantains are a healthier take on a traditional Latin-American side dish called platanos maduros, or fried sweet plantains. Normally, raw plantains are deep-fried in a lot of oil, which raises the calories and fat content significantly. By cooking these in the air fryer, you can have this delicious snack in a healthier version that has much less fat.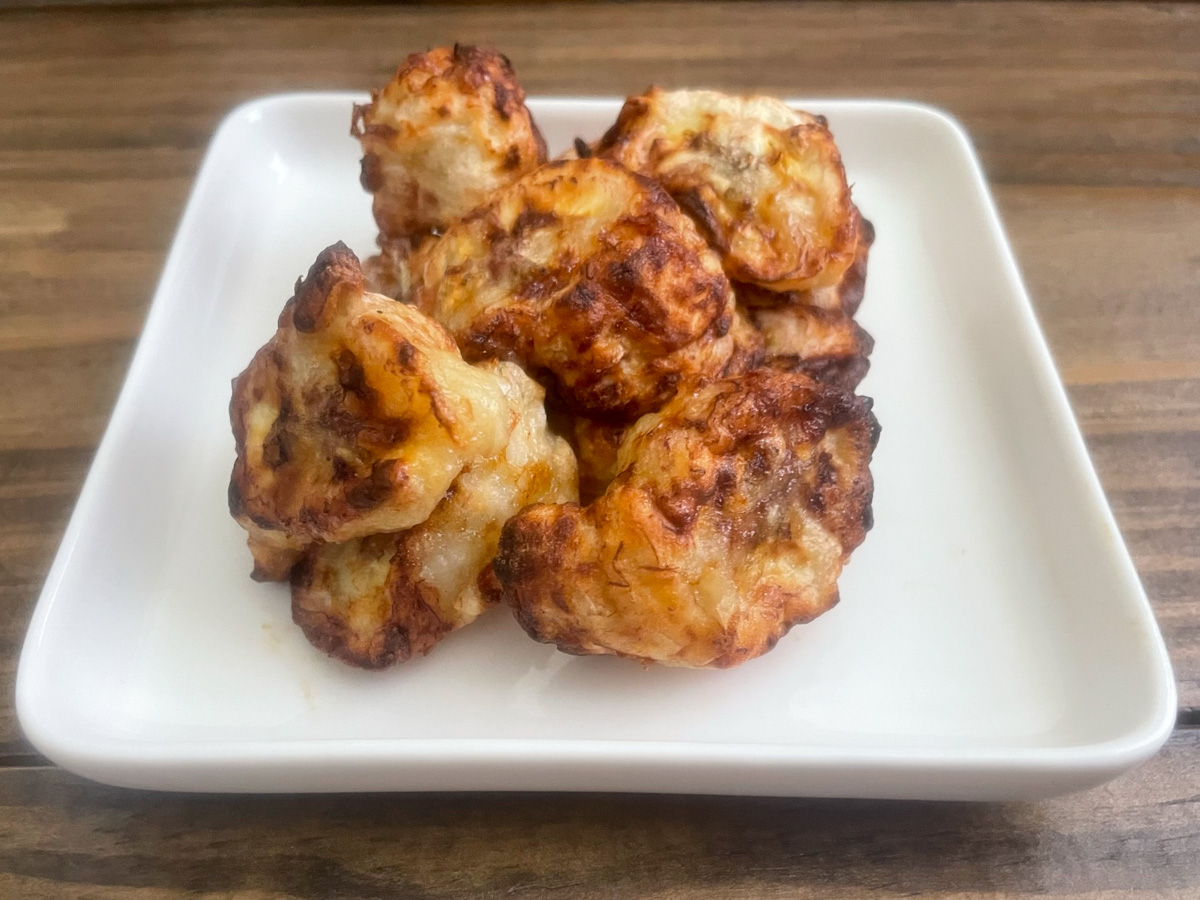 Fried plantains are popular in almost any area where they grow, which includes Africa, southeast Asia, Latin American, and the Caribbean. You'll find them in the United States in restaurants that feature cuisines from these countries. Here in Florida they are served at many different kinds of eateries.
Fried plantains were plentiful when we recently visited Costa Rica, and often served for breakfast alongside fresh eggs and the rice-and-beans dish known as gallo pinto.
For other meals, you can serve these with fish, seafood, chicken, pork, or beef! Like potatoes, they kind of go with everything. They're also a great snack by themselves.
🥘 Ingredients
This recipe has only two simple ingredients: plantains and a bit of vegetable oil. If you want to, you could season them with salt or sugar, but I don't find either is necessary. The plantain slices are delicious without needing any additional flavor!
The main thing to keep in mind is that you want ripe plantains. At the grocery store, you may find plantains that are green, yellow, or black. Green plantains are less sweet and starchier. When you cook them a similar way, fried green plantains are called tostones. Yellow plantains are more ripe, and nearly black) plantains are the ripest.
If you don't like vegetable oil, you can probably use olive oil or coconut oil instead. Because this air fryer recipe needs very little oil, the type used doesn't change the flavor much.
🔪 Instructions
Start off by preheating your air fryer to 350 degrees Fahrenheit.
You might be tempted to try and peel a plantain like a banana, but you'll quickly find that doesn't work! Instead, you want to open the plantain with a paring knife. Begin by placing the tip of a knife through the skin, near the stem of the plantain. Cut through the skin from the stem to the bottom, trying to cut the entire skin and none of the fruit itself.
Then, peel apart the skin and pull out the fruit.
Slice the plantain on a diagonal. While frying, the natural sugar in the plantains will caramelize along the surface, so you want to maximize the surface area. I try to cut the pieces about ¾ to 1-inch thick. These take about 12 minutes to cook in the air fryer if the plantains are really ripe.
Next, place the plantains in a bowl and drizzle with the oil. If you want to add salt or sugar, do so at this step. Then toss the ingredients in the bowl, to evenly coat the plantain pieces in oil.
Arrange the plantains in a single layer on one or more air fryer racks. If your plantains aren't too mushy, you might also be able to use the air fryer basket, but to be honest I haven't tried that.
Cook your plantains for 12-15 minutes.
Hint: cooking time varies widely by device, the thickness of your slices, and also how ripe your plantains are. When air frying plantains, I always set a timer for 10 minutes, then check them every 1-2 minutes until they've reached the desired golden brown color.
📖 Variations
As mentioned above, you can fry green (unripe) plantains to make tostones, one of my favorite savory dishes from Latin America.
There's a version of fried ripe plantains popular in Ghana called Kelewele, also called Aloco in the Ivory Coast. To make this version, add ground (or chopped fresh) ginger and chili powder before frying.
🍽 Equipment
​You'll (obviously!) need an air fryer for this recipe. The one I have is called an Instant Pot Vortex Pro, but there are tons of brands and models out there in various price ranges. Pretty much any air fryer will do!
Additionally, you'll need a sharp knife for peeling and slicing the plantains, and a small bowl so you can toss them with oil.
You can also, of course, deep fry these in a pan of oil, but you'll lose the health benefits of using an air fryer, if you do.
🥡 Storage
Fried plantains keep in the refrigerator for several days - the exact time mostly depends on how ripe they are to begin with. Keep them in an airtight container so they don't absorb odors and flavors from other food.
❓ FAQ
Why are my fried plantains hard?
Fried plantains can get too hard for a number of reasons: the slices are too thin, they were cooked at too hot a temperature, they were cooked for too long, or they weren't ripe enough.
What are the best plantains for frying?
In my experience, most grocery stores carry only one or two varieties of plantain. I have yet to find a kind that doesn't fry up well. The important thing is to wait until they are ripe. Don't try to use green plantains in this recipe. Wait for them to get very yellow or even black.
Can you make fried plantains without oil?
Yes, you can leave out the oil when doing this. The result will be a little drier, as they are really more baked than fried if you don't use oil. You won't likely get the caramelization outside, but they'll still be tasty.
📋 Recipe
Airfryer Plantains
This recipe for maduros (fried sweet plantains) is lighter and healthier than the deep-fried version and just as delicious! Perfect as an accompaniment to any meal, or by themselves as a tasty snack.
Ingredients
3-4

ripe plantains

yellow to black in color

2

teaspoon

vegetable oil
Instructions
Preheat air fryer to 350℉ (or 120℃(

Slice plantains lengthwise with a sharp knife. Start by working the tip of the knife through the skin near the stem, then cut to the bottom of the plantain.

Remove fruit from skin, and discard skins.

Slice plantains on the diagonal, about ¾ to 1-inch thick.

Place sliced plantains in a bowl with 2 teaspoons vegetable oil. (If desired, you can add salt or sugar, but I don't think this is needed!) Toss to coat.

Arrange plantains in a single layer on air fryer rack(s), and cook for 12-15 minutes. Keep an eye on them as they cook, to make sure you don't overcook them and burn the outside.
Nutrition
Calories:
184
kcal
|
Carbohydrates:
43
g
|
Protein:
2
g
|
Fat:
3
g
|
Saturated Fat:
0.3
g
|
Polyunsaturated Fat:
1
g
|
Monounsaturated Fat:
1
g
|
Trans Fat:
0.01
g
|
Sodium:
5
mg
|
Potassium:
654
mg
|
Fiber:
2
g
|
Sugar:
23
g
|
Vitamin A:
1517
IU
|
Vitamin C:
25
mg
|
Calcium:
4
mg
|
Iron:
1
mg
This easy recipe cooks up fast and cleans up just as quickly. Make sure to allow air fryer to cool completely before cleaning. Wish the racks (or basket) in warm, soapy water, and don't forget to wipe down the inside of the fryer itself.