I adore Halloween, so this year I picked my husband's favorite muppet as a surprise. He loves the Swedish Chef, and the costume it was pretty easy to assemble. Read on to find out how to make your own Swedish Chef Halloween costume.
I have to admit that Halloween is probably my favorite holiday of the year. I know it's supposed to be Easter or Christmas, and I do love those, and especially the reason for those seasons! But there's just something about dressing up for Halloween that strikes my fancy. My favorite costumes are homemade - I've been Effie Trinket, Maleficent, a hockey player with a missing tooth, and many others.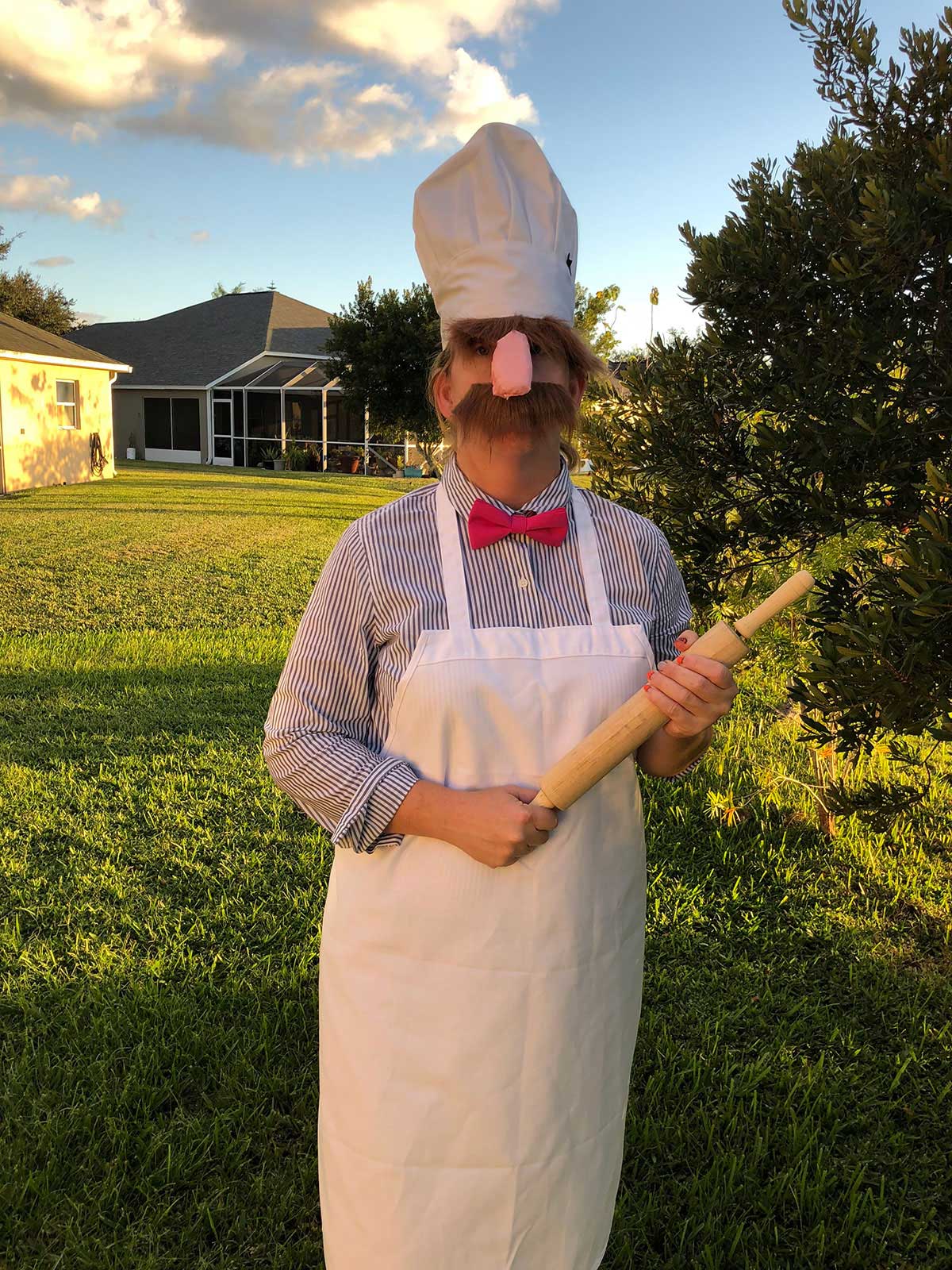 What You Need to Make a Swedish Chef Halloween Costume
First of all, I got an inexpensive blue and white striped shirt from Old Navy. Then I ordered a few accessories from Amazon:
I considered getting a stuffed chicken too, but I was already planning to carry around my rolling pin and the chicken seemed like more than I wanted to deal with, so I decided against that.
How to Make the Nose and Mustache
The nose was tough, but I decided to use some of the leftover foam I had on hand from redoing my dining chair. I cut it to the shape of the nose, but it was white. I debated different ways to dye it, but I'd procrastinated to the point that we were hours from trick-or-treating and I wasn't sure what would work. So instead of dye, I ran up to the Dollar Tree and bought a $1 pink plastic tablecloth. I cut a bit off and sewed it around the foam like this: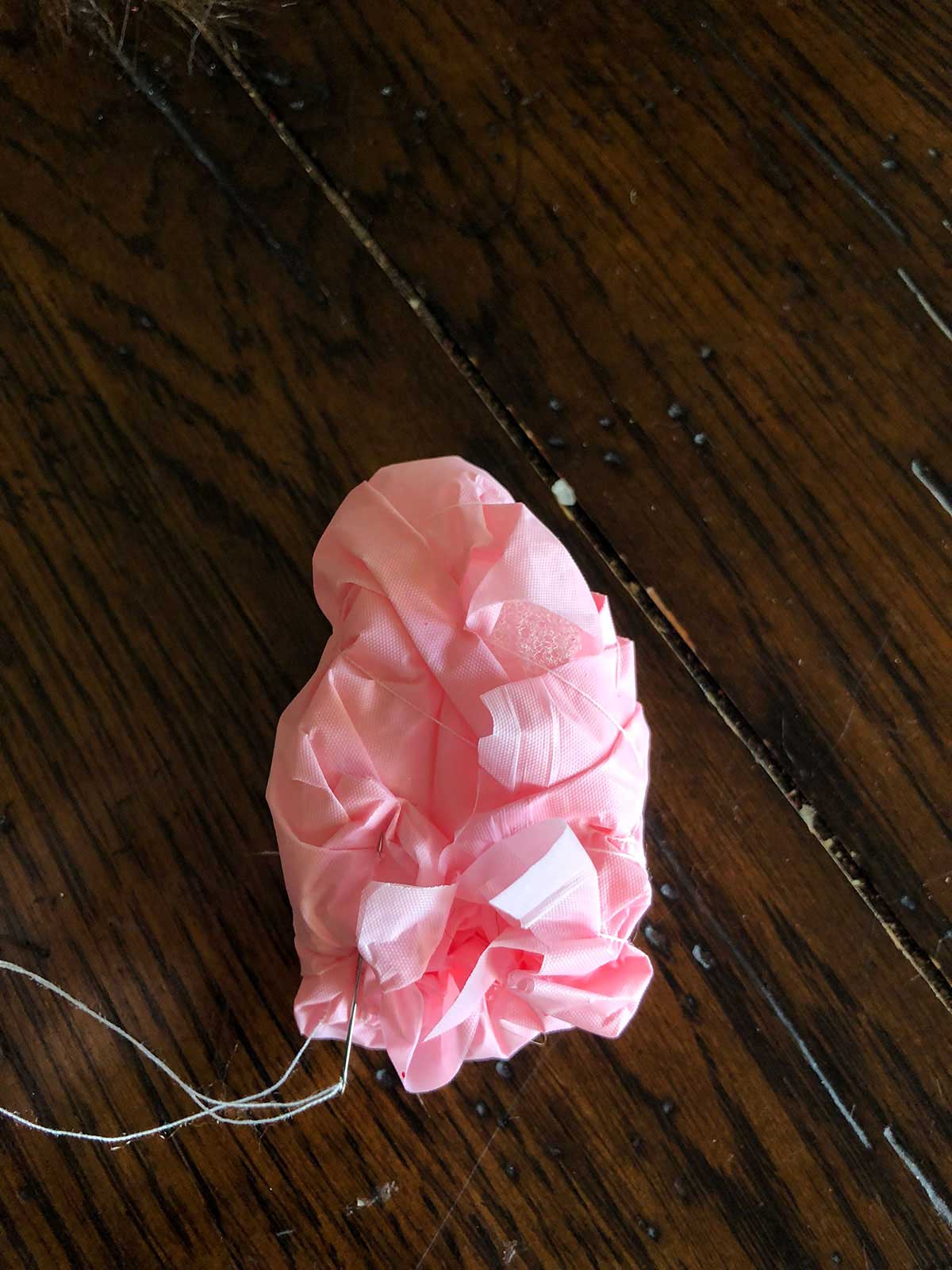 To make the eyebrows and mustache, I bought a single sheet of brown "fur" from Hobby Lobby. I cut two eyebrows to size and sewed the to the inside of the edge of the chef's hat. Then I cut the mustache and sewed it and the nose together.
By the way, here's a tip for cutting craft fur: part it first. Just like you would make a part in your hair. Otherwise you end up with no fur hanging down from the end of the felt backing, and it looks funny. You want there to be some draping fur below the bottom of the backing so it looks more authentic.
I used fashion tape to hold the nose and mustache on my face. Unfortunately, since it was attached to my upper lip, I had to reapply new strips somewhat regularly because I would sweat off the adhesive. A fake mustache in the Florida heat, even on October 31, is hot!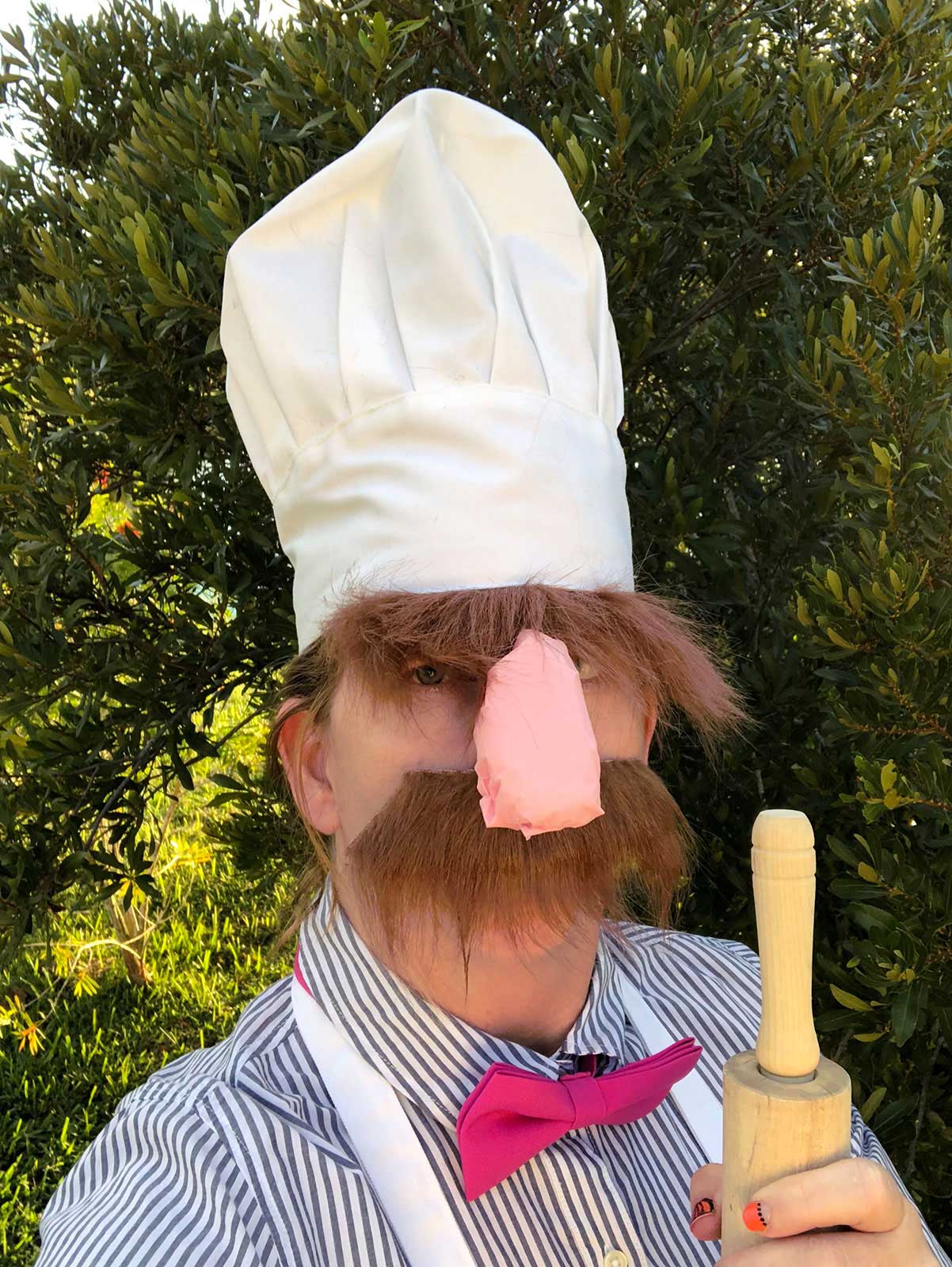 FWIW the nails had nothing to do with the costume; I just didn't change out my Halloween manicure that I'd worn all week.
Our Halloween Evening
Pete got into the fun too. He made "witches' brew" and Jello shots to share with the neighbors. This was the first year we'd let all the kids trick-or-treat without us there, so we enjoyed sitting in the driveway and talking with all the families (and pets!) who came by for candy. Harley, our Australian shepherd, hung out with us too, although he wasn't quite sure what we were doing.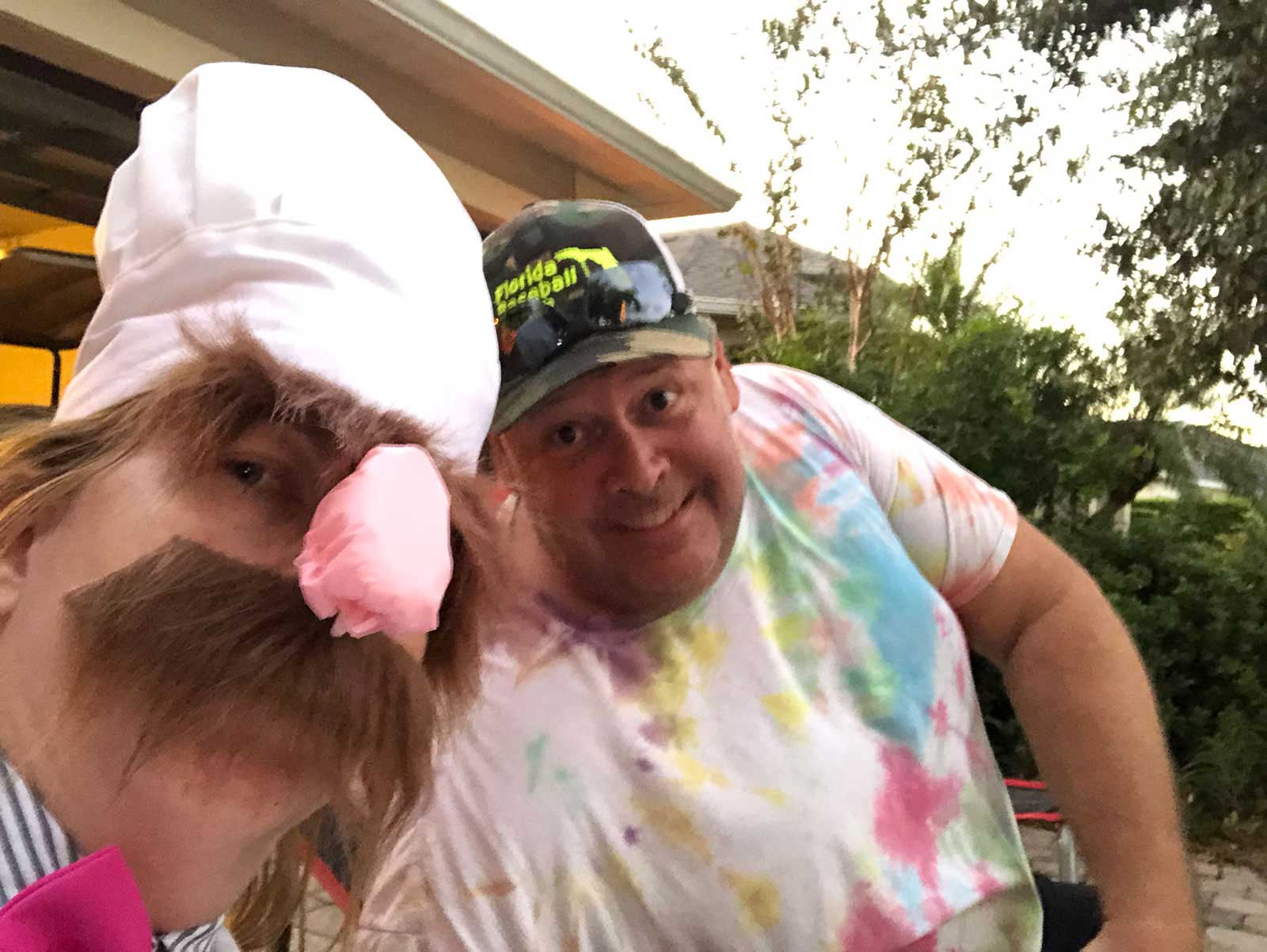 Pete didn't dress up but he did make an incredible jack-o-lantern!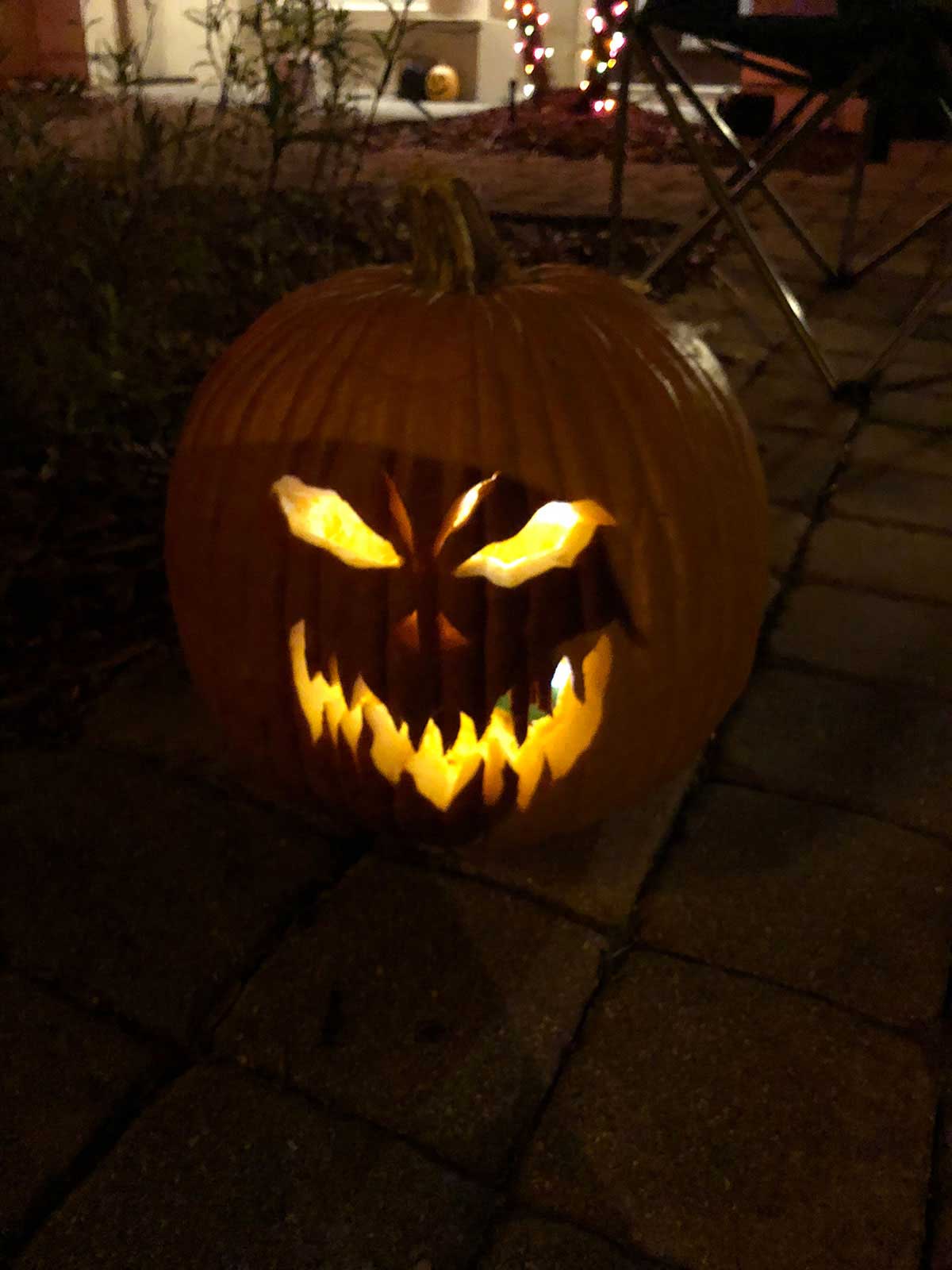 So that's it! And the shirt was cute enough to wear elsewhere, so if you don't count that (and it was only $20 before a coupon anyway), it was a super-inexpensive costume. I had fun making it and even more fun wearing it!
Previous Halloween Costumes
While I'm at it, I went back to Facebook and pulled out some of my previous years' costumes to share with you: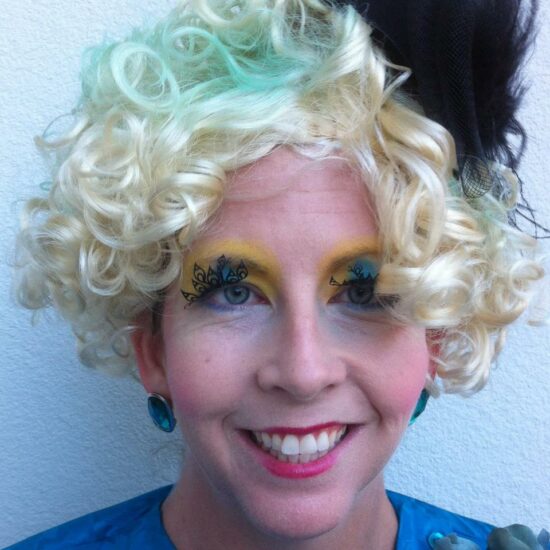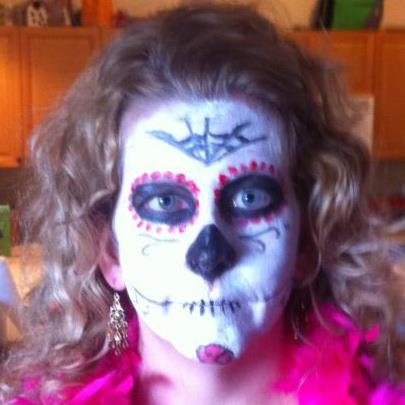 I guess that proves how much I love Halloween. What about you? What was your favorite Halloween costume ever? Leave me a note in the comments below. And if you decide to make a Swedish Chef Halloween costume, I'd love to see it!