Everyone knows that bacon is the tastiest (but unhealthiest) food on the planet. So how do we make it taste better and make it even less healthy? ;) Read on to find out all about this Snoop Dogg Bacon recipe! It's the best bacon you'll taste in your life.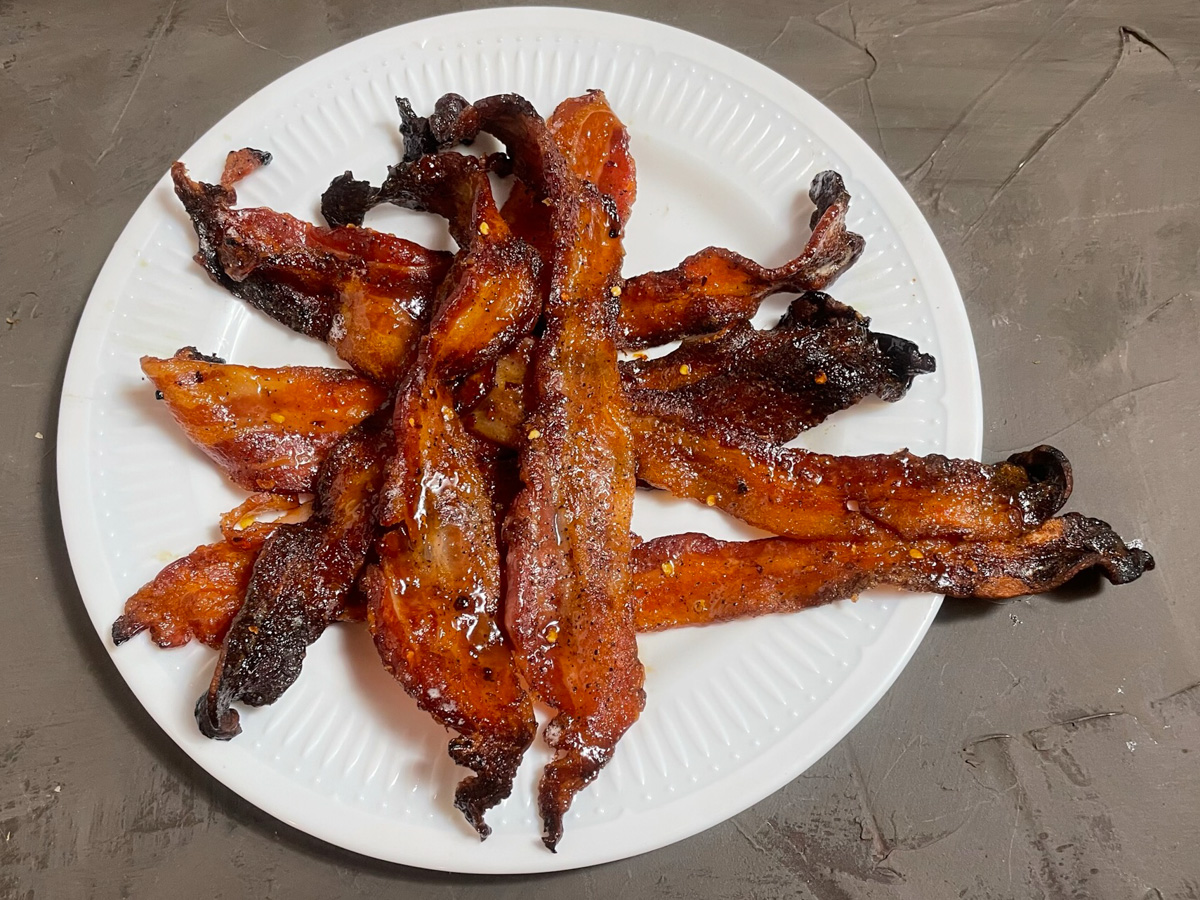 Snoop Dogg didn't originally create this recipe. It's been called millionaire's bacon, billionaire's bacon, million dollar bacon, bacon candy, pig candy, and probably another dozen examples. But once it was included in Snoop Dogg's cookbook, I think it just became his.
As a side note, do you find him as fascinating as I do? I adore him and his business ventures, and especially his friendship and partnership with Martha Stewart.
Anyway, I'm sure you'll love this easy recipe that produces crispy bacon with an extra somethin' something'! This is delicious with breakfast, as a snack, or to go along with entrees like Texas Roadhouse chili. It's my absolute favorite way to make bacon.
Jump to:
🥘 Ingredients
Snoop Dogg Bacon uses only four ingredients: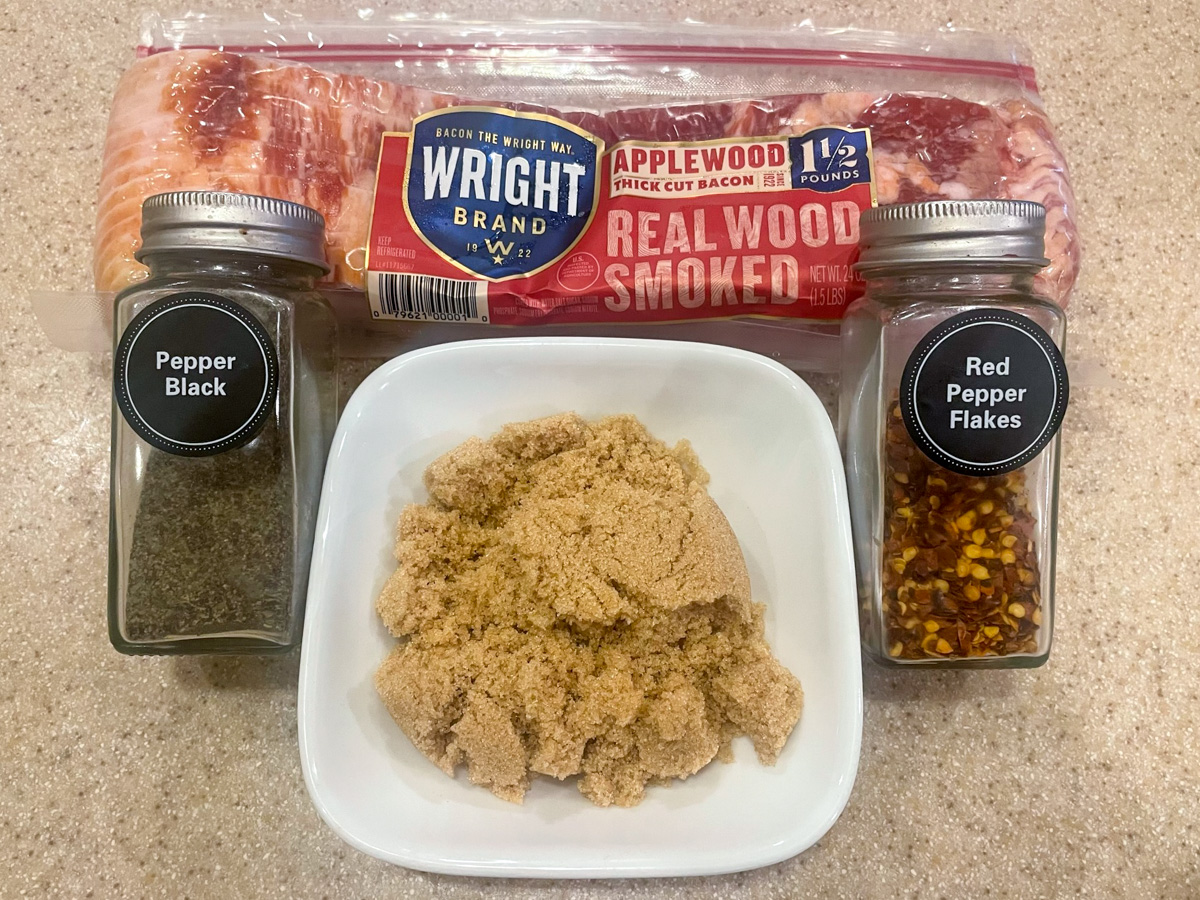 thick cut bacon - choose whatever bacon you like best, but think-cut bacon tends to hold the coating better, since it's a bit stronger
light brown sugar - dark brown sugar would work fine too
crushed black pepper - here just your standard black pepper that's probably sitting in a shaker on your family table
crushed red pepper flakes - from the spice aisle at the store. It's the kind lots of people put on pizza.
🔪 Instructions
Grab a baking sheet pan and a wire cooling rack and you're ready. You may want to place aluminum foil under the rack to catch some of the grease; there will be a lot.
Don't preheat the oven!
1. Combine the sugar, black pepper, and red pepper flakes in a bowl and stir to combine.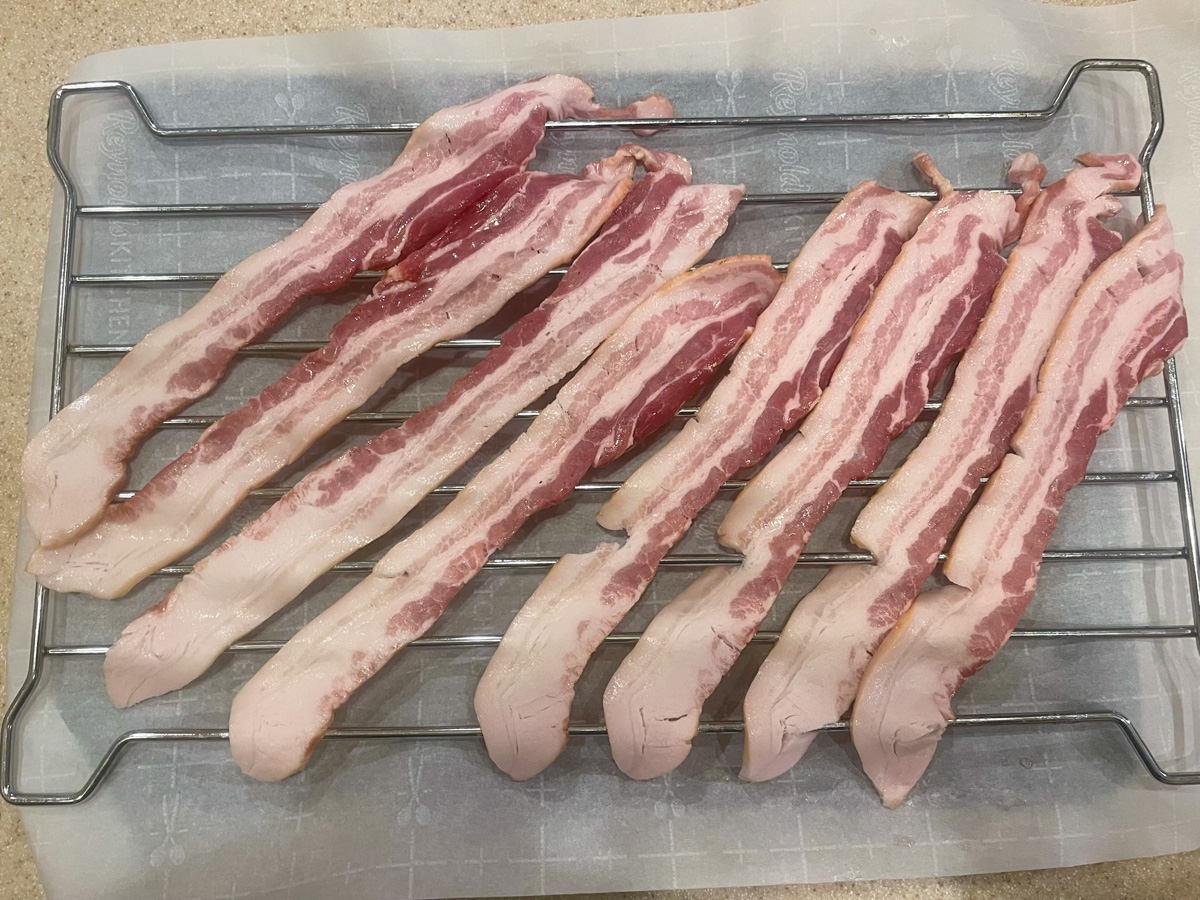 2. Lay the bacon slices on the wire rack. I went diagonally because the slices were long. I could also have just cut them in half.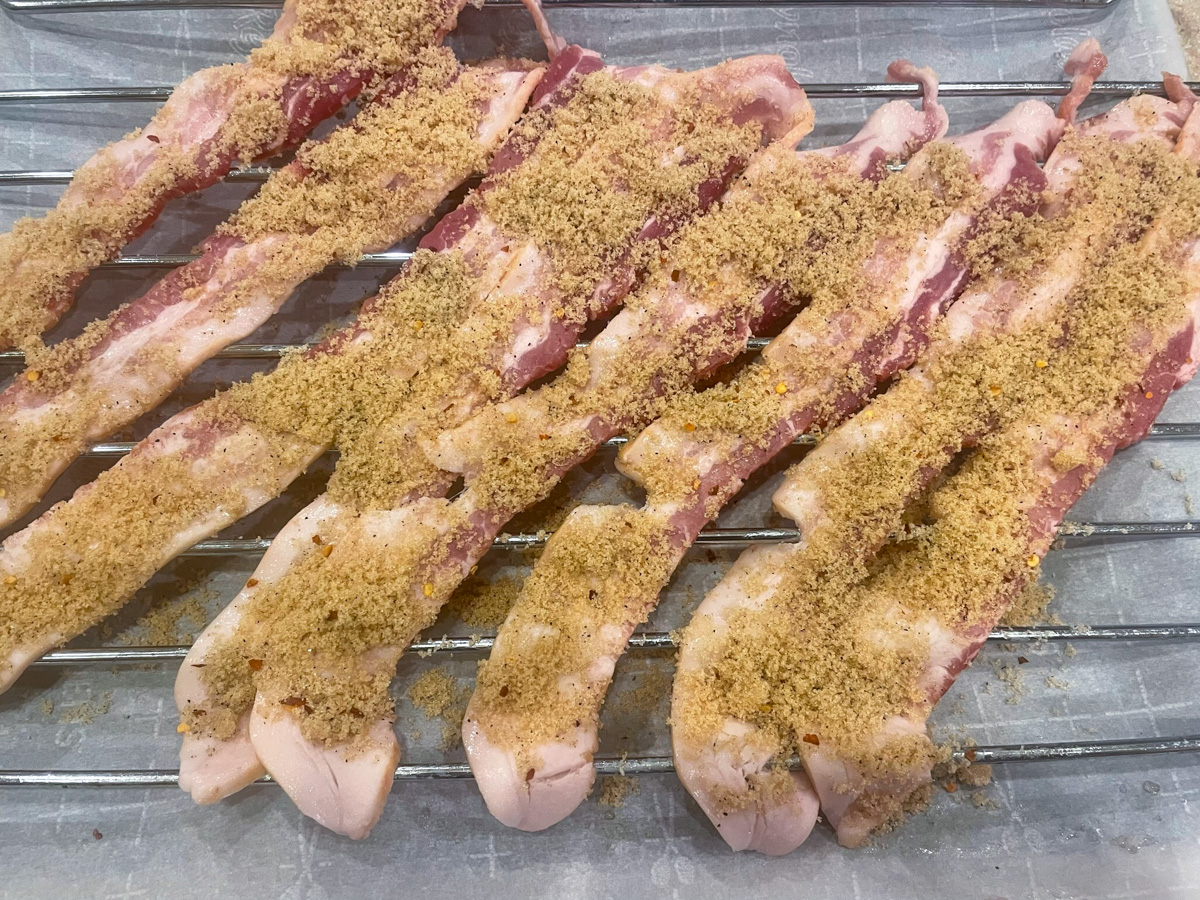 3. Spread the brown sugar mixture on top of each slice of bacon. Some will fall through and that's ok!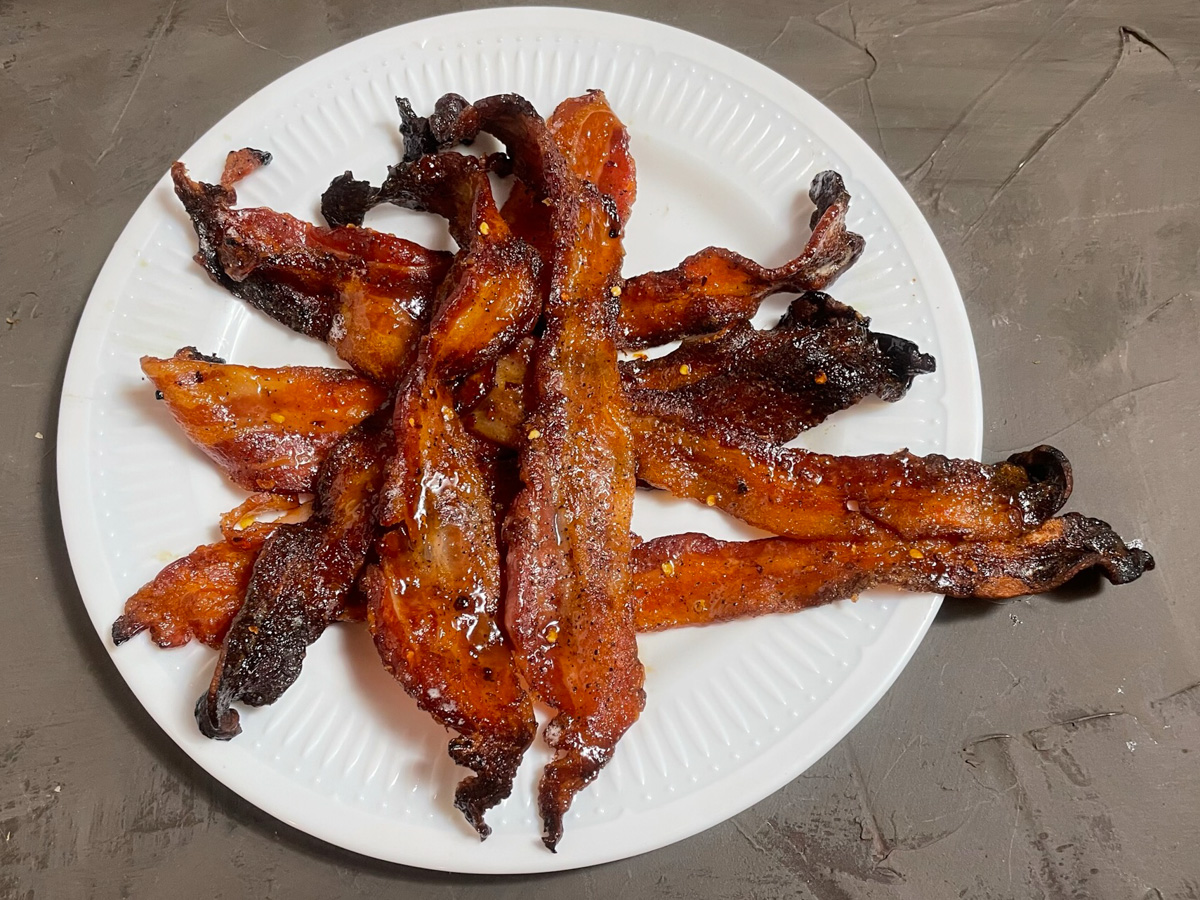 4. Place into your oven, and turn it on and set the temperature to 400˚ Fahrenheit (200˚ Celsius). The bacon will cook as the oven heats up.
5. Wait 20-30 minutes and your bacon will be ready! Be careful when taking it out of the oven; there will be a lot of grease and it could splatter.
Hint: Because oven temperatures aren't exact, your cooking time may vary. I would check the bacon at 20 minutes. Mine needed a bit longer, so I left it in for a total of 25 minutes. You might even need a bit more.
📖 Variations
Don't like all the pepper? Leave out one or both, and just use the brown sugar.
🍽 Equipment
The only equipment you need is:
An oven ;)
A baking sheet
A wire rack (so the grease falls through and the bacon crisps nicely)
A small bowl and a spoon for stirring
Aluminum foil to make cleanup easier (optional)
🥡 Storage
Hmmm.... I've never had any leftovers! Regular cooked bacon lasts 4-5 days in the refrigerator, so that should be good here too. If you reheat it, it may not be quite as crispy. But if you have leftovers, be sure to store them in air-tight containers in the refrigerator.
❓ FAQ
Who created millionaire's bacon?
Hoyul Steven Choi, a restauranteur at in the San Francisco Bay area, created it for the menu of his restaurant Sweet Maple.
What other recipes are in Snoop Dogg's cookbook?
Gin and Juice (obviously!), So Clean We Dirty Martini, fried bologna sandwiches (yum!), Bow Wow Brownies (might be "special"), OG Chicken and Waffles, and much more!
Where can I find Snoop Dogg's cookbook?
It's called From Crook to Cook, and you can purchase it here on Amazon.
📋 Recipe
Snoop Dogg Billionaire Bacon
Make bacon even better by adding brown sugar and two kinds of pepper! Your bacon (and your arteries) will never be the same!
Ingredients
8

slices

thick-cut backon

½

cup

light brown sugar

packed

1

teaspoon

cracked black pepper

1

teaspoon

red pepper flakes
Instructions
Do not preheat your oven!

In a small bowl, stir together brown sugar and both kinds of pepper.

Cover your baking sheet with aluminum foil for easier cleanup. Place the wire rack on top.

Lay your bacon slices across the wire rack. Make sure they don't overhang the baking sheet, or you'll have to clean your oven!

Spread the sugar and pepper mixture across each slice of the bacon. It's fine if some falls through.

Place the bacon in a cold oven, turn it on and set it to 400° Fahrenheit (200° Celsius).

Cook the bacon for 20-30 minutes. Check it after 20 minutes to see if it needs to cook longer. Take it out when it reaches your desired doneness, but no earlier than 20 minutes. Bacon should be thoroughly cooked and crispy.

Carefully remove from the oven, being careful not to spill the grease.

Allow bacon to cool to the touch before serving.
Nutrition
Calories:
106
kcal
|
Carbohydrates:
27
g
|
Protein:
0.1
g
|
Fat:
0.1
g
|
Saturated Fat:
0.01
g
|
Polyunsaturated Fat:
0.04
g
|
Monounsaturated Fat:
0.01
g
|
Sodium:
16
mg
|
Potassium:
46
mg
|
Fiber:
0.2
g
|
Sugar:
27
g
|
Vitamin A:
148
IU
|
Vitamin C:
0.003
mg
|
Calcium:
24
mg
|
Iron:
0.3
mg
🦺 Food safety
Two things: never eat undercooked bacon (or pork of any kind), and be ESPECIALLY CAREFUL when removing this from the oven. The baking sheet will have caught a lot of excess grease, but it's hot and easily spilled or splattered. Please don't get burned!