Jump to Recipe
This is one of my favorite main dish recipes because my entire family loves it. The Pork Tenderloin with Savory Sauce creates a moist and tender result that is super delicious. The sauce, which is made up of the drippings, marinade, and some broth and butter, is a delicious topping for the meat.
Cooking Notes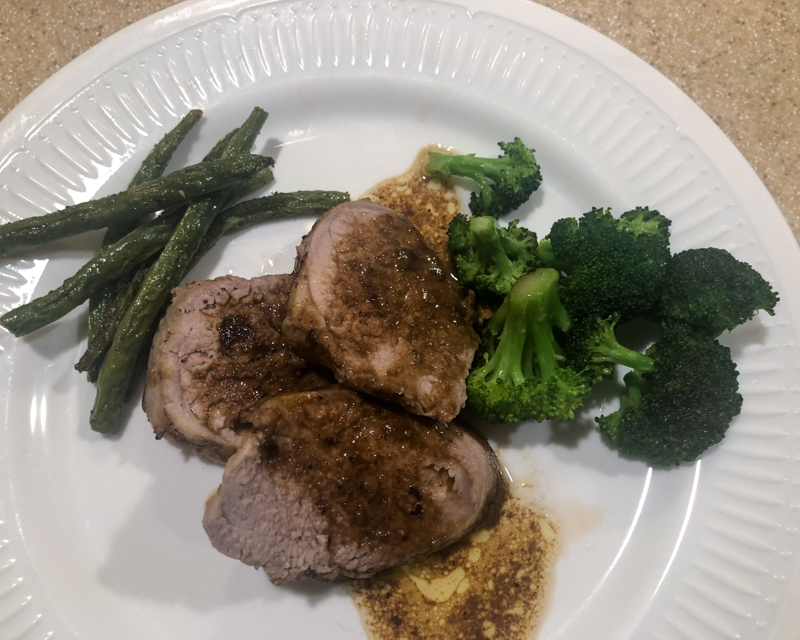 When you prepare this dish, don't overcook the pork. Pork doesn't have to be cooked to as high of a temperature as chicken, and it's safe to eat even if it's a little pink inside. The National Pork Board tells us that 145 degrees Fahrenheit is a safe temperature for pork, even if a little pink remains. Just make sure to test the meat with a thermometer in several locations to make sure it's cooked completely through.
I like to serve this dish with fresh vegetables like broccoli or asparagus – or both, as I did the evening we took these pictures! Because the sauce has a little bit of an umami or astringent flavor, milder side dishes suit it well. If you prefer a starch, it would be perfect with white rice or buttered noodles.
Why I Like this Pork Tenderloin Recipe
I originally found this recipe on Chef Mommy, but I made some slight changes. The original calls for parsley, which I loathe, so I leave it out. Most everything else is the same, and I'd like to thank her for the original because it's kept things running smoothly at my house. I don't cook a lot of pork unless it's in the slow cooker, but I find this pork tenderloin recipe to be just perfect for us.
Is Pork Tenderloin Healthy or Not?
In my opinion, pork is not unhealthy, and many people can eat it – unless you have religious objections or health concerns specific to pork, of course. It's a good source of protein and several vitamins including niacin, B6, B12, iron, and zinc. The pork tenderloin is a lean cut of the meat, so unlike bacon and other pork belly products (which are delicious but less healthy), the tenderloin has its place in many healthier diets.
Pork Tenderloin with Savory Sauce
An easy, delicious pork tenderloin recipe that comes out flavorful, tender, and juicy.
Equipment
Skillet

Baking dish

Meat thermometer
Ingredients  
Marinade
1

lemon

juiced

1/2

cup

olive oil

1/3

cup

soy sauce

1/4

cup

red wine vinegar

2

tbsp

Worcestershire sauce

2

tsp

mustard powder

4

cloves

garlic

peeled
Savory Pan Sauce
1/2

cup

chicken broth

2

tsp

butter

3

tbls

reserved marinade
Instructions 
Squeeze the juice from the lemon. Place the juice and all other marinade ingredients in a bowl and mix well.

Pour marinade over pork tenderloin and marinate in the refrigerator for 3-4 hours

When you're ready to cook, preheat the oven to 350 degrees

Heat a skillet over medium-high heat. Once hot, remove tenderloin from marinade and sear 2-3 minutes on each side. (Do not discard marinade)

Place tenderloin in baking dish, uncovered, in the oven and cook for 30-4o minutes. The internal temperature should be 145 degrees.

In the skillet where you browned the meat, add the chicken broth and 3 tbsp of marinade. (The rest of the marinade can now be discarded)

While it heats, use a spatula to scrape of any remaining browned pieces of meat from the skillet. Bring to a boil.

Boil for 3-4 minutes until reduced to a thicker sauce.

Remove from heat and add butter, and stir until melted and combined

Slice tenderloin against the grain and serve with sauce poured over it or on the side.
Click here to view the web story for the Pork Tenderloin with Savory Sauce Recipe