I think I'm the only person in the United States that doesn't love Chick-fil-A chicken. It's just not my thing from a taste standpoint. I do, however, LOVE their iced coffee! It's perfect in the morning (when my family wants chicken biscuits for breakfast) or during the day (when my family wants chicken sandwiches)! Iced coffee is one of the best things on CFA's menu.
Making copycat Chick-fil-A iced coffee at home is super easy, too. All it takes is a few simple ingredients you can likely purchase from your corner supermarket. Pour, mix, and enjoy...perfect for all coffee lovers out there. And you can avoid the long lines at your closest restaurant.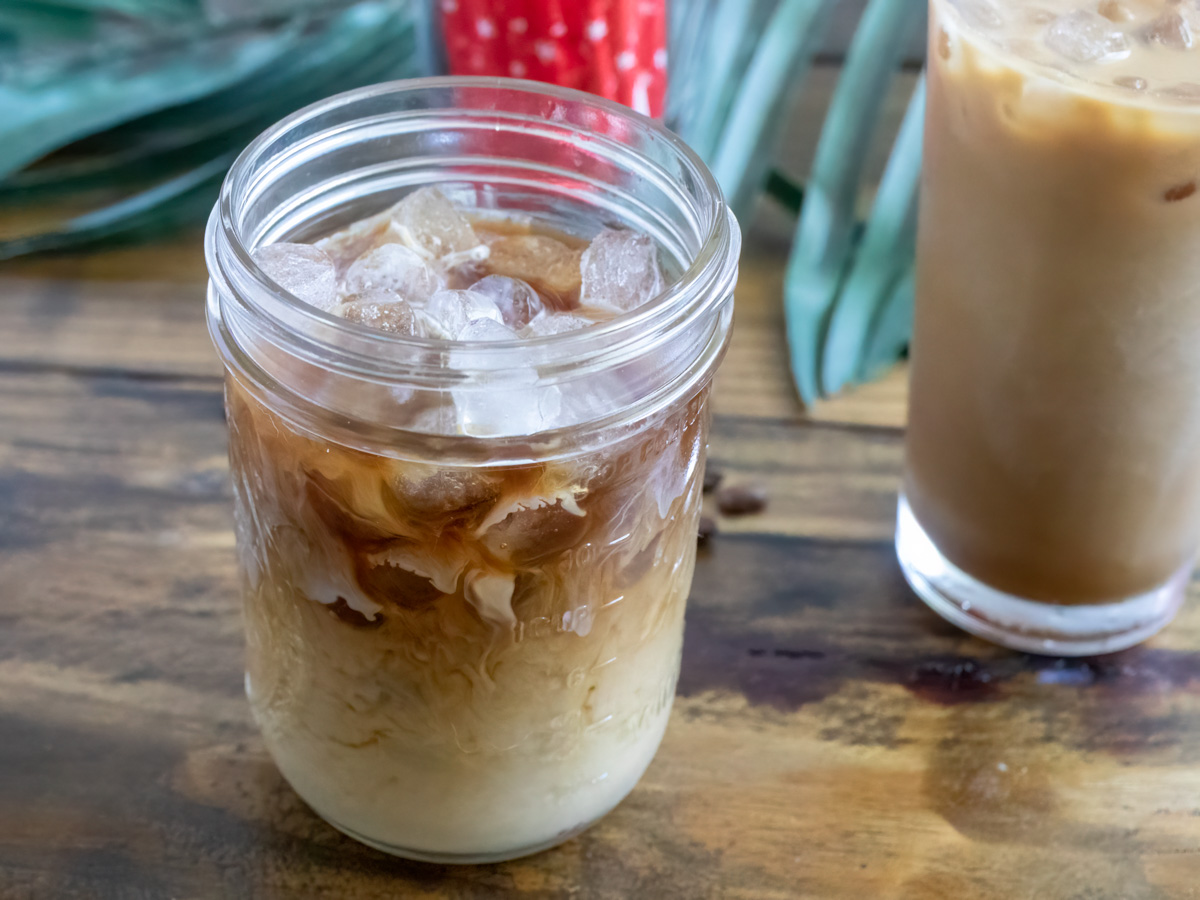 If you like to make your favorites in the comfort of your own home, please check out my other copycat recipes. I've really stopped enjoying eating out as much as I once did, especially for common chain and fast food restaurants. But, I still have my favorite selections at each one, so I like to recreate those in my own kitchen.
I don't know about your neck of the woods, but it's summer here in Florida and it is blazing hot! During these summer months, it's hard to have much enthusiasm for hot coffee, which is why this recipe is perfect right now. It's cool and refreshing but your still get your coffee fix.
If you want a special pastry to go with your morning CFA iced coffee, try the Puerto Rican rolls known as Pan de Mallorca. They take a bit of effort but they are SO good. And they're a little sweet, but not too much, so they offset the sweetness of this iced coffee perfectly.
Jump to:
🥘 Ingredients
This recipe takes just a few basic ingredients that are easily sourced at most grocery stores.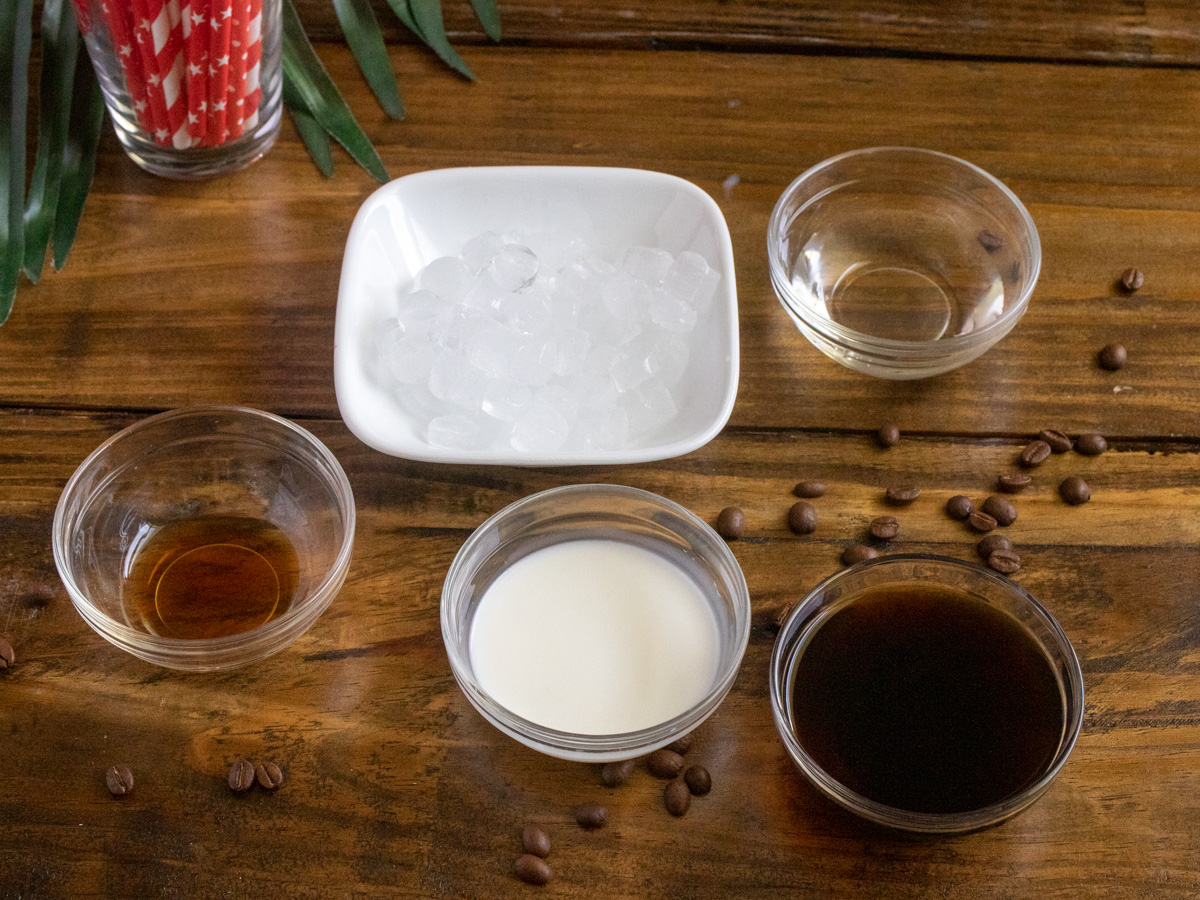 Cold-brewed coffee - any brand will do, but Thrive Farmers brand is what CFA actually uses in their stores. You'll probably find cold-brewed coffee near the milk at your supermarket; at least, that's where mine displays it. You can also used regular coffee if you brew your own in a coffee maker or if you use a Keurig. Just be aware that if you pour hot coffee over ice, it's going to melt the ice much more quickly.
Milk - I like to use whole milk in this recipe to make it extra creamy. Feel free to substitute 2% or even skim if you prefer, or a combination if you want an in-between creaminess.
Simple syrup - since iced coffee is cold, granular sugar won't dissolve well. Simple syrup is a sugar/water combination, where the sugar is already dissolved. If your grocery store doesn't carry it, you can find it at liquor stores, or you can make your own (see below). Note that CFA says they use pure cane syrup in their recipes...that's what your typical white granulated sugar is.
Crushed ice - any style will do, you can even use ice cubes if you don't have easy access to crushed ice. In my opinion, though, chewy ice is the way to go.
Vanilla extra - this is optional, use it if you want to copycat their Chick Fil A's vanilla iced coffee recipe, or omit it for regular iced coffee
See recipe card for quantities.
🔪 Instructions
Here's how to make CFA iced coffee: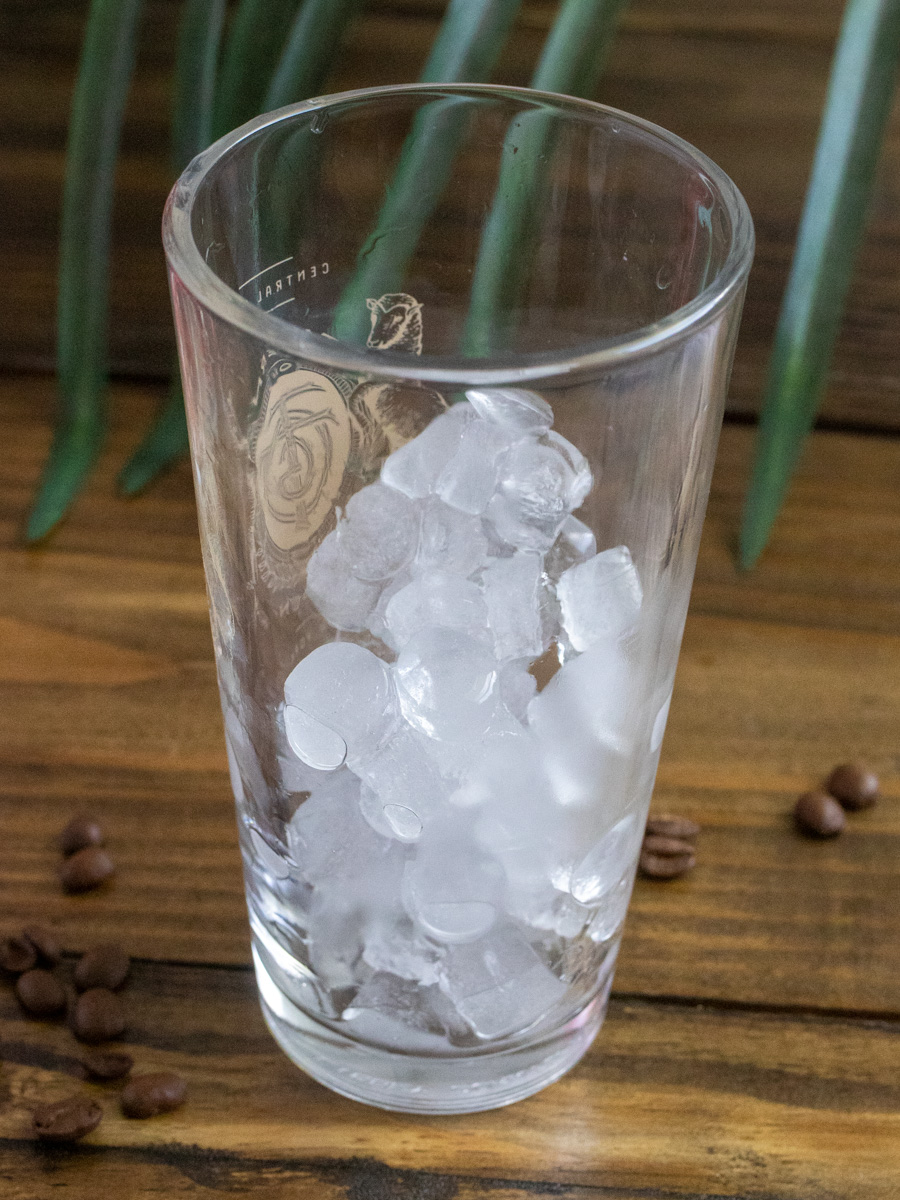 Fill a glass with crushed ice
Pour the cold brew coffee over the ice. Then pour in the simple syrup, and the vanilla extract if you're using it.
Slowly pour the milk on top.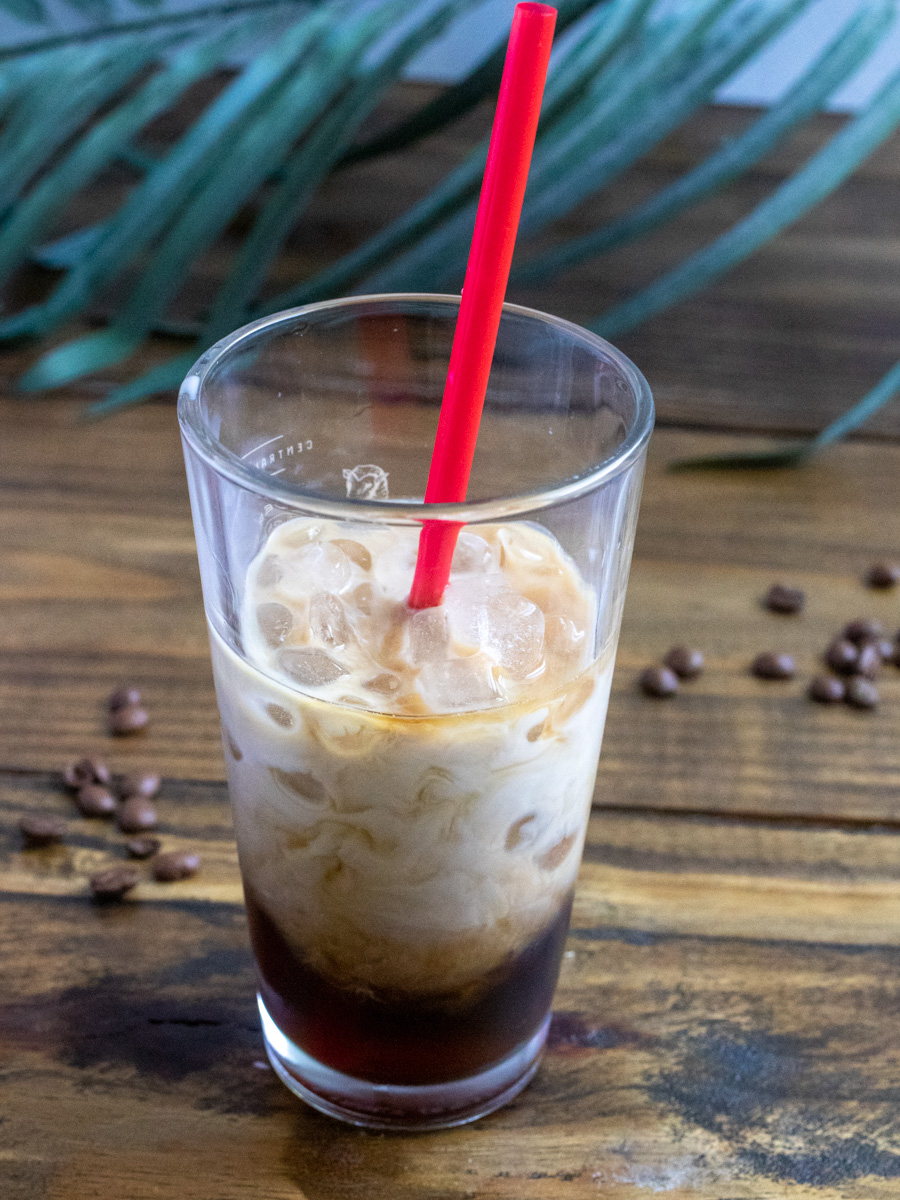 Stir to combine, if you want, or leave it coffee shops style with the milk sitting toward the top.
👩‍🍳 How to Make Simple Syrup
Can't find simple syrup? Or, prefer to save money by making your own? Simply place equal amounts of water and granulated sugar into a pot, and bring to a boil. Stir until the sugar is completely dissolved in the water.
Allow to cool, and store in an airtight container in the refrigerator for up to a month. As long as it remains clear and hasn't developed a funny smell, it's should still be good. (Store bought simple syrup has preservatives, and often lasts longer and may not need to be refrigerated.)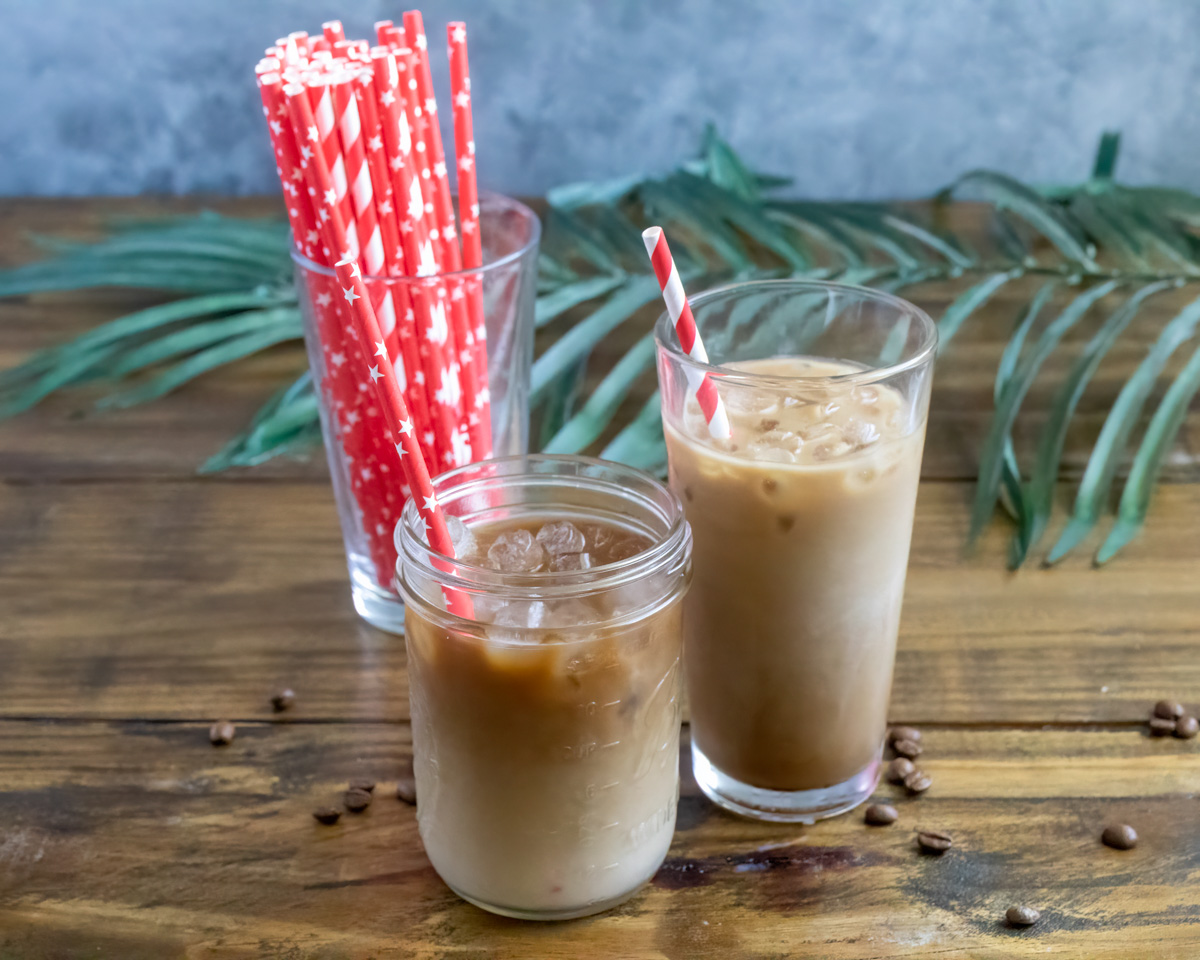 📖 Variations
Chick-fil-A only offers tow kinds of iced coffee: regular and vanilla. Both are described above. But you can make this other flavors if you want! Coffee syrups can be added, in place of the simple syrup. They come in many flavors such as hazelnut and white chocolate. Try several to figure out which is your favorite!
Or you can use a different flavor extract in place of the vanilla. Good choices are hazelnut extract or peppermint extract.
🍽 Equipment
A glass. Literally that's all you need. OK maybe a measuring cup and measuring spoons if you want to get exact, but after you've made this a few times, you can probably eyeball it.
🥡 Storage
If you want to make this ahead, do so without the ice. It will keep in the refrigerator for a couple of days. (Maybe longer; I haven't made it ahead myself.) But it's so easy to make a single serving that you probably don't need to worry about it.
❓ FAQ
What kind of coffee does Chick-fil-A Use?
It appears from their menu that Chick-Fil-A uses 100% arabica coffee.
Does Chick-fil-A iced coffee have chocolate syrup?
Chick-fil-A iced coffee does not contain chocolate syrup. At one time they had a "mocha cream cold brew" but it doesn't seem to be offered anymore.
Is Chick-fil-A iced coffee the same as Chick-fil-A frosted coffee?
No, Chick-fil-A's frosted coffee is a a blend of coffee and their Icedream dessert. It's delicious, too!
How much caffeine is in Chick-fil-A iced coffee?
As served, Chick-fil-A iced coffee has about 95 mg of caffeine.
📋 Recipe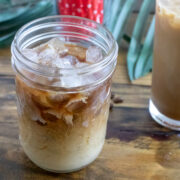 Chick-fil-A Iced Coffee
Craving a yummy iced coffee from Chick-Fil-A, but don't have time to go out and pick one up? Learn to make it at home with this delicious and easy recipe!
Ingredients
1

cup

crushed ice

⅔

cup

cold-brew coffee

5

tablespoons

simple syrup

6

tablespoons

whole milk

1

teaspoon

vanilla extract

optional
Instructions
Fill the glass with crushed ice (about a cup, depending on the size of your glass)

Pour cold-brew coffee over the top.

Pour in the simple syrup and, if using, the vanilla extract

Slowly pour the milk over the top and allow it to settled above the coffee. You can stir it after, if you want.
Nutrition
Calories:
336
kcal
|
Carbohydrates:
78
g
|
Protein:
3
g
|
Fat:
3
g
|
Saturated Fat:
2
g
|
Polyunsaturated Fat:
0.1
g
|
Monounsaturated Fat:
1
g
|
Cholesterol:
11
mg
|
Sodium:
108
mg
|
Potassium:
281
mg
|
Sugar:
78
g
|
Vitamin A:
146
IU
|
Calcium:
134
mg
|
Iron:
4
mg
I hope you enjoy this copycat recipe for Chick-Fil-A iced coffee! I think it's the best iced coffee recipe around (sorry, not sorry, for the brag) and I drink it regularly, especially on a hot day in the summer. I hope all coffee fans will agree!