I've had the same Candy Cane wreath on my front door for a few Christmases now. It was inspired by Pinterest (this pin) and seemed easy enough to make. I was working a palette with red, white, and lime green that year and it ended up being a pretty and fun design.
However, after three years in the Florida sunshine, the lime green ornaments had become more the color of snot. It wasn't pretty, and the wired ribbon was getting droopy too. I felt it was time for a change.
This year, I'm obsessed with red and black buffalo check. I'm pairing it with silver inside the house, but I found a combo of wired ribbon from Joann Fabric that I really liked outside that includes a tan instead.
Supplies and Materials
If you want to follow along, here's a list of what you'll need:
a plain fake-fir candy cane-shaped wreath, mine was from Hobby Lobby.
coordinating 2" wide wired ribbon
green floral wire
ornaments for filler
scissors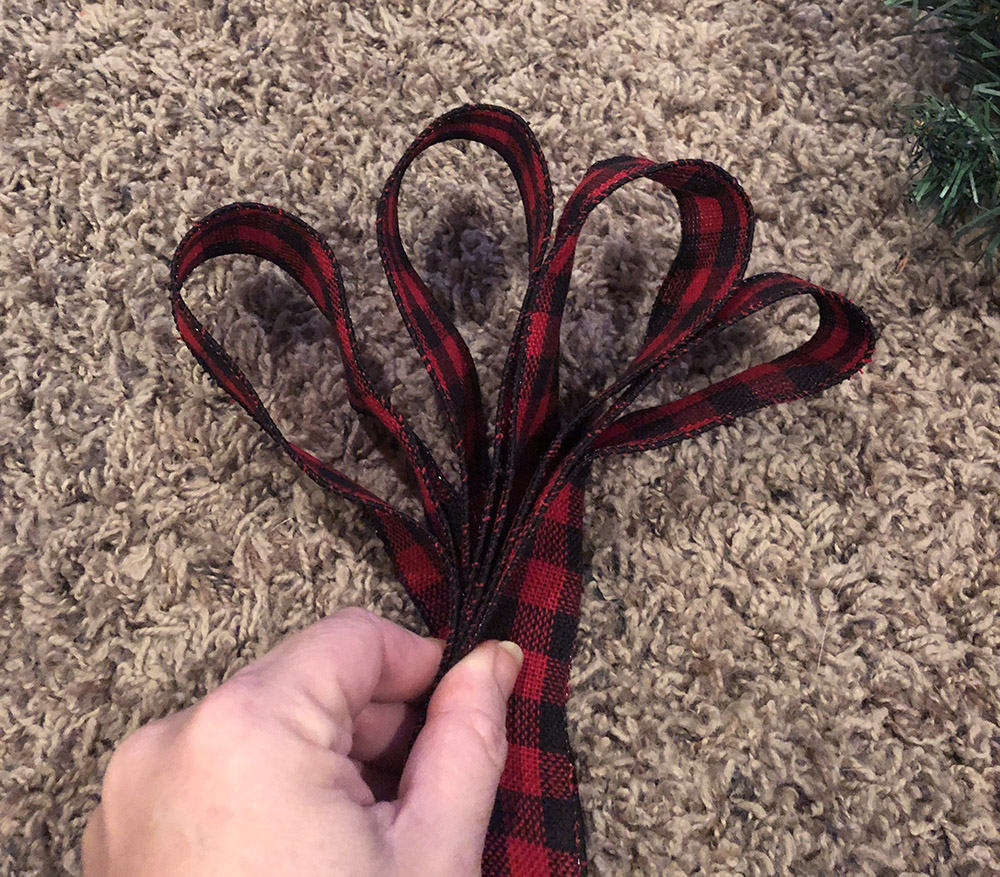 Directions
The bows are easy to make. First, I cut lengths of ribbon that were three arm-lengths each. From the center, I made four loops, leaving longer tails on each end. Then I wrapped green floral wire around the base, right where I'm holding the loops together in the photo above.
You can see the wire in the photo above. It's a fairly long piece of wire because I use the same wire to wrap the bow around the wreath to hold it in place.
I made six bows in all, figured out where I wanted to place them, then twisted the wires in place around the "greenery" of the candy cane. Depending on the size of your wreath and your bows, you may want more bows or fewer...it's up to you.
Finally, I used the same floral wire to attach simple ball-shaped ornaments throughout. They add a bit of sparkle and can help fill in any blank spots.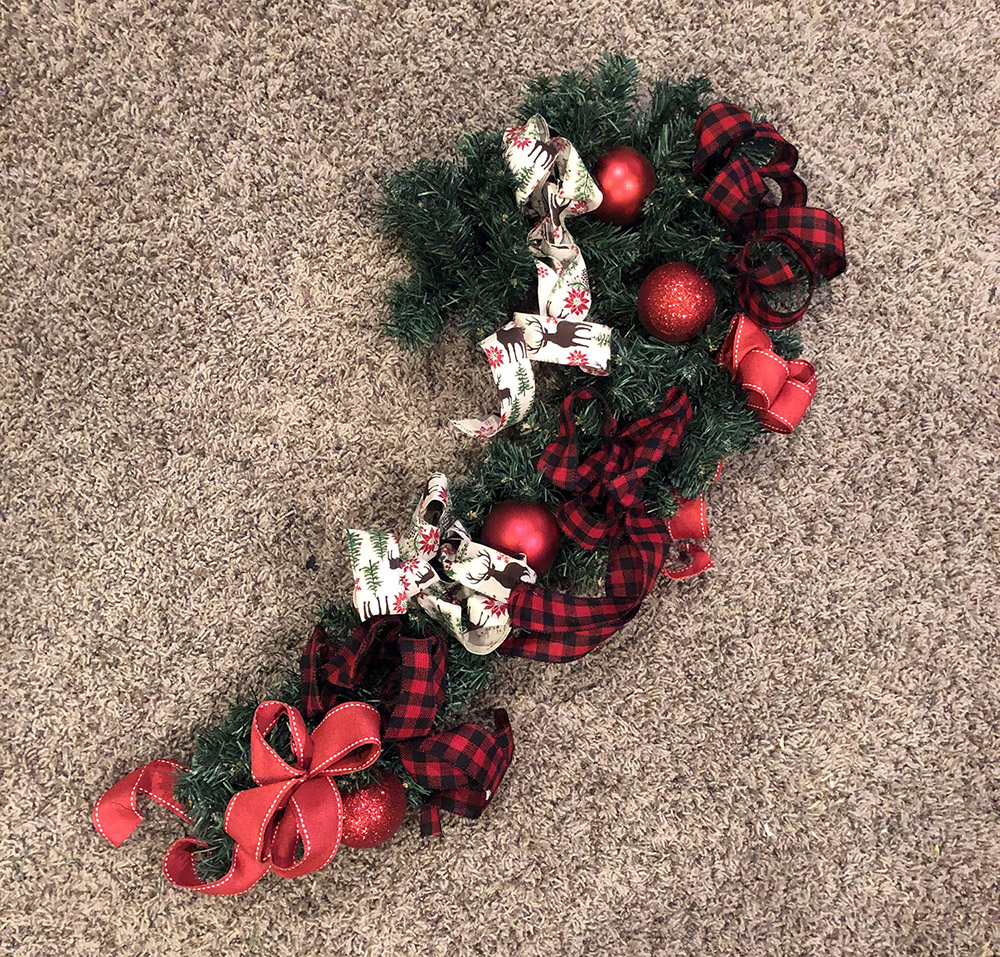 Then just shape the loops and make a spiral of the tails by wrapping them around three fingers. Since the ribbon is wired, it holds its shape pretty well and can be reshaped each year.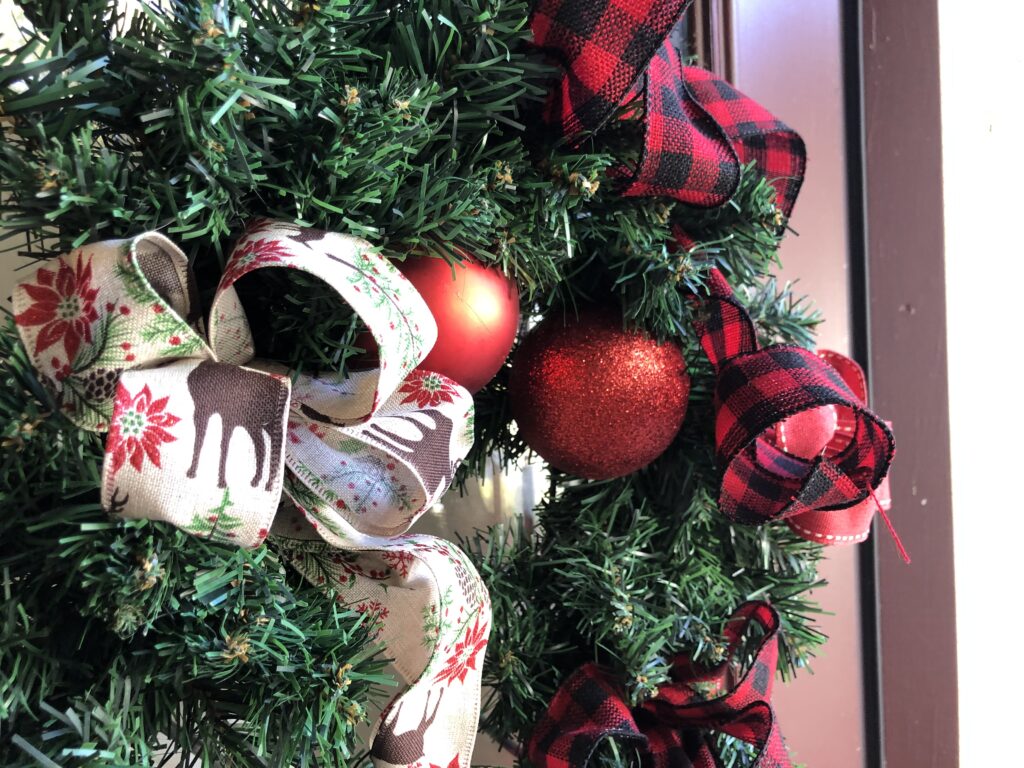 What do you think? The new colors and patterns definitely match my current style better, and I love the way the updated wreath looks on our front door!