I love my pressure washer. It's so awesome for cleaning up outside - the house itself, the brick pavers, and the sidewalk all benefit from a good power wash every now and then.
(One note about power-washing brick pavers - use a wide spray and keep the nozzle pretty far away. Otherwise you'll spray away the sand that levels them and possibly damage the surface, too.)
I recently found two more uses for this machine though, and it's not what you think.
I washed clothes with it! Ok not like a normal load of clothes. But I used it successfully on two different things.
Pressure Washing a Baseball Uniform
My 17-year-old plays a LOT of baseball. And, as you may know, baseball involves a lot of orange clay. It's like the stuff you find in the Appalachian foothills. It's bright orange and it sticks to everything. Even under normal conditions it stains clothing, so just imagine what it looks like after he slides into second base!
Not good.
And, unless the uniform is the same color, it shows up. It's visible on white, gray, green, and even black.
The pressure washer took it right out, though. Take a look at this before and after shot.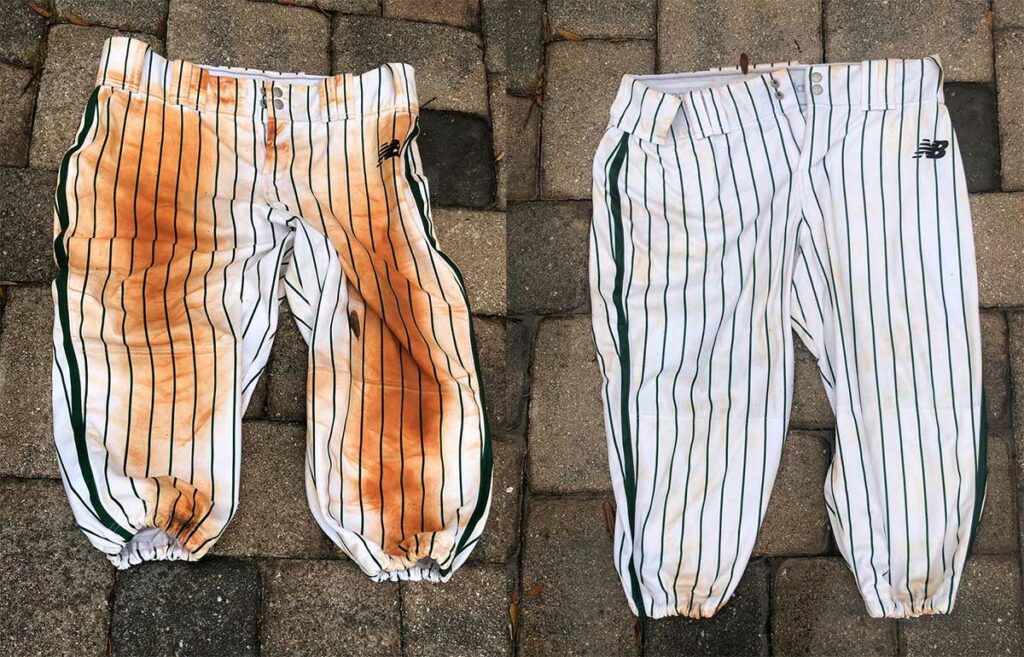 I didn't use any cleaner - just the water from the garden hose was enough. Once we'd blown away all the visible dirt, then I ran it through the washing machine like I normally would.
Pressure Washing Vans and Other Canvas Shoes
All three of my kids own a pair of Vans canvas shoes. In white. It literally takes less than 24 hours at school before a new pair looks dingy. Or has marker from another kid drawing on them. Or extra dirt because another kid jumped on my kid's feet. Things like that - both have literally happened. Point is, they never stay white for long.
The kids don't like for them to be bright white like they are when new, but they don't want them dirty either.
Although not quite as dramatic as the pants, here's a photo showing one shoe after being washed, and another before.
I was really pleasantly surprised at how well both worked. I was afraid they might ruin the items, particularly the shoes. And maybe it will make them wear down faster, but right now I can't say.
It certainly prevented my kids from asking me to buy replacements...for now.
Pin This Post