This is the last post in a series! I feel like I spent as much time writing about my trip, as the trip itself! I guess that means it was a really good one, huh?
You can also read Part 1 – Atlanta, Part 2 – Atlanta, and Part 3 – Greenville.
Wednesday I rode with Mom and Dad to my sister's house near Charleston. Thursday was Mom's actual birthday and we'd scheduled a trip for the three of us to take a boat over to Bulls Island. You can only get there by ferry or private boat, and it's almost completely natural. It's a great place for birds – which ironically isn't why Mom or Laura wanted to go! But it's also got a beautiful beach with shells and a section known as the Boneyard, which is full of driftwood, fallen, and dead-but-still-standing trees. It's a good thing I'd practiced that walking earlier in the week, because by the time we finished my iPhone said I'd walked 7.2 miles! Holy moly. It was totally worth it though.
This is Laura, Mom, and I at the boneyard. We'd originally planned to come back on the first of the two return ferry trips, but we decided we hadn't had enough time. When we realized we wouldn't make it to the boneyard if we left early, we decided to wait for the second ferry. I'm so glad we did!
Here are a few shots of the wildlife scenery:
We got home and rested awhile before everyone went out for dinner to celebrate Mom's birthday. We went to a restaurant in Mount Pleasant called the Rusty Rudder. OMG, I highly recommend the shrimp and grits here! It included alligator sausage and was the best version of that dish I've ever eaten!
I had a nice APA called "Mars Express" from the Charles Towne Fermentory to go along with it. They had a great beer list and I wish I could have tried more. I'm a lightweight though ;)
This is all of us after we finished dinner – Laura, Billy, and their boys; Mom and Dad, and me. (Pete and our kids were there in spirit!)
Then it was Friday and time to walk the Ravenel Bridge! Are you sensing a theme here? We walked SO much on this trip. Mom and Laura had both done it before, but I hadn't. I think it was about two miles end-to-end. Dad dropped us off on the Charleston side, and we walked across to Mount Pleasant where we'd left Laura's car.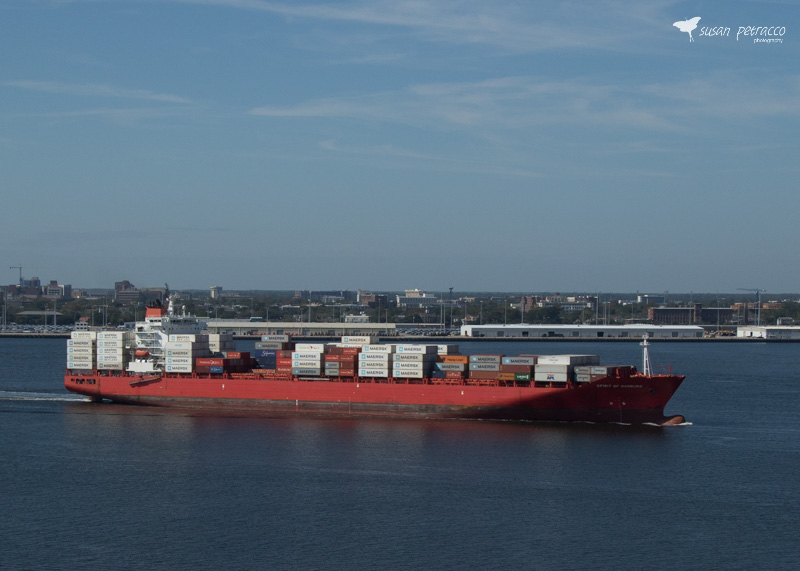 After that we enjoyed lunch at the Square Onion, which was pretty much the end of my trip, though I did get to see my nephew play soccer before I flew home the next day.
It was a whirlwind of 8 days on the road (or in the air) but totally worth it! We all enjoyed Mom's birthday and everything that went along with it.
Thanks for reading!