This is part two of my recent trip from home to Georgia and then SC. This first weekend I spent with my son, who was participating in an academic showcase for baseball. If you'd like to read more about our first day's adventures, click here.
Peter had a lot of skills assessment tests before his games actually started, so I took some time to go birding. I found the most amazing place called Leon Price Park in nearby Kennesaw. I found some amazing birds and made some decent shots, plus I enjoyed the scenery all around. Unfortunately it hadn't gotten cold enough yet for the leaves to change color, but it was beautiful nonetheless.
The little trickling water of Allatoona Creek was soothing and unlike anything I run across here in flat Florida.
And of course I found lots of birds! This was during the fall migration so there was a good variety.
I could have stayed at Price Park all day, I think. It was gorgeous – not too hot or too cold, just a perfect morning. But parenting duties called! So I headed back to the ballfield to watch Peter's batting practice and his first game. He's not too big on my posting stuff online but here's one shot:
He did really well and it was fun to watch him play. I met another dad from Mississippi and we chatted awhile. Peter finished up, and like most 16 year old boys, he was hungry! I typically prefer local places to big chains, so I convinced him to check out Jefferson's Restaurant in Cartersville. I'd never been there but the reviews raved about the wings. They were right, plus it had a great craft beer selection!
But the first thing we noticed when we walked in was that it looked strikingly similar to No Name Pub on Big Pine Key – there were dollar bills everywhere.
And baseball pennants…including Clemson!
This is the beer I had. For the life of me I can't remember the whole name. I know it had the word "Southern" in it because the waitress said "Southren" three different times.
I ordered way more wings than I needed because I wanted two flavors. I got a Double Dipped ("dipped in turbo and refried for low heat, big taste") and a parmesan garlic and they were both really good. Be forewarned if you visit though – there's parmesan on most things they serve. I love it, so I was all about that cheese, baby. But not everyone may feel as I do…
Sunday we were back at the ballfield for another game, and it was EARLY… we were there at 7am and it was still dark. I actually used Google to figure out that Lakepoint GA gets sunrise exactly 20 minutes after Viera, FL, at least on that particular day. The joys of being further west within the Eastern timezone, I guess. I did think the American flag looked beautiful all lit up though!
After we finished, it was back to the hotel to load the car. Then we headed to the battery at Suntrust Park for lunch with my cousins Lisa and Blake. I do miss Turner Field but this place is amazing.
I made Peter let me take his picture under the Atlanta Braves sign. He hates the Braves…he's a total Yankees fan. I thought Blake's head might split open if Peter said that one more time, but he managed to keep his cool ;)
We ate lunch at Fox Bros. Bar-B-Q / Terrapin Taproom. The brisket was ah-MAZ-ing! And I lived in Texas for 5 years. It was good, y'all.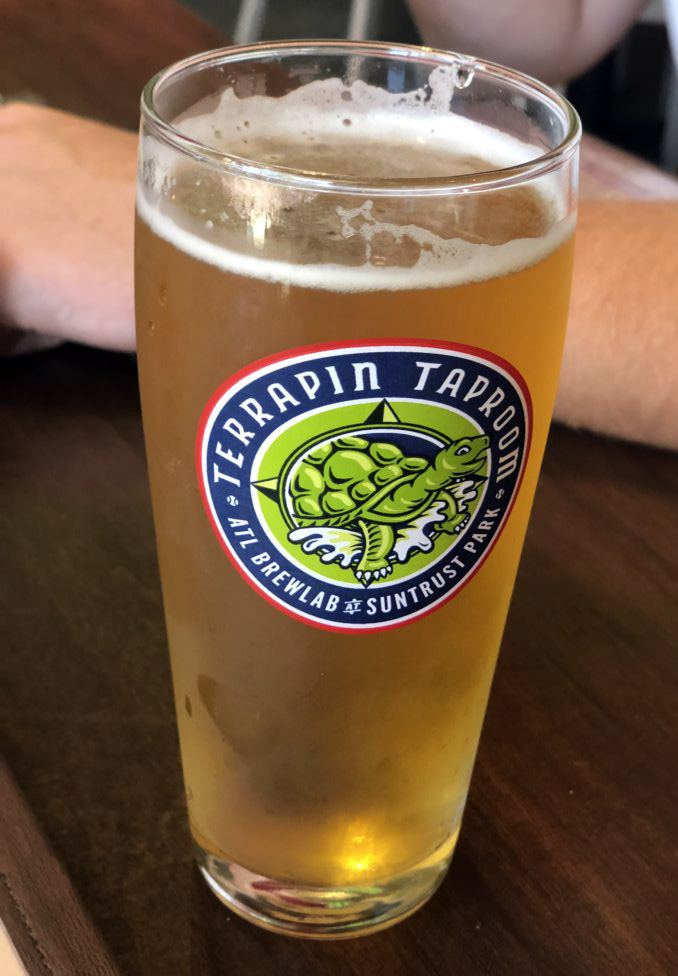 I really liked the Terrapin Good to Gose too.
We did a little shopping and a lot of window-shopping after lunch. All of us thought the custom motorcycle in the Tomahawk Harley Davidson was the bomb.
Blake and Peter gave up, though, while Lisa and I looked at home goods and baby clothes. Also, Peter doesn't read signs.
Finally I had to get Peter back to the airport. We did snag Varsity food one more time, but from the airport terminal location. They make a darn good peach pie, I do declare.
Part 3 up next…on to South Carolina!