I recently made a little whirlwind trip across the southeast, starting with Atlanta, GA, then a brief stint in Easley, SC, and finally on to Charleston. My son Peter was with me for the Georgia leg. His second love is baseball (don't y'all know his first love is his mama?!?!) so we were there for a baseball showcase. Fortunately we had some time to enjoy the city of Atlanta after our flight arrived, and I also had some time Saturday morning to do some birding before his games started. I ended up with so many pictures that I think I'll make this into several posts, starting with our first day in Atlanta proper.
Our first stop was for lunch at an Atlanta icon that Peter had never been to before – The Varsity. This place has been around since 1928 and a trip to Atlanta can't be said to be complete unless you grab a burger here. Which is just what we did.
I tried to get him to smile for me while we waited in line. This is the best I can do, and I'm not quite sure what expression I was making at the time! I was probably mid sentence, knowing me.
"What'll ya have" is the Varsity's slogan and it's what every team will ask when you get to the register. The place was packed – it always is, I think – but they work in a team of three people and the line went quickly.
So what did we have? We both got the same thing – the combo #2, a chili cheese dog and a chili cheese burger! Their chili is so so good, you may as well chili everything. This is just my plate of food – Peter's looked the same. I was a huge pig but I don't get there often, so, YOLO I guess. ;)
Peter got fries but I had to have the onion rings.
It's awesome how they have displays showing the history of the restaurant, including photos of how it looked "back in the day".
I snapped a photo of the sign on the way out…I'd almost missed it trying to drive around the city now that I'm out of practice with this kind of traffic. The good news is that now I feel a little better about my parenting skills, having introduced my oldest to this legend!
From there we headed over to Georgia Tech and drove through campus a bit. We went by the football stadium, but there was too much traffic to take a picture. I parked illegally to quickly take a picture of the ZTA house, something I do almost every time I visit a school.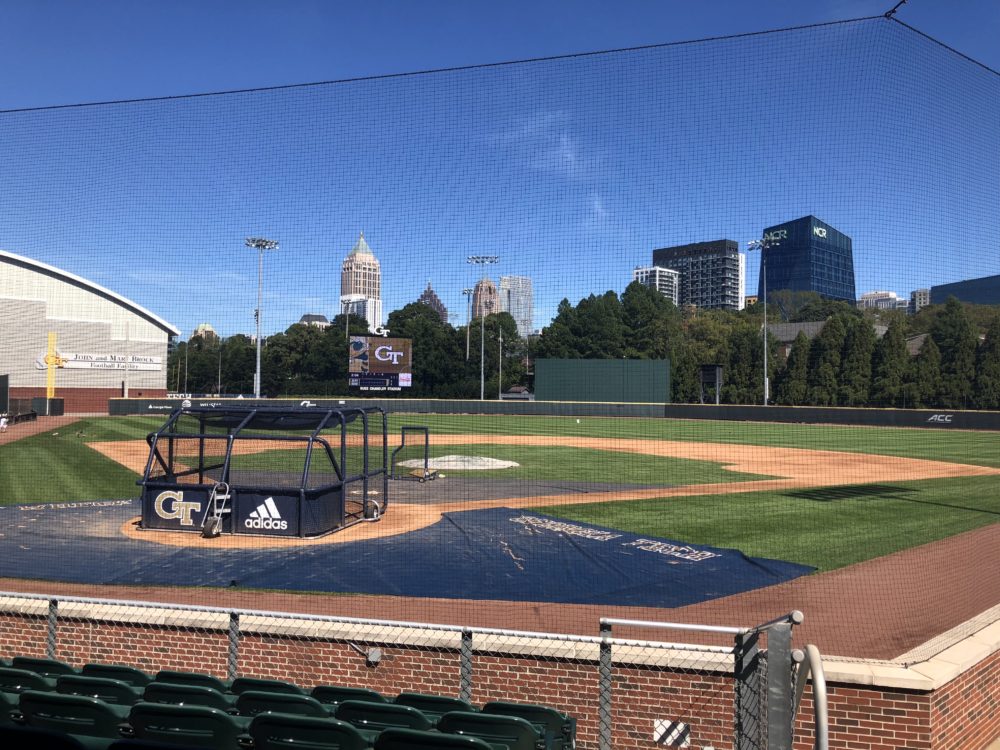 Peter wanted to see the baseball stadium, so we finally found a place to park and walked down to take a look. I'm not sure I'd want Peter this much in the middle of Atlanta for college…overprotective mom speaking here. It sure has a nice view, though! And you wouldn't find me turning up my nose at a Georgia Tech baseball scholarship LOL.
After that, we headed up north to Acworth where we were staying and crashed.
I'll post some pictures of day 2 – birding, baseball, and dinner – in my next post. (Update – Part 2 is up!)